just picked this up tonight......been after one ever since i was a boy reading the print off MBUK every day!
seemed a decent price, but it turned out sound.
basically the guy has owned it from new, he raced for pace and this was one of the bikes they let him keep when he packed it in
he has hardly used the bike, having a cellar full of road bikes and modern mtbs to keep him busy these days.
so basically it was kept as a memento, and rarely ridden, even spending 7yrs hanging on the wall of his holiday home in france.
heres a few pics......a good clean and set up tomorrow, then see what it needs, apart from the shocks being almost solid its a sound bike.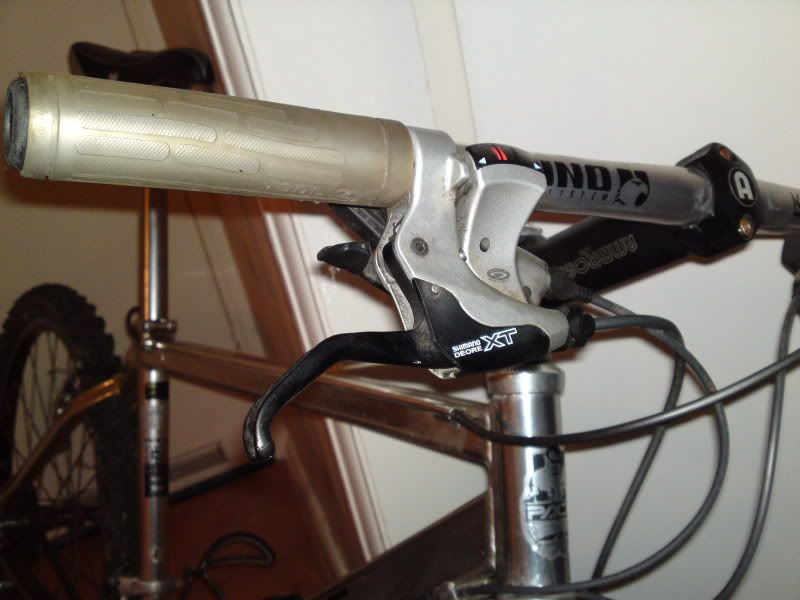 Frame: pace rc200 f3 16.5''
Fork: pace rc35
Headset: o light
Stem: answer a-tac
Handlebar: answer hyperlight
Grips: ritchey
Brakes: xtr v brake
Brake Levers: xtr
Shifters: xtr 9 speed
Front Derailleur: xt
Rear Derailleur: xtr
Chain: kmc 9 speed
Cranks: xt hollowtech
Pedals: club roost
Rims: mavic 517
Hubs: hope titanium
Tyres: IRC notos 1.95
Tubes: continental
Skewers: cook bros
Saddle: flite titanium
Seatpost: zoom
Seatpost Binder: pace
Weight: 23.1lbs

_________________
2014 surly straggler
2012 surly moonlander

14 badboy 14 carbon beargrease 13 jones spaceframe 14 straggler, 05 pugsley, 13 pugsley, 12 moonlander, 13 krampus x2, 13 fargo 2, 11 surly pugsley, 01 Volvo Cannondale, 01 dekerf limited, 98 cannondale caad2, 94 san andreas, 96 san andreas, 93 pace rc200 f3, 08 Ti moots rigormootis, 93 Ti merlin xlm, 09 Ti jeff jones spaceframe, 93 fat chance yo eddy (ex dave hemming), 11 salsa mukluk, 00 scott octane, 03 stumpjumper comp, 07 s-works fsr carbon, 08 revolution triad 2, 94 claud butler kylami, 96 cannondale m500, 93 townsend, 07 scott scale 30 carbon, 92 CR dogs bolx, 09 hooligan 1, 99 trek 6500, 10 badboy