See the ebay thread
here
.
Saw the ebay thread and had to take a punt as it was literally 10 mins up the road from me. Thought its was a more than reasonable price so went straight in with the asking price. Having met the seller Im glad I did as he came across as really genuine and felt slightly guilty at the price.
If you look at the ad, you'll see its badly listed - to the point of it being described as a road bike. When speaking to the seller - he seemed really concerned that I might take it for some serious off roading!! Eh up I though mentally preparing myself for the worst - cracked chain stay or something equally iffy.
Got there and met the seller nice bloke in his mid fifties nursing a fractured wrist from a footy game. First thing he does if is show me his humoungus shed - which only contains the key to his bike shed
Turns out he has 4 more sheds dotted around the garden - including a sound proof one that doubles as a recording studio
Major Shed Envy
Anyhoo the 2nd shed contains the DeKerf along with a Cannondale SL5. A quick check over reveals it is as listed and my heart is beating a little faster, a couple of small scuffs, forks a tad soft but all in all pretty damn nice.
Some chit chat reveals that he just doesn't have confidence in the bike compared to his daily riders - he struggles with the brakes and thinks it won't handle his usual stuff. Bearing in mind this is the Chilterns not a black run down a trail centre Im a tad puzzled. The thought of him on a retro bike like my spaghetti tubed Prestige with iffy hope cable disks amuses.
Opening Shed number 3 he shows me his older and current daily riders. Current daily rider is a Pace RC305 dripping with kit, and older rider is a Alu Gary Fisher thats lost some of its decals but seemed to a be a Summit???. Both have honking great oversize tubes and high end discs. Turns out it was just the feel of V's on a steel frame he was not comfortable with. Still one mans meat is another mans poison. turns out he had a cheeky offer of £425 for the bike at first - glad I trumpeted it coz he was a nice guy.
Now onto the bike. Sold as a 19" actual sizes are Seat Tube - C-T 20", C-C 18" Top Tube 23" C-C. A tad big for my usual so time will tell. Anyone up for a swap?
Kit is a mix of XTR and SLX 9 speed stuff. XTR Shifters and V's, SLX Mechs. Full Mavic crossmax wheelset. Dont recognise the lairy pedals - only bit of the bike I dont like - still something clip less will be added. Cranks and rings are lovely Middleburns, possibly under those cranks is a Ti Spindled BB of some description - we shall have to see on that bit. Seller did mention he had the BB apart so some investigation is warranted.
Forks are a set of RC38's - as said a little soft - they may need a visit to Tim @ Fork English.
A picture apparently says a thousand words - so here we go. thanks for reading this far
Scrape 1 - seat stay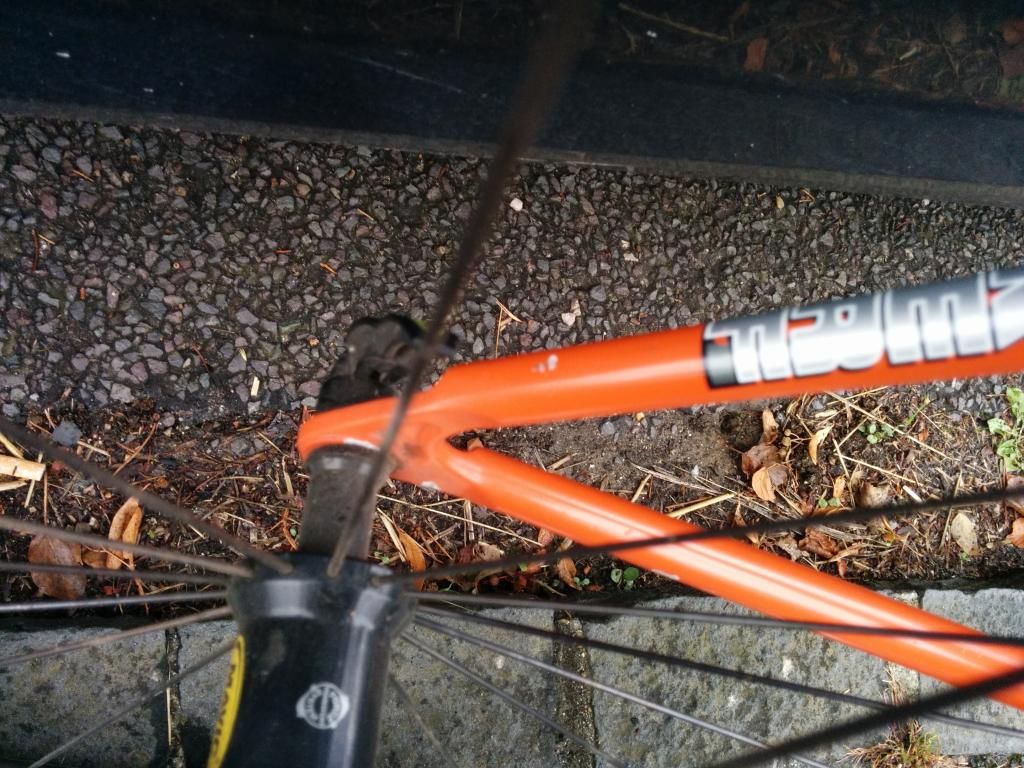 Scrape 2 - Top tube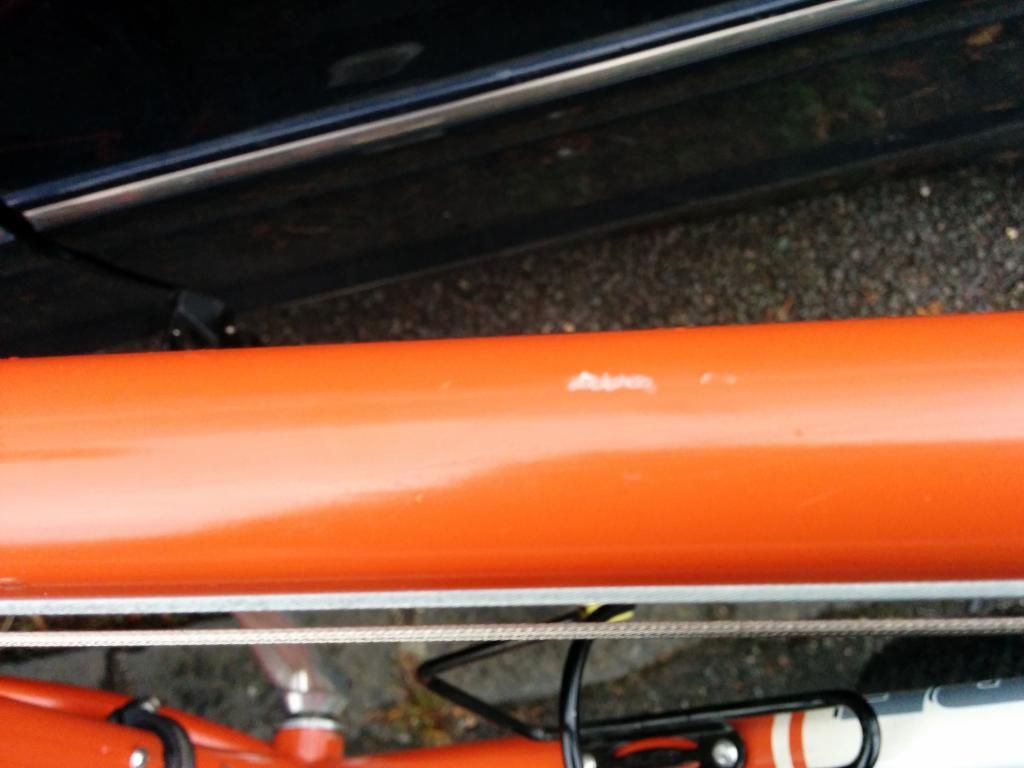 RS7's? and rings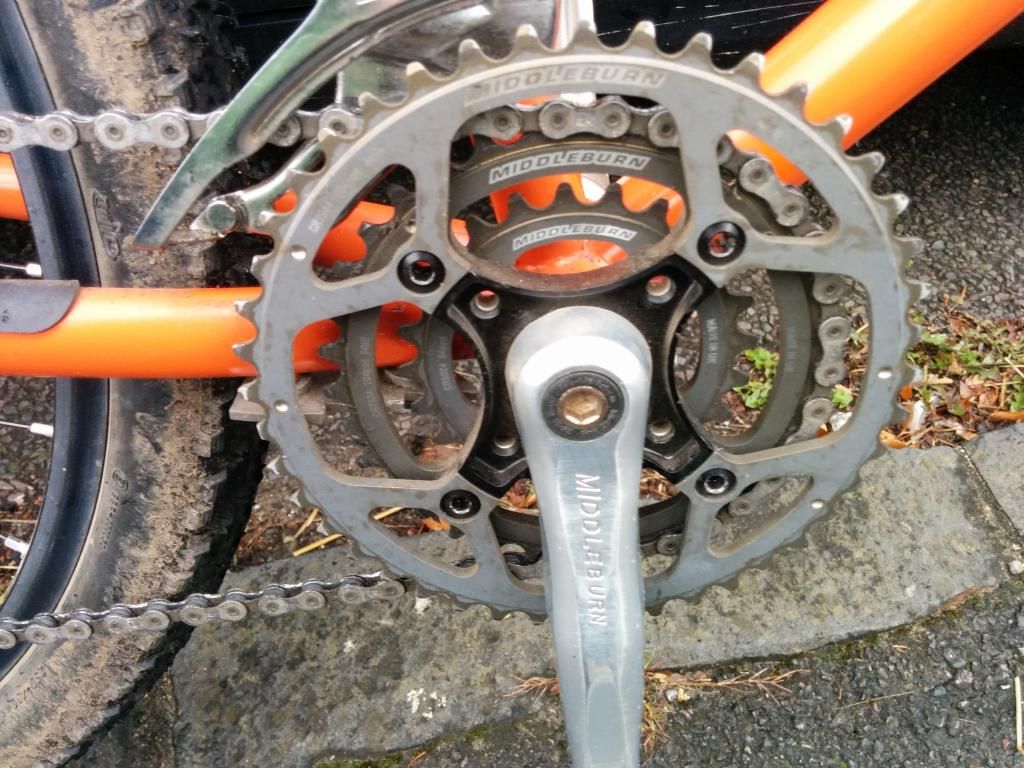 Front End
Serial No.
_________________
Current Bikes -
Dekerf Team SST
, 18 Birdy Touring, 93 Orange Prestige, 17 Ribble Endurance,18 Fairlight Strael
Gone :
'00 Orange Mr XC
,
Dekerf Mountain
,
Dropbar Pace RC200 F7
,
93 Vit T
,98 Birdy Blue
WANTED : ** Orange spotty shorts **. **Softtail frame in 17-18" **