This is a NOS frame, fork, and stem, however each was sourced separately. The fork was acquired a couple of years ago along with a Salsa Ala Carte frame. The frame made it's way to
player
, but I held on to the fork. The frame was advertised in the classified here by
Chowi
. A couple of months after receiving the frame, I saw the stem pop-up on German eBay. The seller had purchased the stem a number of years ago but never got around to using it. All 3 components seemed like they were destined to be together, even the fork steerer didn't require any trimming. The fade is from black to purple. The purple was a stock colour called "Just Purple" but this is the only example I've seen of an Ibis fade using these 2 colours.
Frame: Medium Ibis SS
Fork: Koski Straight Blade
Headset: 1" Chris King w/ GripNut
Stem: 1" Salsa ProMoto, 130mm
Handlebar: Tioga Prestige
Grips: WTB Original Trail Grips
Front & Rear Brakes: Grafton Speed Controllers
Brake Pads: Koolstop Eagle 2
Cantilever cable hangers: DiaCompe
Brake Cables: Shimano housing with Wheels Mfg Ferrules
Shifters Levers: Deore XT SL-M732
Brake Lever: DiaCompe SS5
Front Derailleur: Deore XT FD-M735
Rear Derailleur: Deore XT RD-M735
Derailleur Cables: Shimano with Wheels Mfg Ferrules
Freewheel: DuraAce
Chain: Shimano HG90
Cranks: Cook Bros RSR, 175mm
Chainrings: Shimano SG 46T, Onza Buzzsaw 36T&26T
Bottom Bracket: Syncros Titanium, 123mm
Pedals: Crank Bros EggBeaters with Titanium axles in photos
Hub Skewers: Deore XT M730
Rims: Mavic 231, 32H (will be replaced with Araya RM-17)
Hubs: Kingsbery, 32H
Tires: Timbuk II from FirstFlight
Saddle: Selle Italia Flite
Seatpost: Syncros 29.4x330
Seatpost Clamp: Original + Nitto brake hanger
Weight:22.9lbs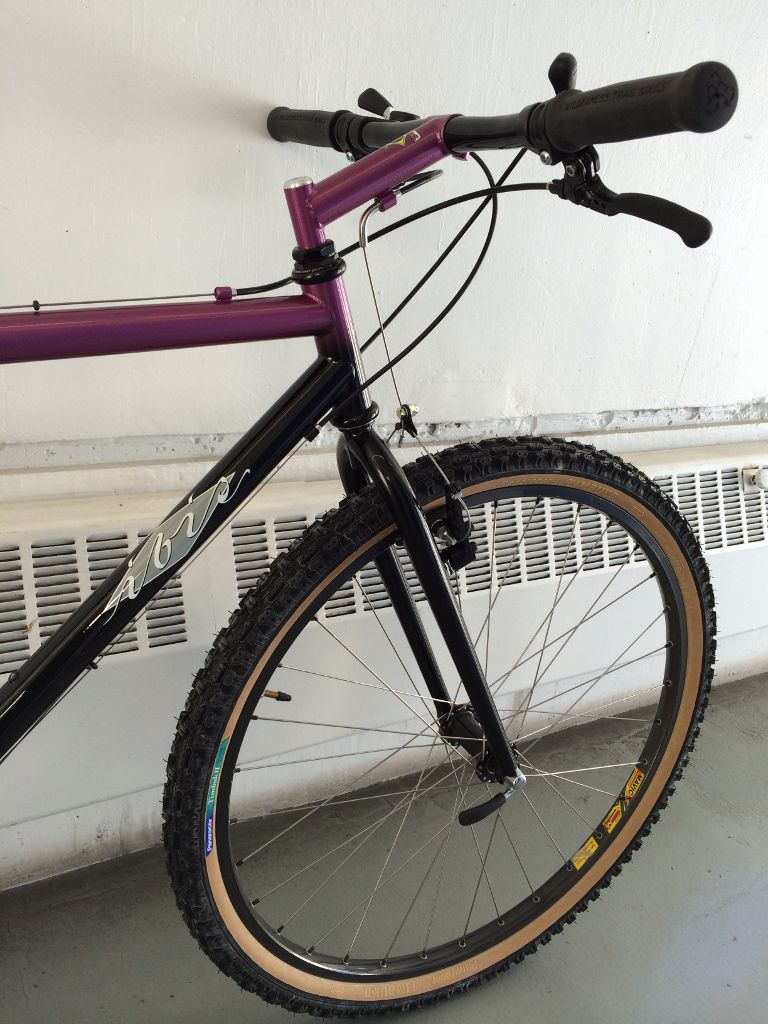 There's still a few finishing touches required. The Mavic 231 CD rims will be replaced with a pair clear anodized Araya RM17s. The 231s look good but the braking performance is mediocore until the anodizing wears off so I prefer clear ano rims so I can sand off ano on the braking surface improving braking while keeping the rim looking presentable. The rear brake hanger hangs from the seatpost clamp. I replaced the original Diacompe hanger with a new one from Nitto for a bit cleaner routing. However, it still feels awkward so I'll need to revisit it and come up with a cleaner solution. I'd prefer not to have to run the seatpost QR. The handlebar will likely be replaced with something lighter. An Answer Taperlite would be a suitable period correct replacement. The Grafton Speed Controllers came to me with various mis-matched bolts so those will get cleaned up with some replacements.