One night whilst idly browsing the bay (as most of us do regularly) last week i happened upon this Rift Zone....
http://www.ebay.co.uk/itm/271352162078? ... 1423.l2649
Pictures couldve been better imo, but nevertheless it showed it to be in damn fine condition, with minimal, if indeed any major use, and it all appeared to be as it left the shop in 1997.
It was one of those "i do not 'want' this bike, i 'need' it" moments, so i naughtily messaged the seller to see if he had a price in mind he may let it go early for (i know thats a mean trick for those bidding and i have actually only done it once before as i dont make a habit of it) but alas he said he wanted to let the auction run its course (alas for my impatient side, but win for my wallet as it turned out)
So auction ended yesterday just before 4pm, and i was let go early from work, so messaged him again after winning (for a price less than i was willing to bid, and less than i was going to offer for it, had he ended early, so my patience was rewarded as it turns out) arranged collection for last night, so big thanks to Chrisv40 and DanD, chris took me and dan came along for the 140 mile roadtrip to derby last night and its now sitting in my kitchen at home awaiting some new cables and a drop or three of oil!
This isnt going to be a project really as its in such good condition, im just going to keep it clean and enjoy it, its got all of the manuals, the original marin keyring and all of the datatag registration paperwork too, and i cannot convey just how good condition this bike it in, needless to say im a very happy boy now!
The only things i have changed are the seat which unfortunately isnt original, for a charge off one of my kona's, and the pedals for shimano ones as the vp ones that were on it dont seem to like my shimano cleats for some reason, but that is all, everything else is spec, right down to the wtb velociraptor tyres, which are in perfect condition with no cracking or age related damage!
Pics..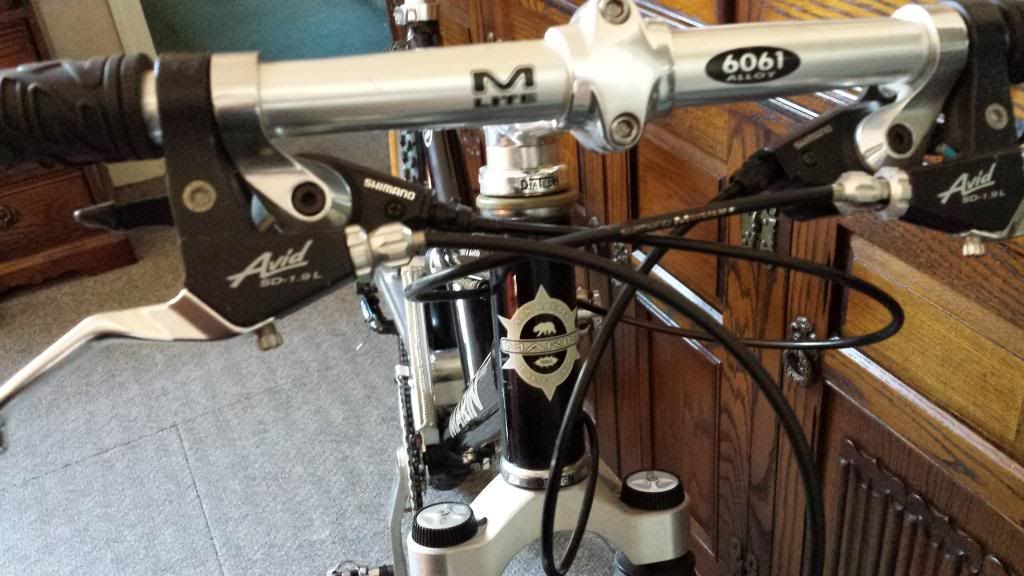 The pictures dont do it justice at all, i shall try to get some better ones tomorrow as it will be coming out on a local ride
Any comments welcome peeps.