This project started as a frame I picked up about a year and half ago on a trip to San Francisco. It came up thru an add on Craigslist in Oakland. While doing some research on Salsa I came across photos of this frame on MTBR from around 2006. It appears the frame has changed hands a few times but it's been a while since it's been built-up. This maybe due in part to the condition of the frame. It has a number of spots with rust worms below the paint. Fortunately, the rust is only on the surface and can be cleaned up with a repaint. Speaking of paint, in the photos below, it may look like the frame is black, but it's actually a very subtle fade from black to dark blue. There's a Salsa decal on the downtube but the lettering is in black, so it's nearly impossible to see in the photos. It's not until out in direct light that fade becomes apparent. Given the uniqueness of the paint scheme, I plan to maintain it in the repaint. I also plan to get the stem repainted as part of the same fade.
Frame: Medium Salsa Ala Carte (Serial Number SM683)
Fork: Bontrager Comp
Headset: 1" Chris King w/ GripNut
Stem: 1" Salsa ProMoto, 130mm
Handlebar: Merlin Titanium 22.5"
Grips: WTB Original Trail Grips
Front Brake: Critical Racing (1st Generation)
Rear Brake: Critical Racing (looking for another 1st Generation to match the front)
Brake Pads: WTB
Cantilever cable hangers: DiaCompe
Brake Cables: Shimano SP41 housing with Wheels Mfg Ferrules
Shifters Levers: Deore XT SL-M732
Brake Lever: DiaCompe SS5
Front Derailleur: Deore XT FD-M735
Rear Derailleur: Deore XT RD-M735
Derailleur Cables: XTR with Wheels Mfg Ferrules
Freehub: TBD
Chain: Shimano HG90
Cranks: Cook Bros RSR, 175mm
Chainrings: Shimano SG 46T & 36T, Onza Buzzsaw 24T
Bottom Bracket: TBD, something titanium and 123mm wide
Pedals: TBD, Deore XT in photos
Hub Skewers: Salsa Flip-Offs, Stainless Steel
Rims: Mavic 231, 32H
Hubs: Nukeproof, 32H (1st Generation)
Tires: Timbuk II from FirstFlight
Saddle: Selle Italia Flite,
Seatpost: Syncros Titanium 26.8x300 (looking for a 2nd Generation to maintain period correctness)
Seatpost Clamp: Original Salsa
Weight:TBD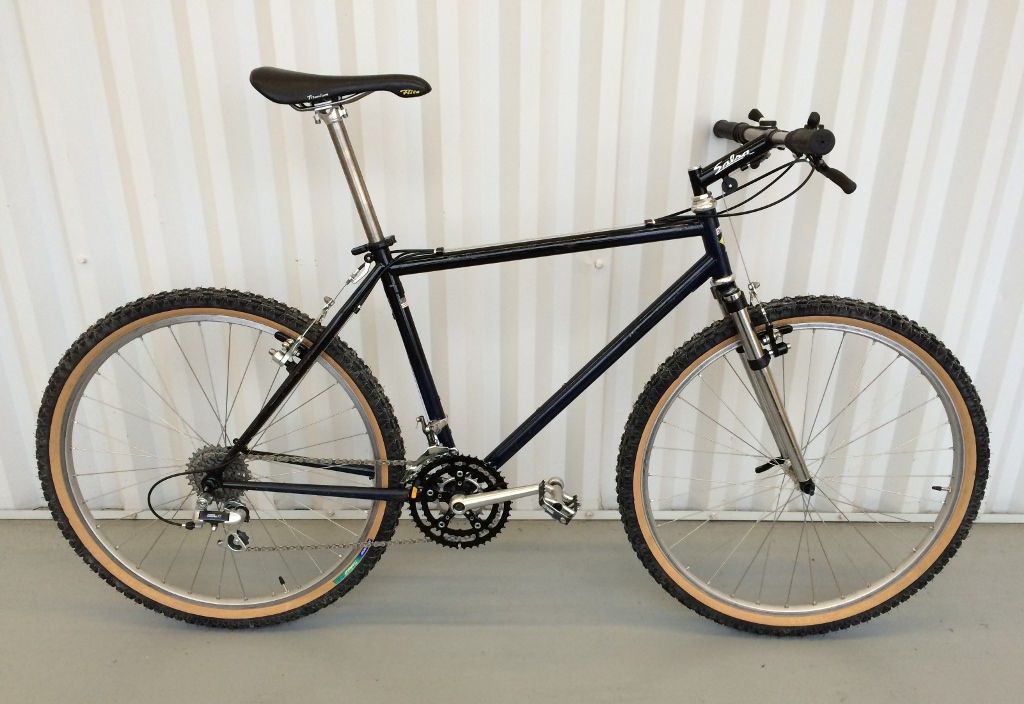 My goal for this build was to stay nearly period correct. There are a few exceptions, the Salsa Flip-Offs and Critical Racing brakes were first released in 92, but I'd like to think if I had owned this bike from new, I would have made those upgrades when they became available. There's still a few items to finish off, a few more parts to source and most notably the frame to have repainted.