Photos of the two bikes I now own - I used to own a GT Outpost (steel frame - sold to a friend & subsequently stolen
) & a silver Eddie Mercx racer (long since gone) which I was given one Christmas donkeys years ago - I loved it even though it just about bankrupted my Mum & Dad
The ones I still own are:
1.) Seaside bike: Dave Hinde alloy frame + assorted components - I bought the frame new & built the bike up to use mainly as a commuter bike. It's now enjoying a well earned retirement at our holiday home over on the east coast. I store it (part dismantled) in the understairs cupboard &, as we usually only go for weekends (out of season), I don't often build it up & ride it. When I do it's usually for early morning rides on the beach by myself ... tide permitting ... as my wife can't ride a bike (she's never learnt!). I understand that Dave Hinde doesn't have the best of reputations but I've never had a problem with the frame (which rides nicely) or the company when I had to return the frame for one of the correct size as, like a klutz, I ordered the wrong size (my fault entirely). Here's the bike on the beach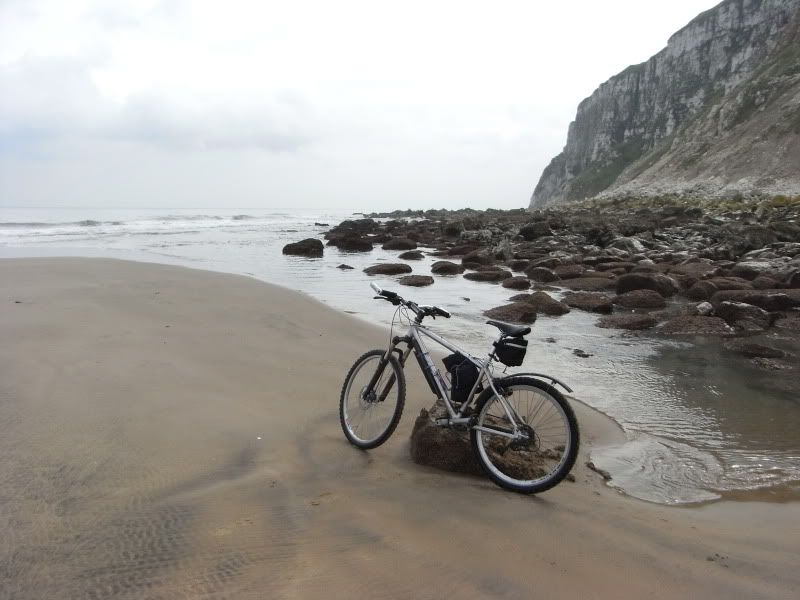 2.) Home/commuter bike: Scott Endorphin Elite - I've had this bike 3 years & have only just started riding it to work
It's a 25(ish) mile round trip &, since I've become something of a lardy bulldog since my lean whippet days, I wasn't convinced I'd actually be able to make it! Anyway I bit the bullet & cycled into work last Thursday (hot sunny weather). I have to admit to walking up the steepest bits (sorry!) but at least I've made a start! I intend to start cycling at least twice a week when I get back off my hols. I'm not entirely sure of the year 1997 - 99ish I think - but I do know that it cost loads when new (£2000ish if my memory serves). This one, however, was cheap due mainly to the owner wanting some new wheels for his car & it having a knackered pair of Rockshox forks fitted. It's the only carbon bike I've ever tried & it's definitely the best bike I've ever ridden - light, quick steering but still stable & more than fast enough for me (even with mountain bike gearing). The Rockshox have gone in favour of a set of Marzocchi's (Z5's I think - they came off the seaside bike), brakes are a combination of Hope Mini hydraulic disc up front with Avid v-brakes at the back, gears are Shimano XT & the tyres are Schwalbe 26" road jobbies - not sure of the rims but nothing particularly special I'm afraid, the original saddle was a razor blade & has been swapped for a Halfrauds lardy arse one (it's comfy at least & has a gonads hole)! I realise that the bike's more of an off-road weapon (in the right hands) but the previous owner hadn't used it for a while & wasn't planning to use it much, if at all, if it didn't sell - I found advertised on a watch forum (I also like watches as well as bikes & cars) so it may well not have sold! The price was right for a bike I could only ever have dreamed of owning back in the day so I figured that it was better to use it - even if only on the road - than to let it languish unloved in a garage/shed somewhere ... right??