Hey everyone!
This is my first post. I found this site recently. I'm from Orange County, CA.
I have a mid-90's Dagger hardtail that I bought used about 10 years ago and that's been garage forever. I'm restoring it so that my buddy who doesn't own a mountain bike can go riding with us. The idea is to keep as much of the cool old stuff while making it a a nice well-sorted bike bike for the trails here in SoCal.
It's got a few period parts on it that I think are quite neat. But I'm going to be adding some new parts so that the rig gives up nothing to the more modern hard tails out there.
I went through and cleaned/lubed up the up the headset and replaced all the cables and housing.
The Dagger had old Deore LX 8-speed shifters, and the triple shifter had stopped working. So I've replaced those with some inexpensive Alivio 8 speed shifters (I couldn't really find NOS Deore LX, XT or XTR's in 8 speeds anymore). They're kinda cheap looking, but the bike shifts quite nice now.
It had a Critical Racing CNC stem (red anodized) 1-1/8 x 140mm with a Kalloy bar. More on that later.
It currently has a Rockshox Judy SL fork with Judd Springs. Unfortunately, the steering tube is cut an inch too short. So the Critical Racing stem could never get a good grip. This is really a safety issue, so I had to do something about it. So in the meantime, I installed a Giant stem/bar combo I had laying around. The stem mounts two bolts (the Critical has only one bolt/cam that holds the stem), so it holds on to the too short steering stem safetly. This bar/stem set up is a bit heavy for this bike, so it's only temporary and will be replaced with something else at a later date. Maybe a shorter, modern anodized Hope stem with some 25.4 XC bars.
I thought about replacing the steering tube/fork crown because they are replaceable on this model. But finding them used was going to be difficult. So instead, I've ordered a 2012 Manitou R-Seven, which is lightweight and about the most decent new XC fork out there that still has standard V-Brake mounts and a 9mm quick release.
I want to stick with the V-Brake instead of going to a front disc because the White Industry Ti hubs and F.I.R. wheels are in great shape. Plus they have alternating red/blue alloy nipples... So I can't get rid of the wheels
Plus the Paul Love Levers are too cool to get rid of as well. So this will be a bit of a compromise.
The old Deore XT front V-Brake is a little rough and clunky with some of small parts pitted/rusty, so it's getting replaced with an new Deore XT V-Brake.
The seat is getting replaced as well. I'm not sure what's going on there yet though.
Beyond that, remainder of the pieces will work just fine.
Here's some photos:
The Bike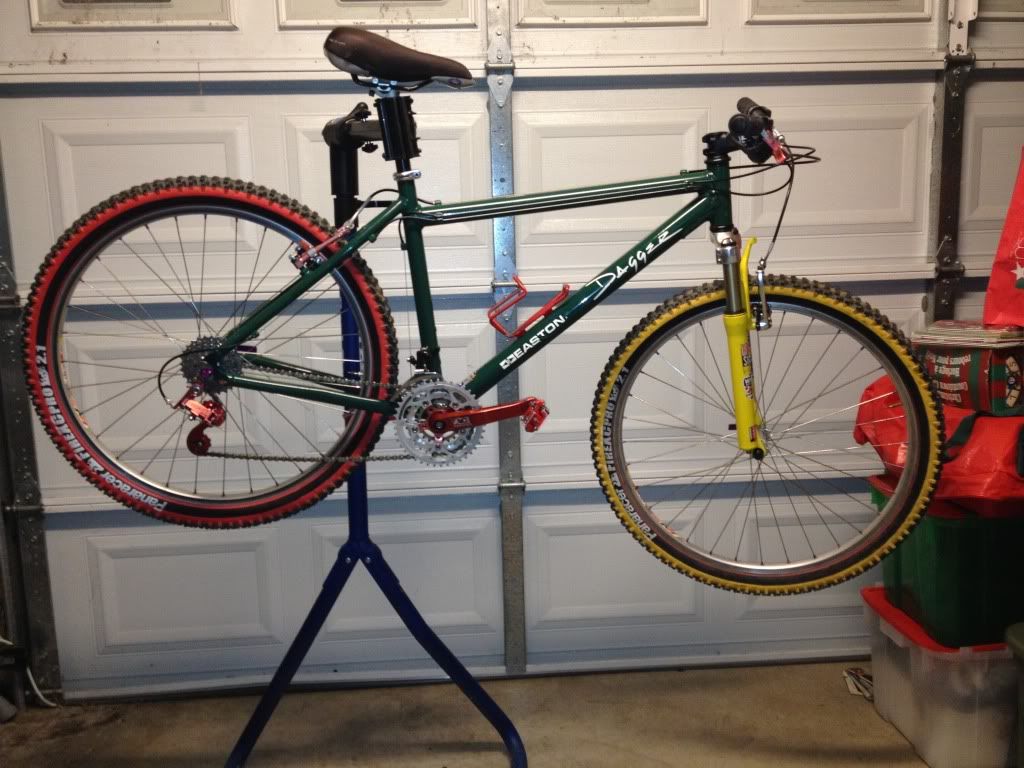 Adventure Components (AC) LoProXT crankset with compact Shimano chainrings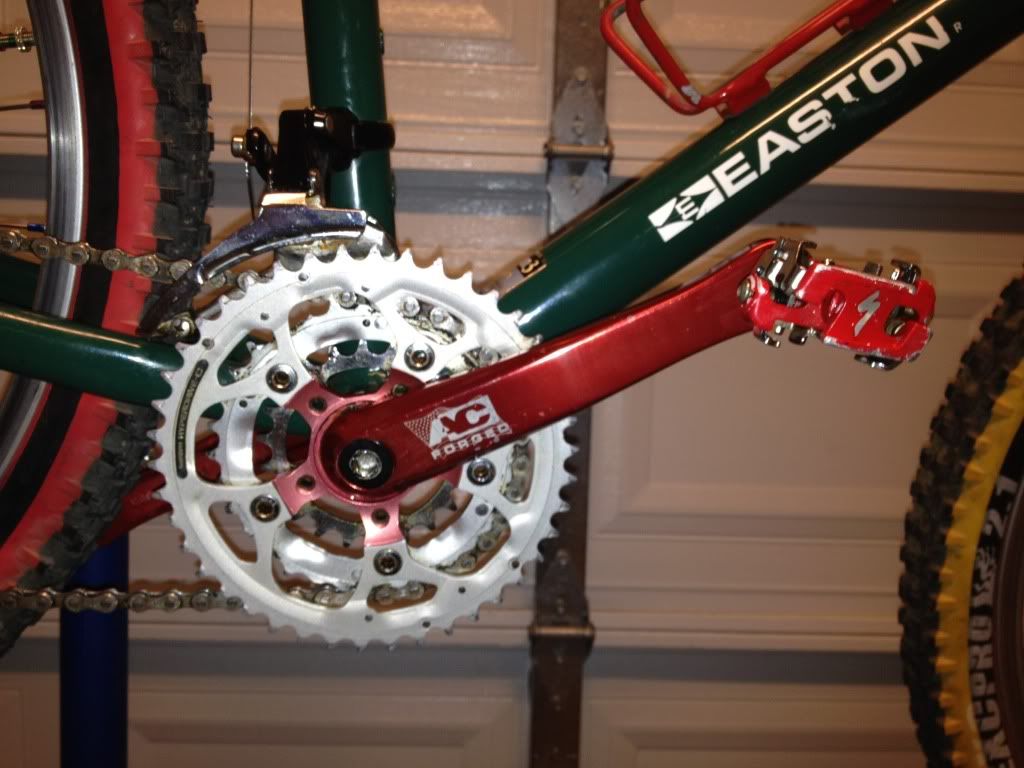 Paul Component Engineering Love Levers
Precision Billet Prshift MTS rear derailleur
Paul Component Engineering Microlite linear pull rear brake.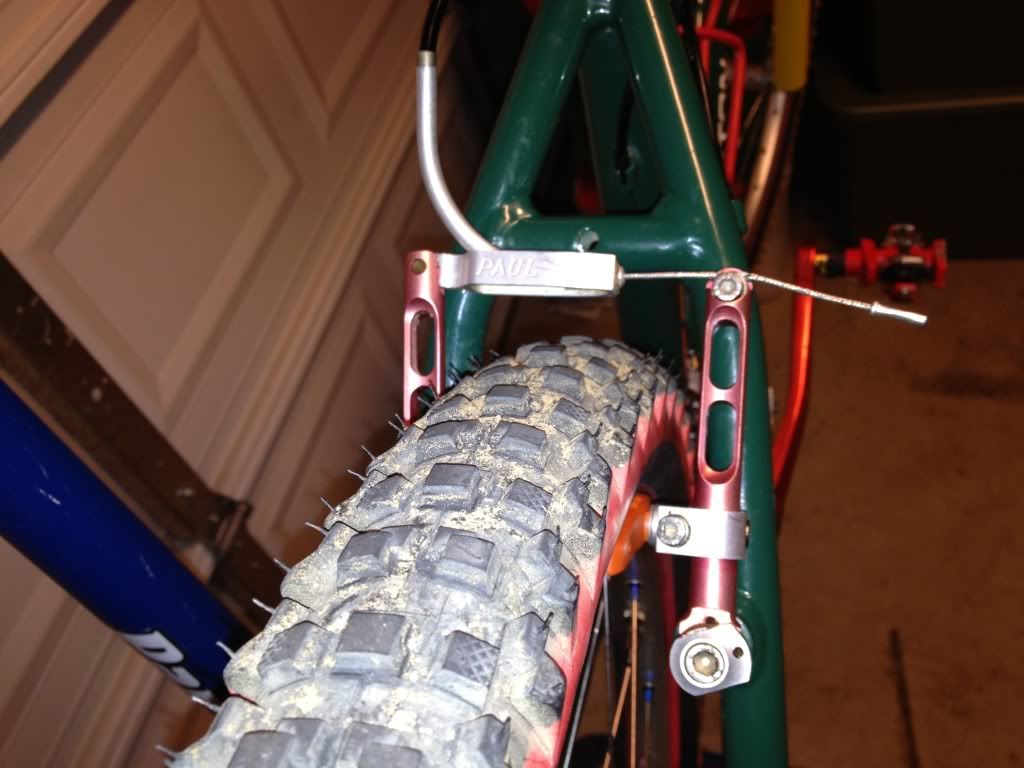 White Industries Ti front and rear hub.
Current fork set up
Critical Racing CNC stem
I'll post more photos when I'm done re-doing the bike.