The day started cold, too cold. The first mechanical of the day was a frozen gate lock. De-Icer, swearing, and general ham-handedness wearing gloves eventually won out and with Klein-mad-Chris running 5 minutes late, no-one was any the wiser..
we spun along the 3 miles to Arundel station at a a steady speed, bemoaning the lack of decent weather for riding, getting the excuses in early for any poor performance later on in the day and tipping a nod to the weather gods for this mornings glorious crisp blue sky.
Vinevo and Disco Drive arrived almost bang on time with a brighter than bright Klein and stunning Ti Dean. I say stunning as EVERYTHING was Ti. Except the V-brake noodle, that was the only thing we could find...
Mike Muz67 was soon after on his lovely restored Scott and a very last minute skin of his teeth arrival from DA-EVO on his Van Nicholls. Ten minutes past our alloted departure time we struck out into the frosty wilderness of Arundel town centre...
Once out of the town after a cash machine pit stop, we spun on into the fisheries and the start of the woods. Here we soon discovered what was to set the tone for the rest of the ride. mud. lots of it.
The first hill had us harking back to our earlier protestations and Mike putting us all to shame. Our breath recovered we spun along at the edge of the treeline, regaling tales of all the mechanical causalities this first section of the ride creates (me being one of them!). A few up and downs, some chainstay clearing excerises and seemingly endless calls of nature for myself were were flowing nicely (pun intended) through the woods.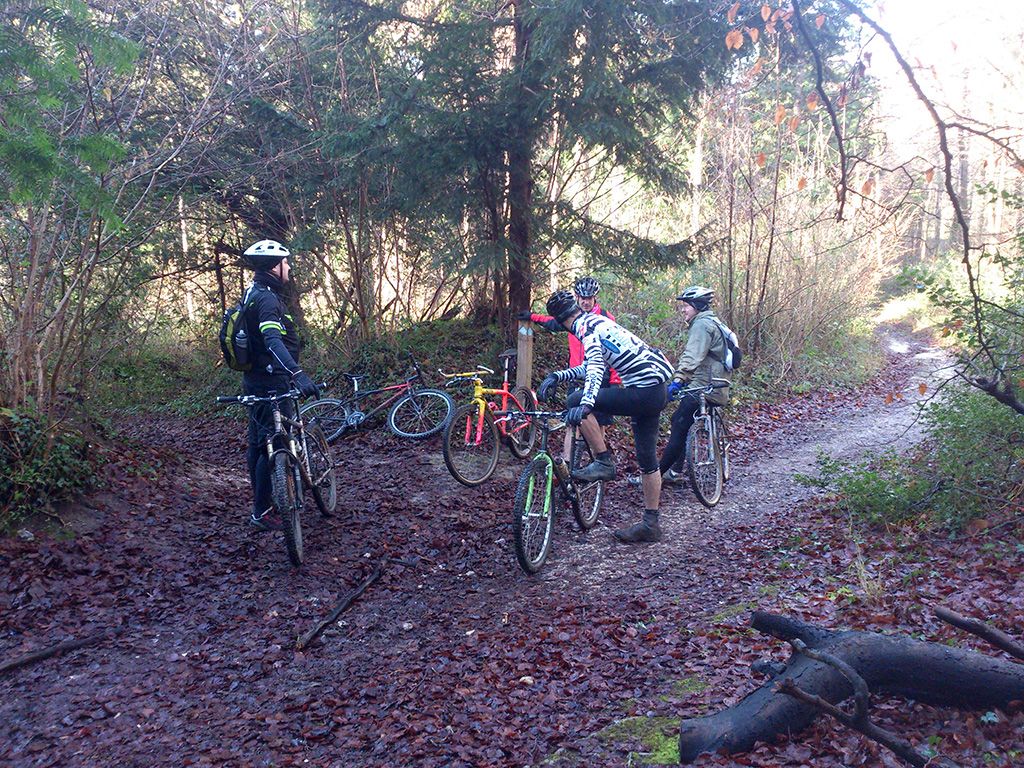 All was not to be and having tempted fate just once to often it was Disco Drive that succumbed, or rather his Dean did...
a Ti Hope Hub, deflanged...
We limped on up to Whiteways under half power, though this in part was due to my legs as much as Steve's back wheel, for a regroup, rethink and recaffeinate
Vinevo and Disco Drive decided to call it a day and wheel the downhill home to the station to prevent any further damage, but not before a young spaniel pup had decided to "scent mark" my rucksack...my overwhelming manliness clearly a threat to it. Profuse apologies from both the owner and the walker, several bawdy jokes and some guilt chocolates later and we were good to head off into Whiteways for some fun, or so we hoped..
The legs were left wanting, the mud was trying and the back wheel..well, the back wheel did a lot more slipping than gripping. Klein mad Chris wisely chose to miss out the middle section and with the sun casting longer and longer shadows we set off back to the station car park
At the top of Houghton we were met by a very wet Amberley..
..so an amended route home was quickly planned, through Canada Barn, keeping to the east of Stoke, rather than the west. At Warningcamp, we bid farewell to MikeMuz67 and DA-EVO. They carried on to the station and Chris and I snaked back through APE to find a well earned pint.
Bike of the ride AND mechanical of the ride goes to Disco Drive aka Steve
Accident of the ride goes to the spaniel pup who pissed all over my rucksack
lovely to ride with you lot again, it seems to get further and further apart these days, thanks for turning up