Yesterday I finished miniKens 46er - Street tests seem pretty good, will do some offroad soon, front brake snaps like a piranha which will take a bit of getting used to, never had a brake that stops so fast, I think the tyre helps.
Pedals are a little pink when they were meant to be red, he doesn't mind them just now. And a nice red cnc stem will finish it off... when I find one I like for under a tenner
I reckon he will ask for suspension and a 24 inch front wheel before too long, but this will teach him how to pick a line and land a jump properly.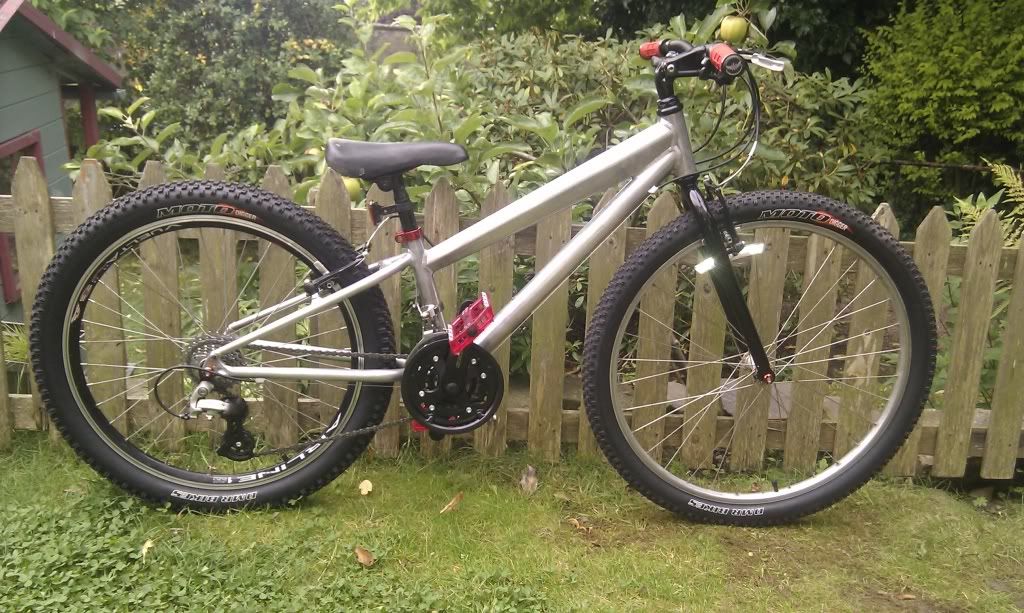 The 2.35 rear tyre fits, just, I had to shave a little rubber off
He has added stickers now too, reasonably well placed, I made him polish it first
he didn't like that.
_________________
Still wandering about....
Early Hope Disc Info...
-
Xizang Serial Numbers...
My Bikes:
1992 Xizang
-
2000 Gazelle Superbe
- 1983 Raleigh Mk II MiniBurner - 1995 Schwinn Klunker - 1996 Orange P7 - 1998 Specialized Rockhopper -
miniKen's Konalized
Moderns: Genesis Caribou Mk1 Fatty - Pivot 5.1 Bouncy