Ive been lurking here for years, and have never added a readers bike post, so;
Say hello to my little friend...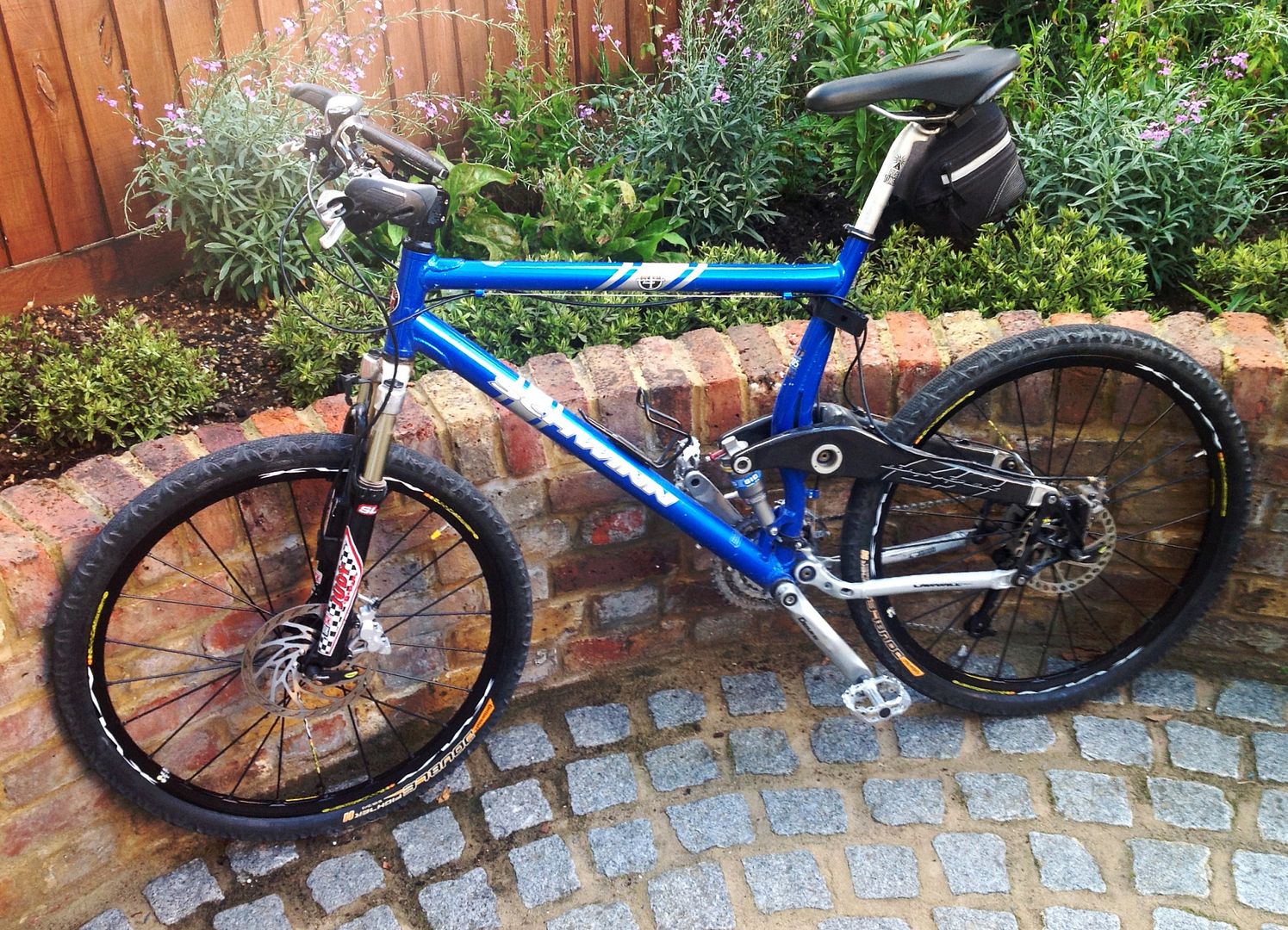 Actually, its not that little, its the XL sized 21" frame, the largest size this bike was made in...
Its one of the bikes produced by the 'old' Schwinn at the height of financial difficulties that seem to parallel those suffered by Rover in the UK. Schwinn had already declared itself bankrupt in the early '90's, and since then had progressively farmed out more and more of its production to the far east. By the time it filed for its 2nd bankruptcy in 2001, US manufacture was pretty much history. This then is one of the "last ditch" models aimed at keeping the head of Schwinn above water.
I bought this one in 2001, just after Schwinn went belly up. There was a pile of new bikes left in warehouses across Europe, and I managed to get this one at a significant discount off its original and highly obscene asking price of £1800...
Much of the bike is original, its even on its original chain! Over the years though, the titec flat bars and long reach stem had to make way for something more comfortable, and the razor blade saddle made way for something that didn't turn my backside to burger meat every time I rode it. The pedals are the ones it came with, and I even have the original wheelset in my cupboard. The rear shock was upgraded to the SID air shock from the "homegrown" model, although by that time the homegrown version no longer "special". It was just a label in the sales brochure, and made in the same factory as the base model using the same frames. Handmade US built versions fabricated by hand from 6061 were history...
Recently, as I do from time to time, I've been looking at more modern machinery, and pondering a possible change of bike. Since I bought this other bikes have come and gone, but this one has always remained with me. Its still creak free, crack free, and blessed with a rear end that is in my opinion unequaled by any suspension design that has come about in the 13 years since this was built. So for the time being at least, I'm keeping it...
What I am doing though, is modernising it. Despite very -very regular stripdowns and rebuilds the mechanical components are now past thier best. The chain is a little stretched, the chainrings a little worn, and the cassette teeth a little rounded. The forks were always woeful, so they're going too, along with the original headset. The 160mm rotors on the original Hayes brakes are effective, but look a little feeble compared to modern machinery, so they're gone too, replace by slightly more modern items from Hope. I'm also going to explore the possibility of fitting 27.5" or even 29" wheels to it, utilising new CNC'd dropout plates to move the rear axle line to provide the required clearance. This isn't the work of a moment though, I've got the "linkage" suspension analysis software to learn first...
With a bit of money and more modern tech, the bike will be better than new. The only thing I can't do much about is the paint. Despite layering the frame with oodles of frame tape when it was new, there are chips on every tube. Most tiny, but some quite chunky. I could get it resprayed, or even polished, but it'd look a bit bare without the decals, and finding those now is like trying to buy a part from Rover. Schwinn is still in business, but only in name...
So, does anyone have any idea where I could get a set made?