some adjustments are due.
first
of all the 24t granny ring was killing me. i'm more of a high spinner anyway so i went for a
carbon-ti X-Ring 20t titanium chainring
. very thight fit on my beloved raceface cranks but it should work.
second
issue: front tire. the fat albert rear is totally nice but the fronts side knobs wear way too fast. sent it in because i think its a waranty thing. hope to get it replaced with a muddy marry tubeless.
third
issue: chainguide pully. the current pully sucks. its supposed to slide along the mounting screw... which it surely won't do in muddy conditions. will switch just the pully to the dmr dually.
fourth
issue: as i use the bike for really steep stuff i went crazy with
http://bikegeo.muha.cc/
and calculated a headangle of 67deg for the current setup. not flat enough! thanks to
works-components
i don't have to sell a kidney to get me a cane-creek angleset. instead i got this: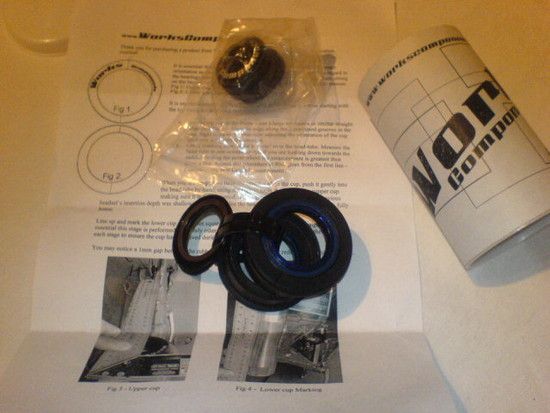 will plug it in soon which should result in a headangle of 65,5deg.
with my roadbike out of order and the stereo missing a front tire i'm getting IMPATIENT!!!