Updated 10/09
TAKE THE REMAINING ITEMS FOR £80 PLUS POSTAGE or prices as below.
Prices include UK postage where shown but happy to post worldwide at cost.
SOLD
RockShox Judy FSX - Future Shock with carbon lower legs. 1 1/8" threadless crown 175mm long from crown.
I have stripped these as much as I can as the lower bolt is seized into the pushrod, this can be cut/drilled off carefully and then what remains soaked in penetrating oil and removed or as the other stanchion is in perfect order and I found plenty of good condition Judy butter in the removed outer leg, you could use as is.
Will need new elastomers (available from a gent here or the US if you want to pay more).
The damper cartridge gave its oil up when I removed it, not before, therefore I think it could just be refilled but I am enquiring about a new one which comes with a spare pushrod, this would sort this and the other issue in one hit (available for an extra £15 if I buy it).
The left fork leg has some crazing in the lacquer but this may polish out.
Comes with the often missing canti hanger type brace.
These seem to be fetching crazy money and I know this one needs a few bits sorting so £130 posted as is with the extra £15 if I supply a ready oiled damper and spare pushrod.
Before stripping: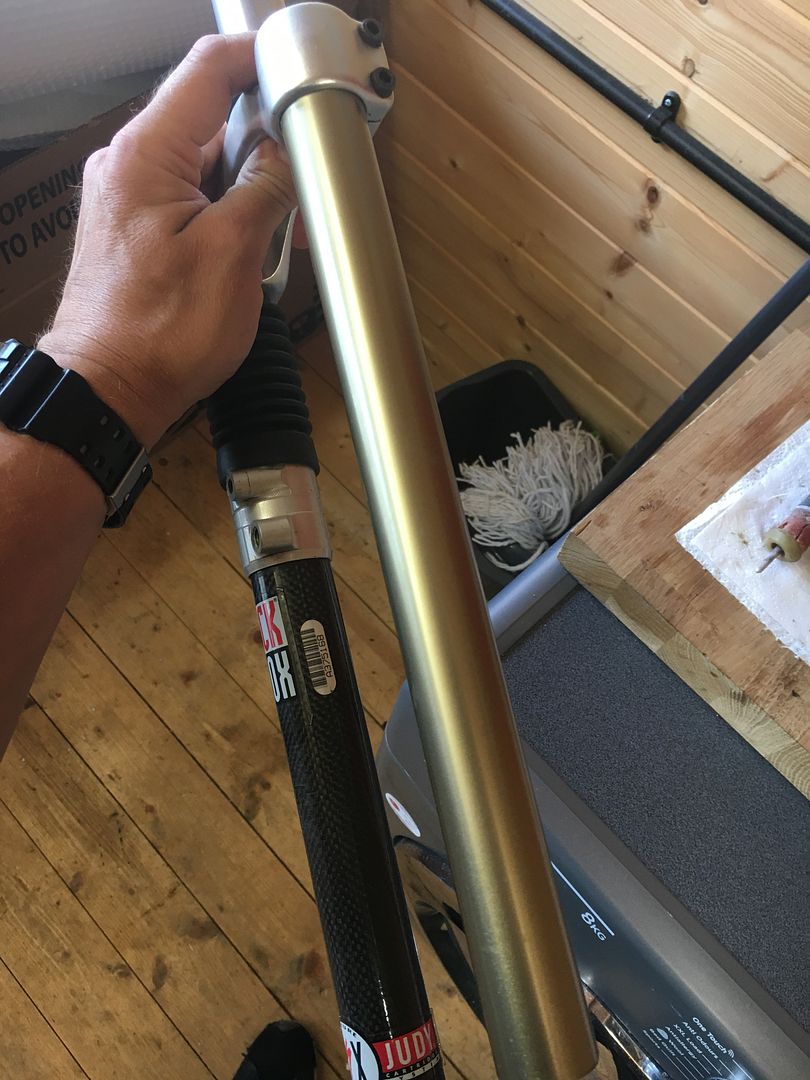 Avenir Gel saddle stamped 92, black rubbery cover with near perfect logo and no rips, cuts or scuffs. £15 posted
Pics available on request.
Shimano XT shark fin chainstay protector, with good Deore XT decal, missing silver shark fin one. £5 plus postage.
Pics available on request.
Marin Lite fluro green 1 1/8" quill stem with roller. 135mm c2c , 15degree rise in nice order. £10 posted
Middleburn compact grannie ring in bronze ano alloy, 22 teeth £5 posted
TA Specialists silver alloy 94bcd, 44 tooth chainrings with little sign of use. £10 posted
Pics to follow
One Kona Mr. Dirt Kevlar folding blackwall tyre, front specific 26 x 2.06 from around 1995. Very good order. £13 posted
Front ano grey wheel, Rigida Laser 400 rim laced with DT Swiss spokes to a Shimano Deore DX HB-M650 front hub with Shimano DX qr. Wheel is true and rim has lots of life left, hub in great order. £25 posted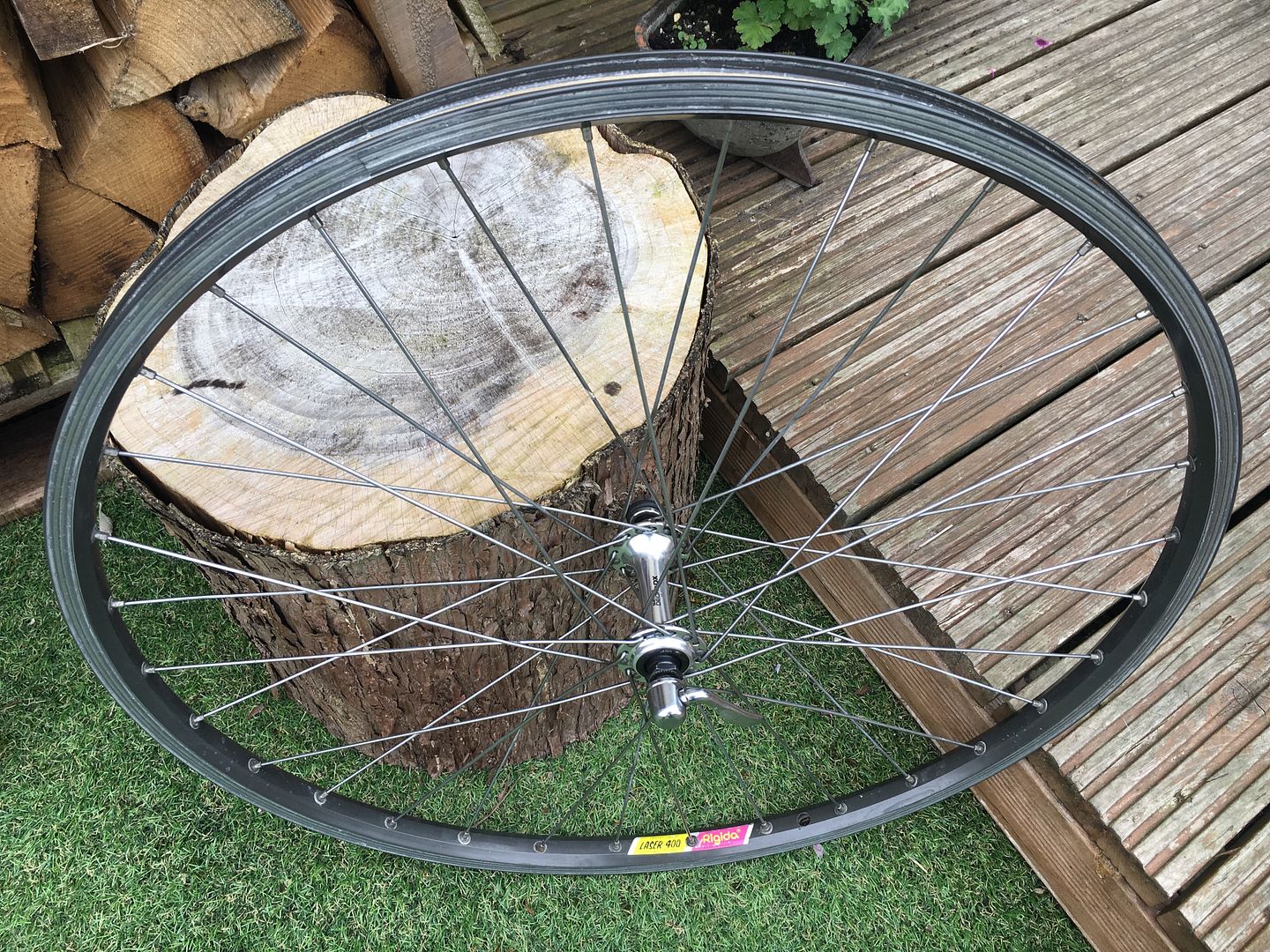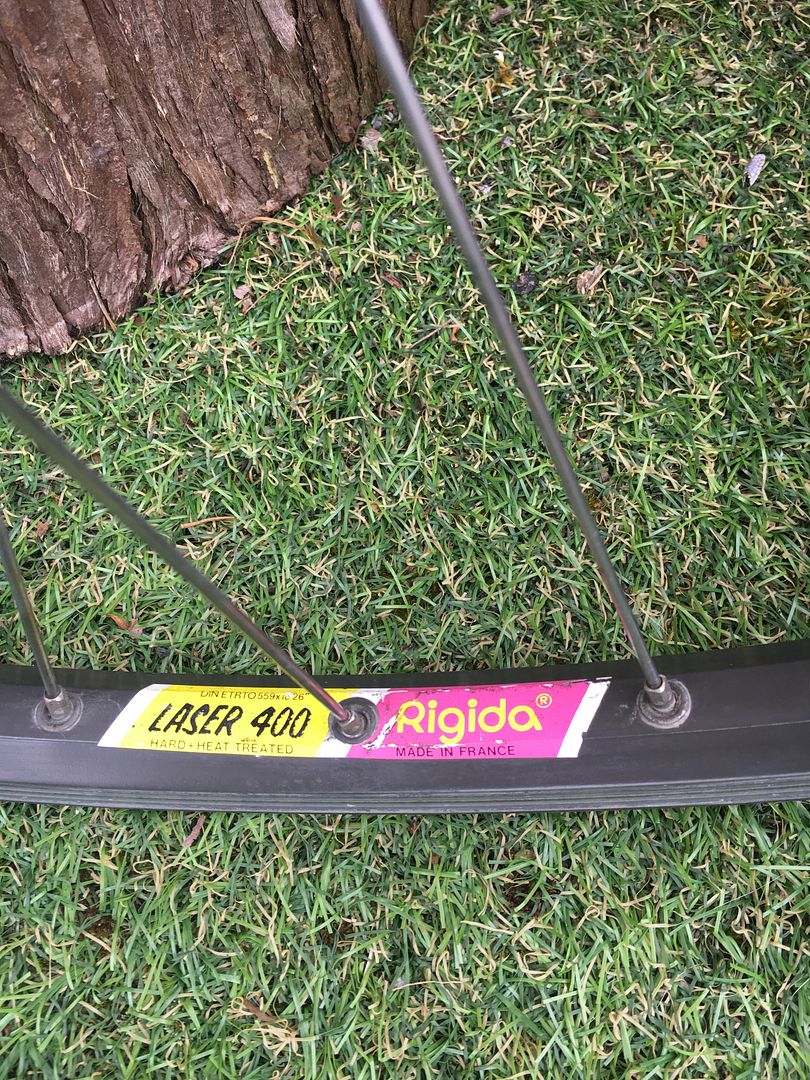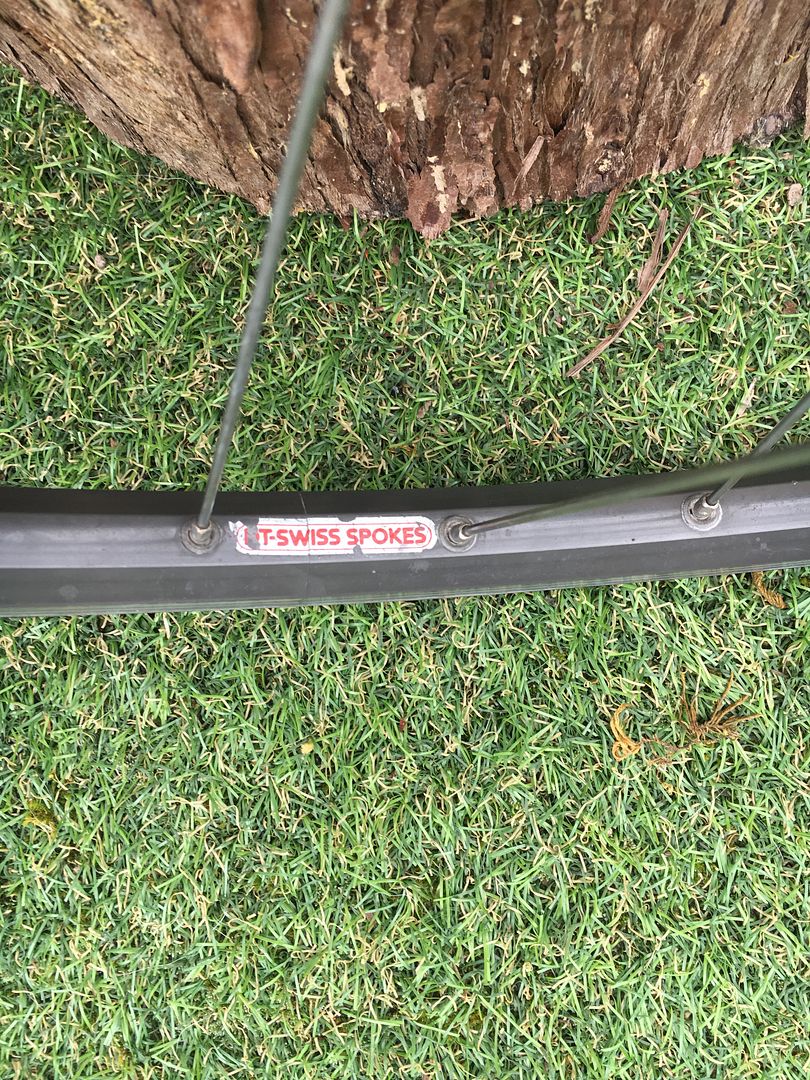 Rear light grey/dark silver wheel, Araya RM20 rim on early Shimano Deore rear hub (7 speed) , bearings freshly packed with grease, needs one spacer or washers behind the lock but on the drive side. Loads of life left on the sidewalls. Rim face is a bit mottled due to age/sun damage but begging to be used
£15 posted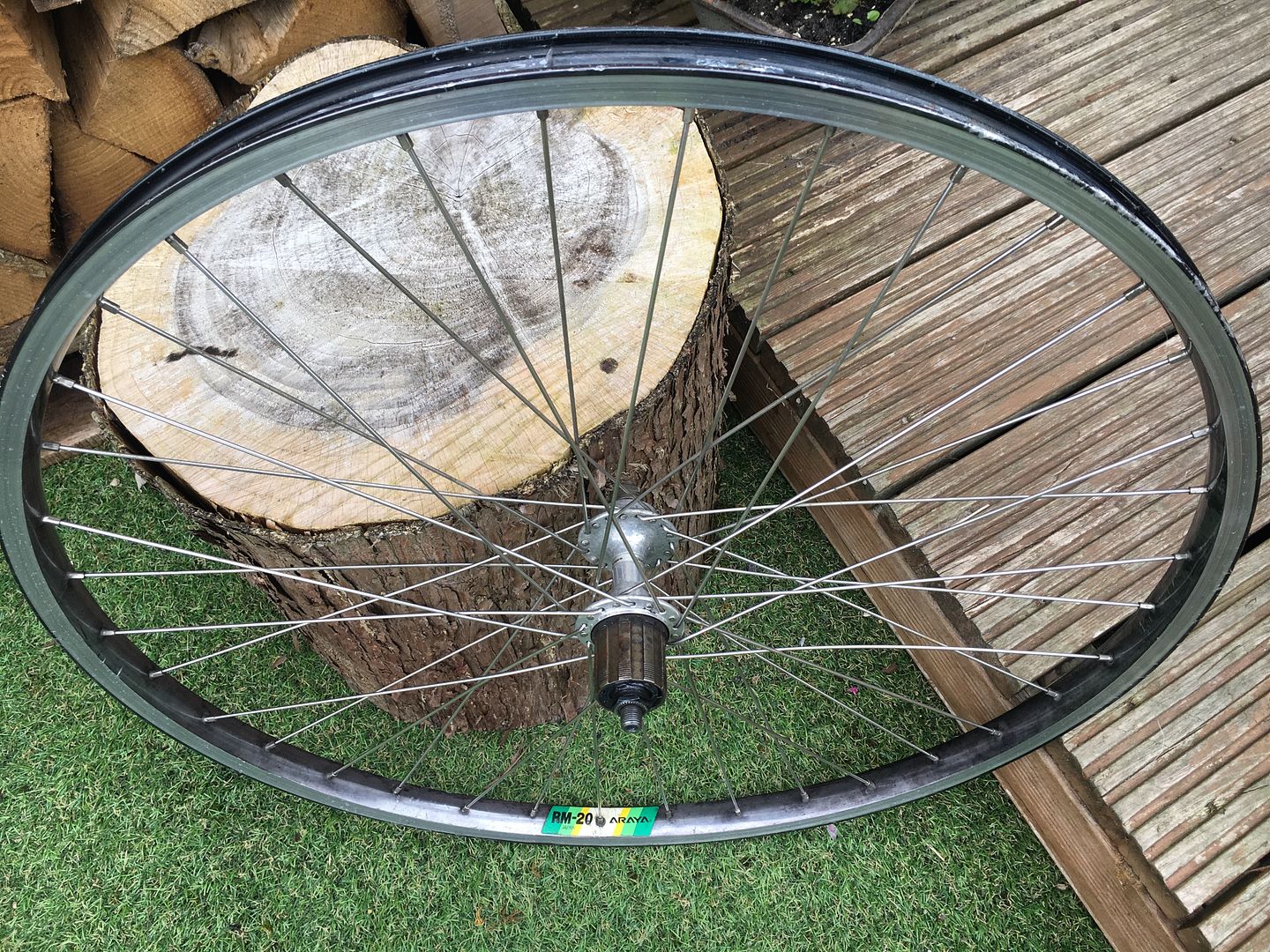 [/UR

[URL=http://s1078.photobucket.com/user/marshalltimothy1/media/BBED92F0-657E-498B-8A08-C323437B748E_zpsp6d8b8tp.jpg.html]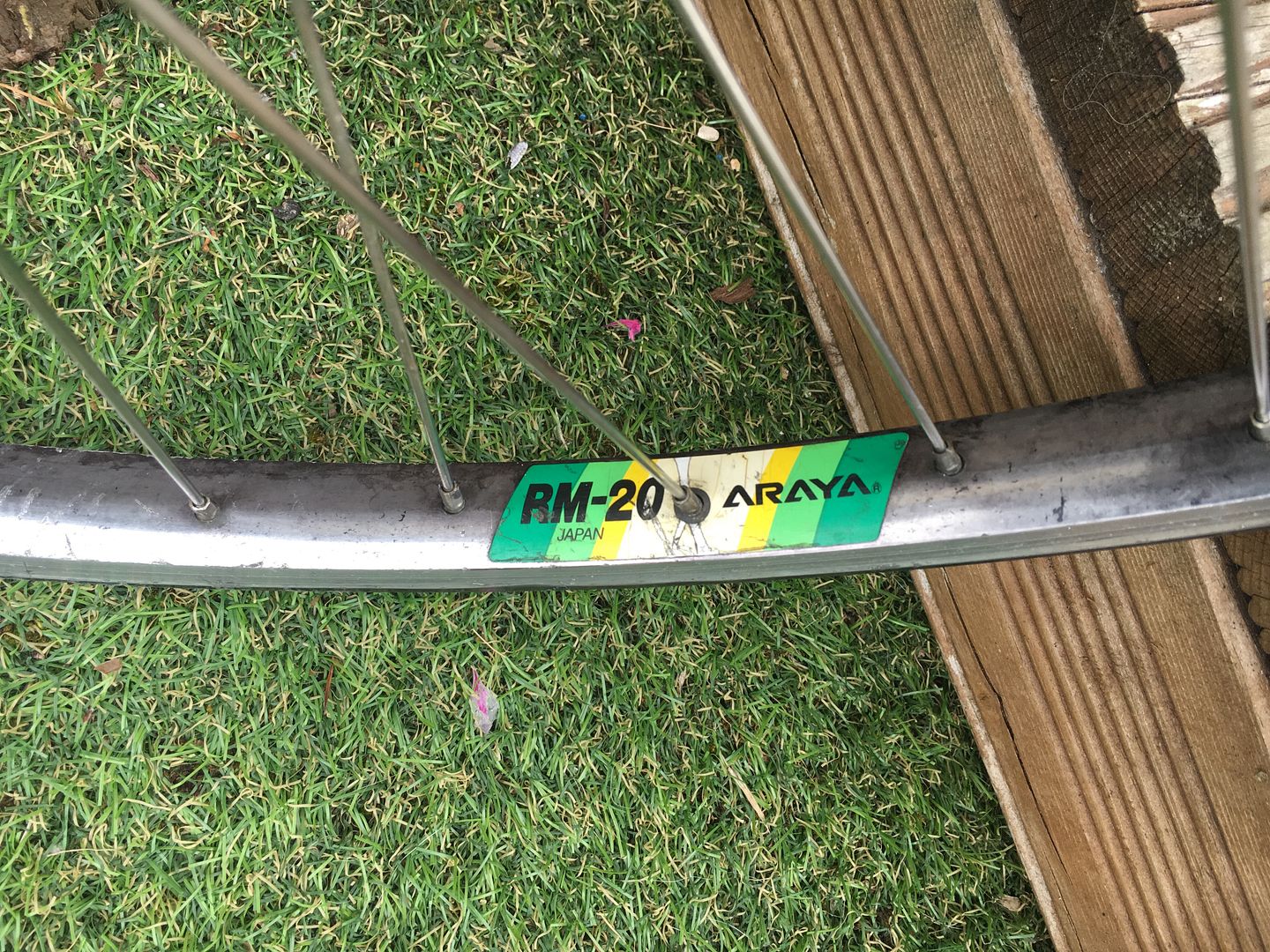 SOLD ITEMS
Adidas cycling shoes with provision for cleats and removable studs. UK size 9, euro 43 1/3. Lightly used. £20
PROFILE carbon fibre XC handlebar with anti crush alloy ends. 505mm long with slight sweep, 25.4 diameter. Usage marks but still plenty of life. £10
Complete front and rear set of Shimano XT BR-M750 V brakes in great condition with good pads and correct mounting bolts and washers. £35
NOS HG30 7 speed cassette £10 x 2
Specialized RockHopper cycling shoes UK 11. £30
UK forces issue Camelbak £15
Syncros 27.2 black seatpost £30
KORE front quick release £5
Scott Mathauser brake pads £40
Anodised red alloy jockey wheels £12
Truvativ AKA 31.8 stem £10
Shimano XT 27.0 seatpost £18
Rockshox Judy SL in black £70
XT M732 32 hole hub NOS £30
Silver alloy canti straddle cable hangers £6.50
Pair of KORE quick releases £35
XTR M950 crank arms £25
Dia-Compe bolt on brake pads from Grafton Speed Controllers £7
Impact aheadset 1 1/8" x 2 (one for spares only) £8
Grafton Speed Controller E's and NOS XT brake pads £127.50
Red ano Mission girder type stem £20
Syncros ahead stem in silver with black hinged bar clamp, 1", 110mm, 15degree rise. Decals mostly intact. Good condition £30
Tektro silver machined brake booster £7
Syncros early cattleprod quill stem in black, 1 1/8", 115mm 10degree with noodle. £75
Shimano XT M739 V brake levers. In good condition £15
Sella Italia Turbo Matic saddle, black with yellow nose and half rear detail. Few small scuffs but still very nice. £15
SunRace 7 speed screw on type freewheel cassette 13-28 teeth, new in sealed bag with box. £12
SunRace 7 speed screw on type freewheel cassette 13-25 teeth, new in
Box £11
Charge Spoon saddle in white with orange detail, Cromoly rails, as new condition. £13
Dia-Compe Kontak DL-2 1 1/8" aheadset £4
X-Lite Cross Country riser bar in silver/ blue, uncut nice condition. 25.4 x 620mm £20
Shimano XT BR-M739 V brakes front and rear £25
Shimano 8 and 3 speed shifter units. In good usable condition. £10
Shimano XT RD-M739 rear derailleur, with blue ano hanger bolt ( bolt a bit scuffed) long cage, in good condition. £15
Critical Racing Titanium shafted front quick release skewer in turquoise £15
Syncros Titanium seatpost 27.0 x 330mm, vertical logo in good condition. £65
PACE RC200 F3 frame 16" in very good condition £215
PACE RC35 in great condition but need new elastomers £60
Hope Ti hubs with Ti freewheel on and turquoise blue shells, with good bearings, laced to Mavic 117 SUP Silver rims in great condition £125
Shimano XTR M900 front derailleur, 31.8, bottom pull in good condition £25
Black ano riser bar 31.8, alloy, possibly Syncros. £8
Panaracer Fire XC Pro tyres x2, 26x2.1 mounted but not ridden so as new. £25
Lizard Skin chainstay protector in red £2.50
Shimano XT M737 8 speed cassette, 11-28 tooth, in very good condition, & the SEDIS silver chain that was used with it, 108 links and in good order. £20 posted
Bontrager Race 4140 HT quill stem, 1 1/8", 140mm, 10 degree rise in nice condition. £18
Shimano XT M730 front hub, 32 hole, has polished up nicely. Bearings are fine. £7
29er front wheel Alexrim ZX24 with Shimano hub and 160 disk as new with Specialized The Captain tyre. £35
RockShox Mag 21 SL's £45
Shimano cartridge bottom bracket, 68mm shell width, 127mm axel. Model unknown as label came off but the bike had M737 XT very smooth£8 posted
Koryak Pro seatpost 6061 T6 Alloy, 30.9 x 250mm, has been cut down (not by me). £8 posted
Cook Bros E cranks in blue £61
Shimano XT M739 V brake levers £15
X-Lite purple ano seat bolt £5
Job lot of ano blue and purple bolts plus jockey wheel £4
Shimano XTR M952 rear mech £23
Shimano LX M569 8x3 gear shifter pods £13
Shimano STX MC31 Pewter compact chainset £18
Continental Sport Contact tyres in 26x1.6 £20
Full set of XT M739 V brakes £20
Easton EA50 Monkeybar risers £15
Yeti Attack grips £5
Mitchelin Wildgrippers in green £35
Ritchey stud type brake pads, 3 new sets £4
Panaracer Smoke and Dart Majic in White £42.50
Mavic 121 SUP rim 32 hole £15
Orange Hot Rod bars £13
Flite Titanium saddle 1992 £40
PACE gold chainring set 110bcd £45
Onza bar ends £10
Specialized 6062 T6 handlebar £13
Shimano DEORE V brake set of 4 £15
PACE RC35 forks and Mavic 315 headset £85
ControlTech Control Stem, 1" quill, 130mm centre to centre, 10 degree rise £17.50
Pair of Bontrager B3C silver rimmed wheels on STX pewter hubs with 7 speed cassette and Smoke/Dart tyres £35
Red Bullseye jockey wheels £15
Complete front wheel, silver Mavic M231 Ceramic laced with 32 stainless spokes to a Shimano Deore M530 hub, complete with Specialized tyre
£30
Syncros Cattleprod with noodle, 1" quill 140mm 10degree £55
Manitou 4 Sus forks £40
1991 Specialized Stumpjumper frame and DX parts £55
USE seat post silver, cut down £13
RaceFace 110bcd 46tooth chainring, very little use £13
RaceFace 74bcd 26 tooth chainring NOS £8
Odyssey flat pedals in silver. Very good bearings. £8
Syncros cattleprod 1" quill silver 140mm x 10degree £55
Shimano HG red label 7 speed cassette, spare lockring ring and smallest ring and 3mm spacer £14
To peak pocket rocket pump £6
Rear wheel, Mavic 517 in silver, 32 hole laced with stainless spokes to a Shimano Deore DX M950 rear hub, with a Shimano HG red label 7 speed cassette £25
Pair of silver HOPE qr's £20
Panaracer Smoke Lite 26x1.9 Tyre has been used but plenty of life left. Including a good inner tube £10
Titanium handlebar 560mm uncut, slight sweep, no brand known £32.50
REAL bottom bracket 68x122mm NOS £24.75
RaceFace 110bcd big ring, 46tooth with little use £10
RaceFace 74bcd granny ring, 26tooth NOS £10
RaceFace 74bcd granny ring, 24tooth very little use £10
Selle Royal gel saddle £2
Specialized alloy bottle cage £1
USE seatpost in blue and shim £23
X-Lite red and brake bolt caps £10
WTB RocketV Titanium saddle £15
Easton EA50 MonkeyBar £15
Black 32 hole rims, possibly Mavic £30
Shimano XTR M950 front skewer £10
Mavic 316 1 1/8" threaded headset £35
Sugino Fuse 500 chainset, 175mm cranks, 46-36-24 non compact Super Shifter Pro rings £25
XTR M900 chainset with good rings, arms show use, including smooth BB - £35
Syncros Cattleprod stem, 1 1/8" quill, 130mm centre to centre 15degree rise. £35
1992 GT RTS-1 frame £150
XTR M900 brake set £40
XT M736 top pull mech, 31.8 diameter clamp £20
Kalloy UNO 1 1/8" quill stem, 130mm centre to centre, 10degree rise £5 Hope Titanium and XTR M900 on Mavic M231 £90
XTR M900 rear mech with purple bolts and new jockeys £25
DCD in turquoise £10
XTR M900 shifter/ brake units £60
PACE RC35 forks with Magura specific arch/ mounts £50
Fred Salmon Racing turquoise handlebars £20
Shimano XT M735 band type front mech x 2 £15
USE polish and purple ano post £20
Camlebak Army camo £15
PACE RC35 forks £45
USE carbon bottle cage £7.50
Ringle H2o silver bottle cage £15
RockShox Super Deluxe shock, trunion and GT travel chips £55
Sunn Obsys 40 suspension forks & FSA Orbit headset £40
Mavic X517 SUP rims with black spokes on Sunn hubs £55
Shimano XT M739 8 speed shifter pod £10
Shimano BR-M850 DX SLR brake calipers £6
Syncros Cattlehead stem 125mm, metal top cap £20
Shimano Deore XT M732 thumb shifters £33
RaceFace black Forged chainset with TA rings and UN52 bb £45
Syncros Cattlehead stem 110mm, plastic top cap £20
Shimano Deore XT BR-M730 SLR cantilever brake £6
Shimano Deore XT PD-M735 pedals £15
Syncros 27.2 black seatpost £25
Syncros Hardcore silver handlebar £28
Sunn black alloy Low rise XC riser bar £10
Shimano Hyperglide C 8 speed cassette, 11-30 £8
Specialized RockHopper cycling shoes UK 11 £38
Shimano XT M738 front mech £15.50
Shimano XT M739 V brake calipers front & rear £23
3dv purple Answer Hyperlite bar £50
Syncros Cattleprod noodle stem 120mm 5 degree 1 1/8" quill £55
RockShox Judy alloy steerer and crown 1 1/8" ahead 180mm £20
Continental Cross Country tan wall tyre 26x1.9 £18
DiaCompe aheadset silver 1 1/8" £6
Shimano FD-M735 bottom pull XT front mech 28.6 £15
Chris King silver 1 1/8" aheadset £55
DiaCompe U brake £15
Early 90's Ball burnished Zaskar frame, Shimano BB and seatpost £65
Shimano Deore XT II BR-M733 SLR U brake NOS £58
Magura Hydrostop front brake £13
Club Roost IDB 150 handlebars £10
Ringle' super 8 & super bubba hubs in Green £200
96 RockShox Judy SL £62.50
Blue Ano ControlTech handlebar £33
Shimano RD-M953 XTR Mega9 long cage rear mech £10
Mitchellin Wildgripper tyres in green/ tanwall NOS £100
Ritchey Megabite Z Max tyres in tanwall nearly NOS £80
Shimano Deore XT M732 black cantilever brake and link wire £6
Shimano Deore XT FD-M735 31.8 front mech £19
Selle Italalia 1987 NOS in box brown Turbo saddle with Ritchey colour logo £37.50
Ringle H2O bottle cage in blue, L bend, washers and bolts £33
Zoom Force 1000 upside down suspension forks, £70 posted to America
Syncros black 27.2 x 330 seatpost, later generation £45
Syncros black 27.0 X 330 seatpost, early generation £60
Dirt Works Barfly Titanium riser bars £60
SRAM PG-730 7speed 12-32 cassette, very little use £8
Ritchey Z Max tyres in red 26x2.1 £65
RockShox Judy SL 1996 with IDDON springs £65
Mavic 230 TIB citron rims on Shimano LX Parallax hubs £26
AC Adventure Components stem £13
SRAM PG-730 7 speed cassette 12-32 teeth £9
Shimano XTR 3x8 gear shifter / brake lever combined units. Left hand is an M950, right hand an M951 £40
Syncros Altrax SLR 32hole rims NOS pair £90
1996 GT RTS-2 ball burnished frame with Noleen shock 20" £140
Panaracer Smoke Dart HC Amber wall tyre 26x2.1 £13
NOS Kalloy seat skewer and Shimano wheel skewers £10
Panaracer Smoke Lite Amber wall tyre 26x1.9 £10
SACHS Power Grip Wavey shifters. 3x8 speed £10
Shimano XT BR-M739 V brakes, 2 pairs £25
Crud Catcher £4.50
Shimano LX BL-M600 V brake levers £6
Shimano XT FD-M737 front mech, top pull, 31.8 band size. £13
Nukeproof Carbon hubs, 32 hole. Front is good, rear has two cracks in spoke shell on drive side. £40
Red anodised CNC'd Magura HS series brake boosters X 2 £6
MATRIX EASTON E9 TaperLite handlebars in black £23
Shimano Deore XT BB-M730 NOS bottom bracket £48
Shimano XT M730 series seat and wheel skewers £30
NOS ODI Attack Fluoro green grips in original packaging with decal £30
Shimano Deore XT ST-M008 8x3 gear shifter units £20
SUGINO CSP compact chainring set 42-32-22 £13
Tioga Alchemy 1 1/8" silver aheadset £14
VP Components SPD/flat combined pedals £5
Clubroost Go Fast silver riser bar £10
Shimano XT RD-M737 rear mech, short cage £16
X-Lite 26.8 seatpost with red ano head £10
Shimano XTR SL-M951 right hand 8 speed shifter unit £13
Manitou M-Sport fork and load of NOS RockShox springs £40
Shimano XT ST-M095 right hand 7 speed shifter/brake unit £13
Profile designs riser bar with brace £10
Ringle H2O bottle cage in silver £34
Shimano XT PD-M323 combined pedals £10
Shimano XT RD-M737 rear mech £8
RockShox Mag21 crown and steerer 1 1/8" ahead 190mm long £24
Specialized aluminium straight handlebar £15
Marin Lite bars and seatpost £25
Shimano PD-M324 pedals £8
Manitou Mach 5 SX suspension fork £18
Shimano brake straddle cables. 2 X D/93 (93mm) and 1 X B/82 (82mm)
£4.00
Dia-Conpe Power Control 7 V brake levers £5
Clear YETI grips £8.50
Suntour XC Pro 8x3 thumb shifters £38
Specialized cold forged aluminium ahead stem £5
TA red anodised 110bcd 46&34 tooth chainrings £22
Mr Crud clear rear Crud Guard £15
Shimano Deore LX FD-M567 front mech £5
X-Lite Alto Pro stubbie barends £10
X-Lite camlock rear skewer £5
Shimano FC-M300 Exage 300LX crank arms and chainring bolts £8
Alex black rims and spokes on Deore M510 hubs, 8 speed Shimano cassette and Panaracer Mach SS tyres £37.50
Shimano XT ST-M737 shifter/brake units £25
USE suspension seatpost and shim £25
Shimano Deore DX long cage rear mech £13
Shimano XT RD-M737 short cage rear mech £18
1 X Deore XT, 1 X Deore DX & 1 X 200GS thumb shifters £20
PACE RC35 Atmosphere Balanced forks and grease gun £40
Shimano Tourney 3x6 speed shifters SL-TX50 £5
KORE silver front quick release £5
Left hand Shimano Deore XT ST-M091 SLR brake and gear shifter unit £14
RooX seatpost 27.2 X 360mm £16
1988 Muddy Fox Courier £103
Shimano XT M740 threaded headset £25
Flite Titainum saddle with Kevlar corner protection, Dated 1997. £28
Odyssey svelte skewers £16
Zoom 150 2000 Butted aluminium silver bars £18
Titanium wheel skewer set £17
Odyssey Titanium wheel skewers £10
Odyssey U4 brake booster plate £10
X-Lite brake bolt covers £5
Suntour XC Pro thumb shifters £30
Zero Zippy's in purple, seen better days £3
Middleburn purple ano outer chainring 46t 110bcd £15
Purple ano jockey wheels with sealed bearings and purple ano seat quick release £8
GT RTS-2 frame, 16". With typical crack in non drive side main pivot £55
Shimano Deore XT FD-M738 front mech, top pull, 28.6 band £13
Answer Hyperlite handlebars in silver £35
Titanium wheel squewers £13
Answer Manitou Comp forks and threaded Shimano headset £35
Alesa 6021 rimmed rear wheel with 8 speed speed cassette £17
Shimano XTR M900 left hand unit complete and spare non working shifter unit £35
Shimano STX RC rear mech, UN52 BB, LX chainset and IG chain £35
Chris King blue ano no logo top cap £5
SRAM 9 speed cassette £10
GREY branded threaded headset lock ring £4
Ritchey Rock Comp front wheel, STX RC hub and Continental tyre £20
Ritchey Logic cantilever brakes, one pair £8
X-Lite blue ano stem cap and bolt £5
RockShox MAG 30 air/oil fork £35
Titanium wheel skewers, 2nd set £13
Specialized CRMO Team quill stem £13
Mavic 121 SUP rim on Hope Ti rear hub with Shimano 8 speed Hyperglide cassette £50
Silver 27.0 Seatpost from a 1992 Team Issue Marin £8
Manitou HT frame, SX Ti forks, FSA headset and parts £110
X-Lite G-Force red ano 7005 alloy riser bars £16
Shimano Deore LX paralelogram V brake, one pair £13
Mint Sauce MBUK Race & Flowers shirt signed by Jo Burt £45
Shimano XT PD-M735 pedals £25
Ringle holey seat quick release in black £32
Ringle 1 1/4" quill stem, 120mm centre to centre, zero rise in silver with decals by Gil_m £57.50
KORE X Country rider bars in satin silver £14
Powergrips, new in packaging £20.50
GT 700 lbs red spring for rear shock £18.50
Isla Bike Beinn 26" small £290
Shimano PD-M520 SPD pedals, unused £10
TACX aluminium bottle cage £5
Shimano XTR M900 shifter/brake rubber hoods £5
Shimano XT M739 8x3 speed gear shifters £25
Shimano XT M739 V brake levers £18
EDCO Competition Swiss made BB £15
Clarks lock on grips £5
Shimano XT BR-M739 V brakes 2 pairs £31.50
1993 Klein Rascal £825
Campagnolo seat QR NOS £16
Shimano Deore XT RD-M750 rear mech £8
Shimano Deore XT wheel skewers £15
Shimano XT RD-M735 long cage rear mech £13
Shimano PD-M520 SPD pedals £5
Shimano Deore XT FC-M730 chainset £27.85
1993 Manitou FS with Manitou 4 forks and parts £595
NOS Onza Chill Pills in turquoise £20
3DV Purple Ringle anti chain suck plate £29
NOS Middleburn 28 tooth 74 bcd chainring £20
NOS Vuelta 22 tooth 54 bcd chainring £15
NOS in packet Fibre-Lyte carbon fibre brake booster & mountings £28
MAVIC 68x134 BB with free Raleigh Dynatech Titanium frame attached £22
Ringle holey silver steel rod wheel & seat QR's £90
Pair of Ritchey Megabite 26x2.1 black wall tyres in great condition £44
Panaracer Fire XC Pro tyres x 2 £15
Vuelta Leather and manganese saddle £15
Shimano XTR M900 shifter pods on Magura hangers £65
Syncros riser bars £27.50
Syncros cattle head stem £27
Shimano XTR M900 chainset £90
Shimano XTR M900 rear mech minus jockey wheels £30
GT Team RTS frame 16" £350
SPIN wheels with Blackwall Panaracer Smoke & Dart tyres £350
RockShox Mag21 with 60mm travel £150
Syncros Seatpost 26.8 x 330 £40
Flite Titanium £25
Ringle Holey wheel skewers £50
Magura Racelines with Ti bolt upgrade and adp. booster £75
NOS Shimano XT brake lever hoods £10.85
Shimano XTR Grey Brake and Gear cable sets £42.85
Shimano XTR M900 brake pads x 4 £15
Shimano Deore XT shark fin NOS £12
Answer ATAC 1" (22.2) quill stem 120mm c2c, 20degree with noodle £47
Shimano XTR M900 brake pads x 2 £12.85
Purple SRP crank bolts and 4 x bottle cage bolts £12
Shimano XTR M901 31.8 top pull front mech £20
Chris King No Threadset 1 1/8" silver aheadset £65
Shimano XT PD-M735 pedals £20
Syncros 1 1/8" Hangdoggy with replacement tube £20
Shimano XTR BB-UN91 68x116 bottom bracket £35
Mavic 217 on Shimano Deore XT Parallax hub £25
Shimano XTR M900 front left brake calliper £9
GT Medium cycling top made by De March £26.95
Ringle turquoise spin type skewers x 3 with Ti spindles £96.50
Kona Joe Murray Impact headset parts £9
Animal watch strap and 2x MBUK watch straps £5
Shimano XT M732 thumbies £38
X-Lite click on Seatpost 25.4 diameter Seatpost £13
Shimano Deore XT M739 V brakes £35
Syncros cattle prod 22.2 (for 1" threaded) quill stem 130 c2c and 1" cable hanger £46
Shimano XT PD-M737 SPD's one pair and one spare £8
DMR V6 purple nylon pedals £10
Shimano Dore DX MT60 drive side crank and rings £15
Shimano XTR M900 rear mech £50
X-Lite Xpert blue ano bars £40
Chris King 1 1/8" aheadset plus Tioga spacer £65
Shimano XTR M900 1 1/8" headset, split on lower cap £20
RockShox air pump and Mag series handbook £15
Shimano XTR M900 NOS brake pads £40
Shimano Deore XT ST-M739 brake/shifter units £40
Shimano Deore XT FR-M736 28.6 bottom pull front mech £14
Syncros Cattleprod 22.2 quill stem 135mm c2c with noodle £110
GT Cycle shirt £15
1993 GT Pantera frame and fork £60
Ammaco aluminium folding Mountain bike (modern) £85
Scott Mathauser brake pads £25
Salsa 31.8 flip off seat clamp £13.75
1991 GT Tequesta £150
Syncros 1st generation 1" (22.2) quill stem with noodle £45
Control Tech Control Stix barends £25
Shimano XTR M900 pad holders x4 and mounting bolts/washers x4 £5
Magura bleed kit £5
USE seat clamp bits £6.50
1988/98 Raleigh Mustang £40
Panaracer Fire XC Pro 26x2.1 folding tyres x 2 £30
Shimano XT M737 rear mech £22.90
3 x quick release skewer set £6
Manitou Comp forks £75
NOS Mavic 221 silver rim and STX headset £21.50
Onza bar ends £6
Manitou 2 forks with long 1 1/8" threaded steerer, original box and manual £107
X-Lite top cap and bar savers in black £7
Pair of 24" allot rimmed wheels, Shimano 7 speed cassette & tyres £20
NOS Royce Titanium BB 126x73 £78
HOPE disc brakes £65
Shimano Deore SL-M511 3x9 shifters £19.50
Shimano XT RD-M739 rear mech, no jockey whelks £10
Marin Rock Springs frame, FOX Float R shock, post & WTB saddle £95
FOX Vanilla R suspension fork 130mm £75
MAVIC M231 CD grey rim on front XT M730 hub with QR £25.50
XT M772 rear mech and XT M770 front mech £25
Red Shimano DX V brake and LX M600 £20
1993 Kona Lava Dome £140
New ENDURA Cycle helmet £10
1993 Orange Prestige £450
Bontrager Titanium perforated saddle £36
Shimano XT SL-M732 thumb shifters £27.50
Shimano XT BR-M737 canti brake £17.50
USE handlebar with bar ends and Ritchey grips £25
Shimano UN52 BB and Dia-Compe brake levers £13
DMR V6 purple Nylon pedals £10
1987 Marin Palisades £100
Flite Titanium saddle 1992, cover needs sticking down £23
Onza Porcupine folding re issue blackwall tyres x 2 NOS £85
Deore XT thumbies and Deore DX thumbies £53
MAVIC XC717 and 221 black rims on Deore/LX hubs £43
HOPE Ti silver screw on rear hub with silver MAVIC 217 SUP £31.50
Mr Crud rear Crud Guard £15
Clear Crud Catcher £12.50
Avid Speed Dial 5 brake levers TA 36tooth 94bcd ring & unknown 32 ring
£16
Shimano Deore LX BR-M550 cantis £10
Shimano Deore LX rear mech RD-M550 £12
Shimano DV red V brake levers and arms, full set £10
Zoom quill stem 1 1/8" £8
PACE RC35 MXCD needing new elastomers £45
MAVIC 221 rims in silver on Shimano Black Deore LX M564 hubs £26.50
Shimano Deore XT ST-M092 SLR shifter/brake units £24
Shimano Deore XT HP-M740 headset 1 1/8" threaded £13
YETI Kokopelli disc frame £150
MAVIC silver 221 rims x 2 £20
WTB Rocket saddle £10
Easton EC90 carbon bars £21
Suntour XC Comp & Shimano Deore XT RD-M737 rear mechs £25
Ritchey Aplhabite tyre £8
NOS Shimano BL-M733 2 1/2 ginger brake levers £33
RockShox Judy XC £33
Michelin Extra Traction tyres £15
Shimano Deore LX FD-M550 front mech, 28.6 band £15
Suntour XC Pro front mech, 28.6 band £15
Shimano FC-MT60 chainset with FSA BB to fit £30
1991 Kona Cinder Cone frame P2 fork, Impact headset and seat post £60
NOS Shimano Deore XT SLR front brake Cable inner and outer £8
Marzocchi Z2 Bam fork £27.50
1989 Kona Cinder Cone 21" £81
Shimano Deore XT PD-M735 Caged pedals £40
Campagnolo Atek rims £35
1995 Rocky Mountain Fusion frame 21" with parts £40
Ritchey Vantage Expert/DeoreDX wheels with HG41 cassette and Maxxis tyres £46.50
Mavic M 261CD anodised grey rim on Shimano Exage HB-RM50 front hub £30
Gripshift SRT800 X-RAY shifters with grips £30
HOPE Pro closed system disc brakes, complete setup and Manuel £40
Specialized Nimbus EX 26x1.5 Tyres with tubes £10
Mavic M231 silver rim on Deore DX front hub with 2 x qr's £20
Easton Monkey Lite XC carbon riser bars £35
Mavic 317 Black rim on rear gold LX rear hub with black spokes £16.50
1989 Orange ClockWork Tange infinity frame, forks & DX headset £55.50
Trek 7000 Easton E9 frame 17" £30
1996 RockShox Judy XC fork with 243mm 1 1/8" steerer £70
NOS Mavic 317 silver 32 hole rim £15.50
1 1/8" x 230mm theadless steerer with bottom lip £30
Shimano XTR M900 hubs £65
1986 Brown TURBO saddle £10
Suntour XC Pro chainset 170mm arms £29
Suntour XC Limited tear mech £25
WTB/Titec Titanium handlebars 505mm good logos £40
Unknown brand 1 1/8" 110mm 5degree rise Titanium stem £65
Shimano XTR M900 cantis with original pads in great order £70
Azonics O'neall Riser bar x2 & Tehava ano purple riser bars £17
Water bottle cage, possibly Titanium, very light and feels like Ti to the touch, 'T' stamped on the bottom £14.50
Syncros Hardcore 1 1/8" aheadset, not sure if crown race is correct one £20
Kona brake hanger £11.95
GT Tange CroMo forks £14.50
1995 Kona Cinder Cone £300
Flite Titanium red label saddle £53
Marzocchi Z2 BAM forks £65
Avid Arch Rival V brakes and levers £45
PlanetX riser bars £20
Shimano Deore XT 26.8 Seatpost £40
1998 Kona Cinder Cone 18" frame plus STX RC chainset, STX front mech, Shimano BB and Ritchey Logic ahead-set £60
DCD in ano purple £5
190mm 1 1/8" threaded steerer with circlip and 1 1/8" PACE crown race £23
Onza Porcupine's tanwall kevlar folding, £75
Headset reducers from 1 1/4" - 1 1/8" £10
Dia-Compe 986 Cantis £20
Shimano XTR M950 rear mech £25
Shimano XT ST-M095 shifters/brake levers £37.50
ControlTech stem £8
X-Lite bar ends £5
Brake booster £8
X-Lite shifter pod hangers (Rooster Mounts?) and LX shifters £30
Onza Chill Pills in black NOS £20
Kona Seatpost 27.2 £8
Brahma handlebars £13
X-Lite Red ano stem cap/bung £6
Shimano LX Parallax front hub £5
Shimano 3x8 shifters £8
Shimano XTR M951 V brakes £43
MAVIC D521 SUP rim on rear Shimano LX hub with 8 speed cassette £20
Onza Porcupine tan wall tyre, early pink label £50
Mint Sauce/MBUK Race n' Flowers cycle top men's large £50
Vuelta Italy tan wall tyre Panaracer Dart copy £10
Merlin Titanium/Fat Chance bottom bracket steel spindle 128mmlong.
Avid Arch Rival 40 V brake with new pads.
Dia-Compe SS-7 left hand canti brake lever.
Shimano SG 24tooth 74bcd grannie ring
DDG Kevlar saddle
Gripshift 3x8 with cables, grips and one spacer washer.
Planet X stem 1 1/8" ahead for 25.4 bars.
22.2-25.4 bar shin.
LED front light.
Black rear wheel skewer.
Black Rubber grips
Unknown brand cycle computer holder, sensor and magnet £15 the lot
MAVIC 117 SUP CD rim 32hole NOS £55
WTB / Suntour Grease Guard bottom bracket 68mm shell x 125mm £18
Yeti ARC - Ringle, Cook's, Grafton, Onza, XTR etc £2000
X-Lite FLY stem ano red £25
Campagnolo Atek rims on NukeProof carbon hubs, Onza Porcs, M900 cassette and ATI 3DV Ringle like QR's £375
Fat Chance Yo Eddy Team in grello/blue with TNT, Syncros, XTR, XT, Turbo - minus wheels £1600
Yeti 1994 Catalogue and price list plus Yeti Man headtube decal £40
Suntour XC Comp wheel skewers £13
2 x NOS Onza Porcupine red label 26x2.1 Kevlar Blackwall Tyres £80
2 x NOS Onza Porcupine red label 26x2.1 Kevlar Blackwall Tyres in boxes £80
3 x PACE Extrudergroove chainrings 110/74bcd 46x36x26 £50
Set of 4 NOS Scott Mathauser type 'S' brake pads £20 (in a deal with the above tyres and rings)
3 X NOS Shimano CN-HG91 7/8 speed 116 link Hyperglide chain £45 each
XTR M900 Type P cassette and Dura-Ace chain £65
Venhill Titanium 150mm stem bolt £15
NukeProof carbon rear hub, Odyssey Svelte 3DV Seat qr & Scott Mathauser brake pads £80 job lot.
NOS XTR M-System ceramic V brake pads x 2 £6
Deore DX thumb shifter, right hand, missing clamp bolt £8.60
NOS Mr Crud DCD in blue £13
Hope Ti glide front hub, crack in flange £10
MAVIC SUP 121 grey rim on rear LX parallax, some residue in rim £19
Shimano Deore XT RD-M735 long cage rear mech £15
Marin 1993 Pine Mountain 3DV purple Barends £8
NOS Scott Mathauser size 'S' Brake pad inserts x 4 £20
X-Lite DHR 690mm riser bar £18
Rocky Mountain/West Coast School of Mountain Biking cycle top £13
NOS Suntour Cassette non MD 13-30teeth £18
Kona Track Two fork £205
Silver MAVIC X138 rim on B-1 front hub £15
NOS Kona Project Two 1" threadless £36.50
NOS GT 1997 STS rear triangle sections and main bushes £75
Shimano SG chainring set in black £45
18" GT RTS ball burnished frame main triangle £55
Ritchey Mega-Bite & Alpha-Bite rust wall tyres 26x2.1 £57
TIME A.T.A.C pedals £16
Shimano Deore LX M563 front and rear mechs £13
FOX rear shock £18
RockShox Super Deluxe GT LTS/STS rear shock £40
Kona Velocity quill stem 1996 with Ti clamp bolts £20
Kona canti brake levers £10
Shimano Deore LX M570 front and rear mech, shifters and STX RC front mech £30
Titec Hell Bent riser bars £10
X-Lite bar ends, two pairs stubbie and long L shape £13
Shimano XT RD-M735 rear mech and Bontrager Crow Bars £16.50
Continental Trail King 26x2.2 Tyres - New £33
Girvin Flex Stem £15.95
Shimano Deore FC-MT60 silver chainset £20
1995 Proflex Animal frame, Girvin Vector 2 forks & parts £110
Salsa 1" quill stem, 120mm reach, 15degree rise £78.50
MAVIC 517 SUP citron rim on HOPE Ti and blue ano front hub £50
Specialized Strongarm cranks £18
Macaw purple and tan wall NOS Tyres x 2 £35
1 X pair of Campagnolo Icarus/Record cantilever brakes £25
Tranz-X riser bars with brace £19
PACE pewter extruder groove chainrings x 3 £55
Shimano M600 V brake set £16
Tioga City Slicker 26x1.95 tan walk Tyres £22.50
Project Two fork by Spinner £45
Shimano SG 110/74bcd rings x 3 in great condition £43
Almost complete Marin Quake £135
Dia-Compe blue ano cantis £7.50
Shimano Deore LX Mega 9 RD-M570 rear mech £13
Flite Titanium saddle with Kevlar corners 97 £13
USE Titanium Seatpost, cut to 260mm from clamp £28
1994 Kona AA £250
1997 Kona King Kikapu frame £150
Syncros 26.8 x 330 Seatpost £43
XTR M900 cantis with spare pads £50
XTR M910 rear mech, needs new jockey wheels £20
Club Roost GoFast blue riser bars £15
1992 Kona Fire Mountain £75
Suntour XC Pro chainset £45
Girvin Flex Stem £10
Araya TM-18 silver rim on rear Shimano Deore DX M650 hub with red label cassette and Suntour bear trap pedals £35
RockShox Judy FSX needing new elastomers & cartridge rebuild £160
RockShox Quadra 10's , 1" threaded steerer £35
DMR V8 pedals £10
Shimano XTR ST-M910 right hand 8 speed shifter/brake lever unit and left hand brake lever only, shifter hanger removed £35
97 Gary Fisher Joshua Z0 frame with parts £40
Shimano Deore XT ST-M095 left hand shifter/brake unit £13
Araya RM-20 rear wheel on Deore hub £15
KARMA'D
Shimano quick release
Ritchey rear Ti quick release
Specialized front quick release
Powerplay Race Pro stem, 80mm long 5 degree rise
Wellgo silver pedals
Fi'zi:k Tundra saddle, hollow Manganese rails
TH sealed bottom bracket, UK type thread 68mm shell 111mm tapered axel
Camelbak, no bladder.
Shimano chrome front quick release.
Nokian 26x2.1 semi-slick tyres
Vetta SL GT Italy branded saddle
Onza bar ends
Profile ABS bottle cage x2
Shimano rear quick release
Black alloy bottle cage
Crud catcher copy
Plastic pedals with ELITE toe things.
Shimano ST-EF20 brake and gear shifter combos
2 pairs of ODI attack
1" quill stem in unused complete condition, 65mm centre to centre reach, around 30degree rise.
1" KF (Kalloy) branded quill stem, 70mm reach and approximately 30degree rise.
Ergo Ring grips
VP 566 red platform pedals
Specialized pump
Blackburn pump
Seat post shim 27.0-29.4
Marin Lite bottle cage
TH cartridge BB 63x109mm
Camelbak backpack, no bladder
Bontrager rear quick release
Sunn Cycledelic saddle
Mountain Biking UK / HighFive bottle
Topeak bottle cage
SACHS Power Grip Wavey shifter, 3 speed
SHIMANO XT RD-M750 Mega9 rear mech
160mm 6 bolt disc
VUELTA Scout 26" silver rim on rear Shimano Parallax hub with 6 speed Shimano cassette
ACOR one peice high rise stem
ARAYA 36 hole silver rim on Shimano Parallax rear hub
Shimano Deore DX BL-MT63 left hand brake lever, nice condition
Steel seat quick release
Shimano XT rubber handled rear quick release
Velocity gold alloy bottle age
KONA branded Viscount saddle
Non drive side Shimano FC-MC33 STX crank arm
CLASSIC blue ano bottle cage
Specialized seat quick release
GT Outpost Trail frame
Ritchey True Grips
Silver alloy seat quick release
Shimano Exage Country front mech
Cog Hog
Brake Converter
Crud Bung
GT Outpost Trail frame 16"
1 1/8" headset top race, lock nut and seal
Complete 700c rear disk wheel with tyre
Marin lite stem with cable roller, 1 1/8" quill
Shimano Altus Hyperdrive C chain set
Shimano RD-2300 rear mech
V brake cable pull enhancer for use with non V brake levers
Mister Crud's Crud Bung
Specialized Sonoma 155 saddle
Gel saddle cover
Black alloy seat quick release
Shimano Toe clips from a 1993 Team Issue Marin.
Cateye cycling computer bar clamp, model H-24
Slovakian cycle team zip up jacket
Large gel ladies saddle
Sturdy rear luggage rack
Large lot of decals for sticker bombing
GT seat QR
Single Track rim on Shimano Parallax LX front hub
MAVIC 117 disc rim on Shimano rear parallax hub
BELL Venture large Cycle helmet
34mm seat clamp
Titec handlebars
Titec 1 1/8" ahead stem
Kona Velocity stem
Kona foam grips
Onza bar ends
Seatpost 25.8
BikeHut saddle
Black bottle cage
Shimano Altus C50 canti brake levers
Shimano Deore LX V brake
Shimano Nexave front mech 31.8 top pull
Shimano UN52 bottom bracket
Shimano 8 speed HG cassette
Shimano 7 speed HG cassette
Black seat bolt
Pair of not quite matching blue ano wheel QR's
Gipiemme black rear wheel QR
Quando silver front wheel QR
2 x brake straddles/ hangers
Blue ano BMX brake
Shimano M550 crank arms and SPD's
Specialized Body Geometry saddle