Selling more bits to make ends meet,
now's the turn of my Lovely Black Orange Aluminium O. 19" frame (17.5 c-c seat tube) which was powedr coated by the previous owner and looks just fantastic.
It no longer sports the Manitous, but now just sits on OE orange steel forks. These aren't powder coated, but sprayed in chipresistant satin black paint. no bottle holder either now. Ringle clamp has been swapped for a black Hope jobbie.
Frame/forks/headset+seatclamp - £150posted UK (headest is mintier than mint)
NOW £140 posted UK
NOW £130 posted
***EDIT 17/10/12 SOLD***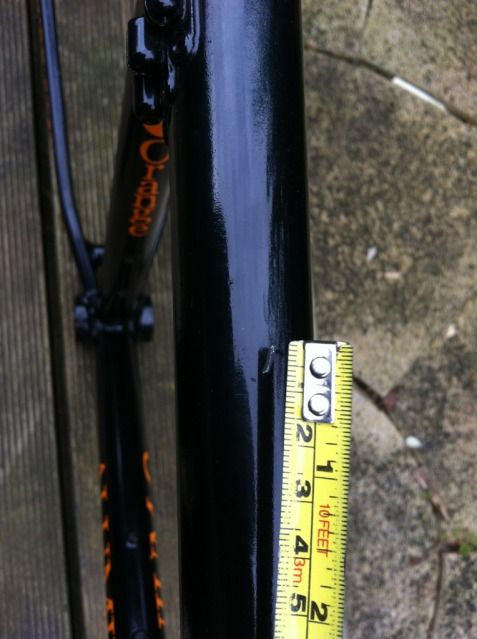 In the bottom picture is the only significant mark I can see on the frame (on the top tube about 15cm in front of the seat tube). As you can see it is only about 5mm long, and would be very easy to touch-in.
only the frameset remains - all other parts now consolidated in a seperate ad in the sale section..
Full build thread here:
http://www.retrobike.co.uk/forum/viewtopic.php?t=186603
and the pic below is from when I built it, but it's changed slightly since (see above)
Sold Items:
Wheels are perfect condition Mavics built around black parralax hubs - £100
SOLD
XT thumbies - £45
SOLD
XT M730 cranks (175mm) are nicely polished - £60 (including chainrings)
SOLD
Controltech post 27.0 (black) - £35
SOLD
Controltech stem (was nos) 1-1/4" quill 150 reach - £30
SOLD
Onza Honch/Aggro amberwalls are mint - £45
SOLD
ODI tomac grips - £8
SOLD
USE spinstix Ti wheel QR's - £25 -
SOLD