All prices include P&P to your door within the UK, overseas could be considerably more depending on size/weight and destination of item! Please pm stating postage details, all payments to be made by PAYPAL GIFT OR YOU PAY THE CHARGE unless you'd like to collect in person for cash in Nottingham/Derby area
Please pm me as i've missed a couple of post here i think!
Middleburn 110 BCD crank arms and spider great condition £70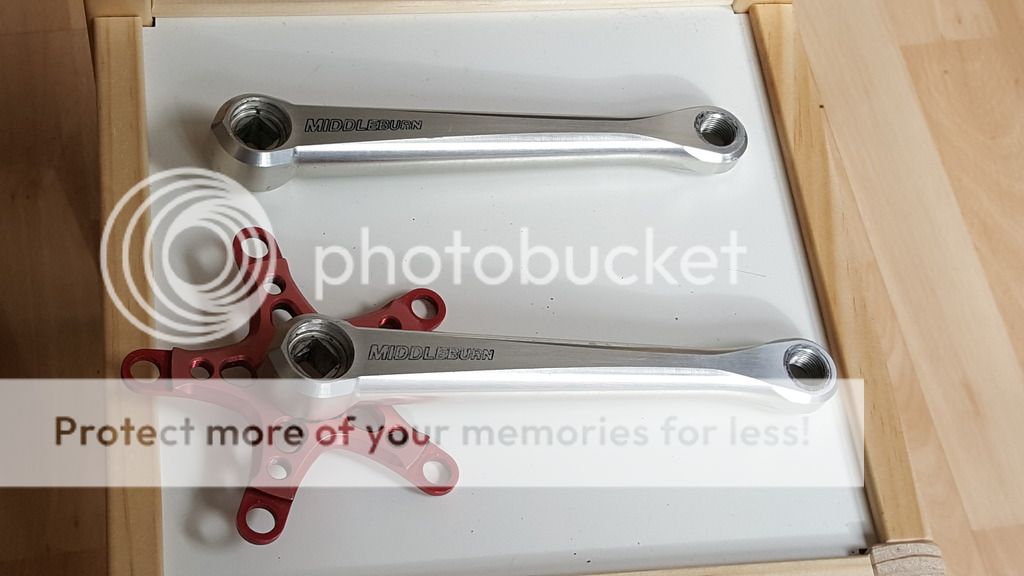 White Industries Tracker Suspension front hub 32h £45
Shimano XT Hubs Good condition and bearings smooth 32h £30
Mavic 1/1/4" Headset, great working condition and complete £40
Mavic Dakar fr hub with skewer in excellent condition £45
NOS Syncros Cattle prod stem 130mm 1" with top cap £35
Syncros seat post 31.6 x 330mm un-cut £35
Black Kalloy post 31.6 x 320mm, very good condition £12
Shimano XT Thumb shifters great working condition £40
XTR M900 Front canti's, Very good condition. Some wear left on pads complete with Ti bolts and straddle £30
Dia compe SS5 Brake levers good working condition £12
NOS ROOX Fat free brake levers £100!!
Brodie Rock Shox Mag 21 brace Excellent condition £20
Control tech control stix barends £18
NOS X-Lite Enduro barends £25
NOS Real Ultimate Ti BB 115mm spindle £40
NOS Panaracer Front Tire £30
Panaracer Smoke wire bead pair very little use £40
NOS Ritchey Megabyte Z-Max wire bead 1.95 £40
NOS Tioga Phsycho TT x2 £30 Each
Tioga Mud Dawg pair of £25
Tioga Psycho II and K/S both in very good nick £20 each
IRC Mythos XC and Pirahna Pro both less than 20 miles since being NOS F £25 R £45
R is sold
Kona Joe Murray Equilibrium £10
SOLD SOLD SOLD SOLD SOLD SOLD SOLD SOLD SOLD SOLD SOLD SOLD SOLD SOLD SOLD SOLD


NOS Ritchey Megabyte Z-Max Folding 2.35 £45
NOS WTB Fr/Rr Raptors £40
ODI TOMAC ATTACK Grips very only ever mounted never ridden great condition £30
Dia compe SS5 Brake levers good working condition £12
Pair Panaracer Smoke Lite with cracking, ideal for garage queen but i wouldn't ride them. £30
Middleburn Microdrive crankset great condition

NOW £100


RaceFace microdrive crankset Few marks but very little use in great condition £120
X-Lite Cam Lok Ti skewers good working condition only 1 locking lever

NOW £20


Syncros seat post 27.0 x 330mm un-cut in excellent condition

NOW £70


Nuke Proof early carbon barends great condition £50
NOS Onza porcipaws £15
Shimano XT seatpost un-cut 27.2 £35 sold pending payment
Secialized Ground control folding with some cracking and sidewalls faded £25
Ringle Super Bubba hub suspension hub Excellent condition 32h £55 sold pending payment
NOS Syncros Cattleprod stem in silver Comes with box, instructions and all hardware 130mm, 1" A-Headset £30
White Industries Tracker front hub 32h £45
NOS panaracer Smoke Dart front tyre £35
Tioga seat post never mounted 300mm 26.8 NOS with box £25
Shimano Dura ace rear mech with short cage, Excellent condition £20
NOS Complete bikes worth of Controltech Cantis in silver, These are stunning and getting very rare £125
No name seat collar, Great cond 34.9 size £3
Ringle rear Holey Skewer. Has some slight scuffing to lever but generally good condition £15
Tioga Tbone 150mm for 11/8th" threaded steerer NOS with box £10
NOS Bontrager stem, 1 and 1/8th 130mm £10
XT Front mech with 28.6 and 31.8mm bands in good condition £15
NOS IRC YETI Claw comp folding tyre £30
Shimano DX SPD's Excellent working condition with a few light scuffs and writing worn, bearings very smooth £10
Hope Ti front hub NOS 28h £35
NOS Onza Porcipaw grips, Extra wide in black £10
X-Lite Ti handlebars, un-cut but quite badly scratched from application and removal of shifters etc
OK condition, very light and still fully functional £15
NOS Kool stop Eagle 2 Brake pads £6 per pair or £10 for both
Dia Compe SS7 brake levers in Silver, excellent condition £25
Dia Compe SS7 brake levers in black, excellent condition £25
Oddysey Stem, in good condition 1" 150mm 10 degree rise with working roller £15
2X NOS Bags of midlle chain ring bolts Alloy ano in blue £5 each
NOS X-Lite Ti V brake bolts £10
Orange F7 forks with threaded steerer, V. Good condition £35
Bontrager Corvair rims, NOS and 32h £15
Shimano DX SLR shifter lever combo, Good condition £10
Silver Ringle Zooka 1" Ahead stem in 135mm length excellent condition bot no top cap £40
Shimano DX rear hub built into Araya RM20 in silver. Hub is perfect and smooth, rim has signs of age but these are built like tanks so plenty of life in it. £20
Shimano DX Fr mech, 34.9 clamp ok condition £5
Late Pace RC30's in fantastic condition
£140 or £145 with short 1 1/8 threaded steerer
Shimano LX brakes with all nuts and bolts and straddle cables. ok condition £5
Pair of wheels. Shimano LX hubs Sun Levanter Rims 36h Rr 32h Fr both hubs and still have decals in very good cond. Bearings good but need more grease and braking surfaces only just starting to wear at ano surface. Good solid wheels. £40
Shimano DX Rr mech, All fixing bolts/springs etc included, good condition £12
Tange Switchblades with 150mm threaded 1" steerer, Excellent condition.
£125
Ringle Rear Hub, 7/8speed screw on 135mm and 32h Excellent cond £33
Suntour Freewheel cassette 7 speed Excellent cond, hardly used £9
Syncros Seatpost 27.0 x 300mm OK condition £35
X-Lite Ti seat bolt Good cond £6
X-Lite Ti Skewers Perfect condition £26
Ringle twist skewers NOS £26
Shimano SPD not retro or particularly clean but work well £8
Hope skewers Good condition £25
Odeyssey Skewers, excellent cond, hardly used £27
Purple brake bolts good condition £6
TNT Ti rear hub, 32h great cosmetic cond and freehub is sweet but needs service. £55
Shimano XT 1 1/8th Headset NOS £47
Ritchey Z-Max tyres in blue/grey these were NOS and have only been mounted NOT ridden (These are not the tyres from my WTR). Still have remnants of the white protective stuff.
26x2.1 size £60
Orange Ali stalk and Ali Hot Rod bars (replacement stickers for bars included). Stem 1 1/4 x 160mm Bars 575mm
both well used £12 both or £8 Stem £6 Bars
Shimano XT skewers Excellent cond no rust, small marks are little bits of box tape. £12
Shimano skewers Good cond £6
X-Lite seatpost Very good cond 26.8 x 300mm £25
Oakley Frogskins, Original and excellent condition Crystal Black and Red Iridium, boxed and bagged. £45
Cook Bros cranks Great condition with only slight marks to inside edges and slight rub showing on etching. Spacers for inner chain ring available.
Micro drive. Threads and tapers are excellent £125
Controltech stem 11/8th quill x 135mm Good cond £15
Shimano DX hubbed Wolber AT-18 Wheels. Hubs in perfect cosmetic and working condition, rims worn but plenty of life in em. Rear needs a slight true but very light and strong wheels. £55
Pair of stunning Ritchey/Bullseye Wheels Radial Fr and non drive side Rr, drive side Rr 3x
Rims, spokes and Fr hub were NOS and Rr hub was excellent B4 being built, 15 miles later on my Kona HOT and they were removed and boxed since. Screw on Shimano cassette included £185
_________________
Current -- 09 Genesis Altitude 30 - 94 Bontrager OR Race Lite - 93 Orange Prestige - 91 Zinn Z-753 - 91 Roberts White Spider Ultra light - 91 Klein Attitude Dolomite - 91 Kona Hot TET - 91 Kona Lave Dome - 91 Mountain Goat Whiskeytown S - Dave Yates - Vulcan
Projects -- FUNK Pro Comp - Serotta T-Max
For sale
viewtopic.php?t=174951&postdays=0&postorder=asc&start=0