For sale the following as a set:
DeKerf Team ST softtail 18,5 frame"

+
RaceFace realseal threadless headset 1 1/8"
+
RaceFace Air Alloy handle bar 560mm
+
GripShift SRT 800i XRAY
+
Syncros 130mm 0 stem
- no forks and no wheels -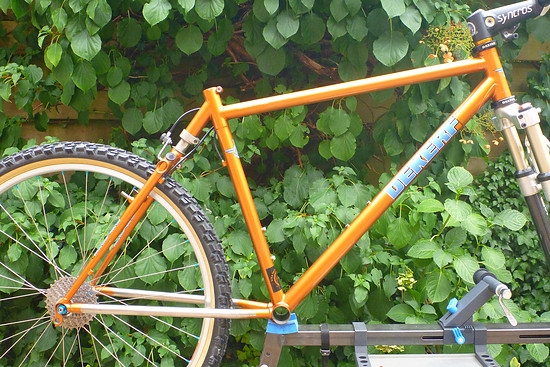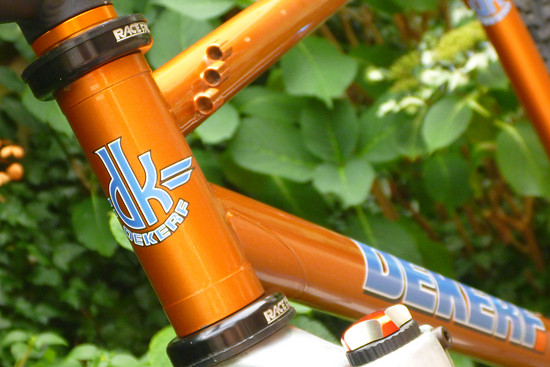 Size = L (it does say "L" on the BB). Serial# DEK1761
Seatpost size 27.2 (not 100% sure though, but 90% it is 27.2 - someone can confirm?)
Not sure which year this is from, might be 1998.
Has Ritchey dropouts and BB, Reynolds 853 tubing as far as I know.
Titanium chain stays
Interesting: it does not say "Team ST" on the frame. This gives it a very clean look. Might be custom.
Frame is in very nice condition but has a small ding under the BB and some riding rash under the down tube. Hard to see if build up and standing. For the rest some marks of usage - still in very nice condition.
Frameset comes as follows:
- Frame DeKerf Team ST
- Headset RaceFace 1 1/8"
- Handlebar RaceFace Air Alloy 560mm
- Syncros stem 1 1/8" 135mm 0 degree
- GripShift SRT800i 3/8 shifters
- Oasis grips
- steerer spacer in the same color as the frame
- rear canti adjuster
- some outer cables in correct length
All parts are used but still in very nice condition.
* sorry: FORK and REAR WHEEL NOT INCLUDED and are not for sale *
Price for the frameset: 400 EURO
Registered shipping (with insurance) to most EU countries: 35 EURO
Let me know if you're interested and I can send a few dozen more photo's! 50+ available!

_________________
WANTED: '96 burgundy blue strata 21" or complete Adroit '95 in Sea & Sky strata 21"