Helicopter 1:
Here we have a HK-450 CCPM 3D Helicopter, looking for £140 Delivered (Paypal gift or buyer pays fees) ono.
It has full blue metal parts (see pictures).
This helicopter has never been flown as I lost interest with the hobby before it reached the skies, I have a short attention span.
To complete the Helicopter you would need to arrange the wiring and bind to a Spektrum controller.
I'd recommend that before flying this helicopter is stripped down and rebuilt to ensure that everything is flight ready, I have included lots of spares if things need to be replaced.
I will try to answer any questions however I am very out of touch with this hobby.
Really would prefer it to be picked up so I can ensure that the buyer is happy and that it isn't damaged in the post, however I am willing to post to mainland UK only.
I travel between Preston and Leeds regularly and am happy to meet somewhere along route, cash preferred.
Please note due to the type of hobby returns are not accepted, I won't be accepting it back after you have crashed it.
Here are the specifications and what is included in the sale:
Helicopter:
HK-450 CCPM 3D Helicopter - all upgraded Blue metal parts
Yellow Shark Canopy
Main Motor: Turnigy 450 H2218 Brushless outrunner 3550KV
Receiver: OrangeRx R610 Spektrum DSM2 6Ch 2.4Ghz
Gyro: Hobby King 401B AVCS Digital Head Lock Gyro
Tail Rotor: D922MG Digital Metal Gear Servo 1.8kg/ 12g/
Servos: HXT900 9g / 1.6kg / .12sec Micro Servo
Speed Controller: TURNIGY Plush 30amp
Blades: 325mm Fibreglass
2x Batteries: ZIPPY Flightmax 2200mAh 3S1P 25C
Also Included/Spares:
R/C Helicopter Pitch Gauge
HXT900 9g / 1.6kg / .12sec Micro Servo with lots of spare arms and gears
Main Rotor Blade Assembly Tool (5mm)
Main Gear Set
2x Metal Tail Rotors
Carbon Fibre tail rotors
2x Blades (1 Fibreglass 1 Plastic)
Blue metal swashplate
2x Main Shafts
2x Plastic tails (need work) with 2 belts
Esky Servo
Plastic canopy - Needs painting
Lots of other things such as: Feathering shafts, enough connections and screws to last you a lifetime (see pictures):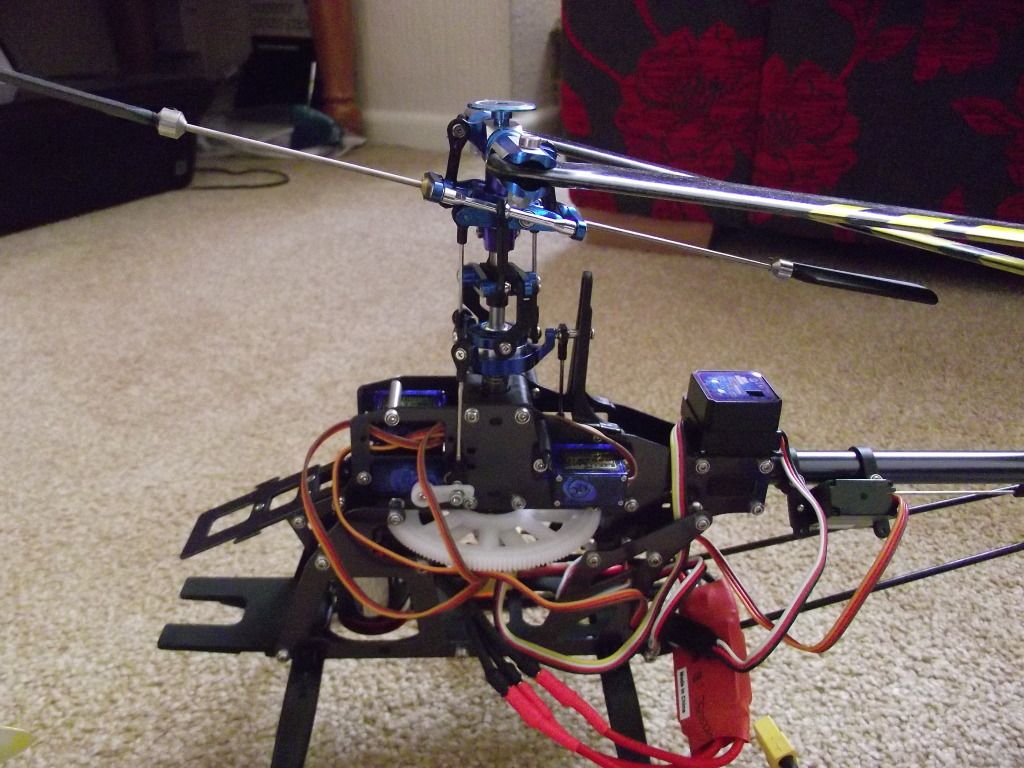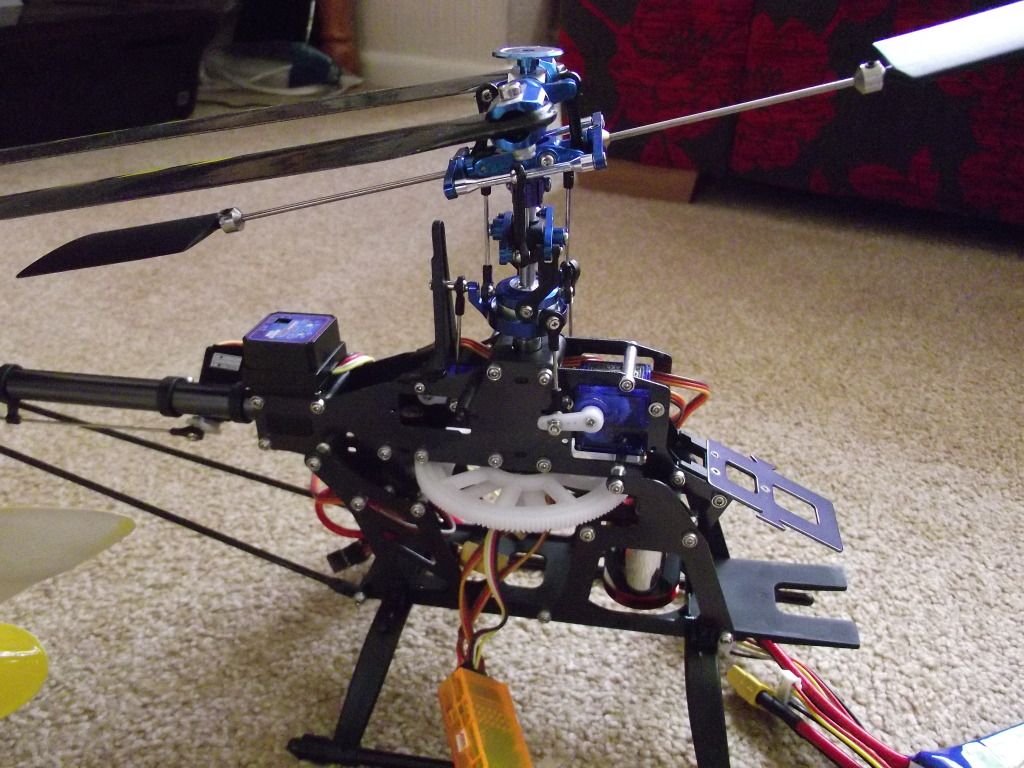 Helicopter 2:
Looking for £180 Delivered (Paypal gift and UK Mainland only) as it includes over £270 worth of spares and £90 worth of mods.
To get it flying you will need a spektrum transmitter. Note the transmitter pictured will only work if returned back to standard.
Everything your ever going to required, apart from a (decent) battery charger and spektrum transmitter, is included.
I will include the esky charger but it's not very good.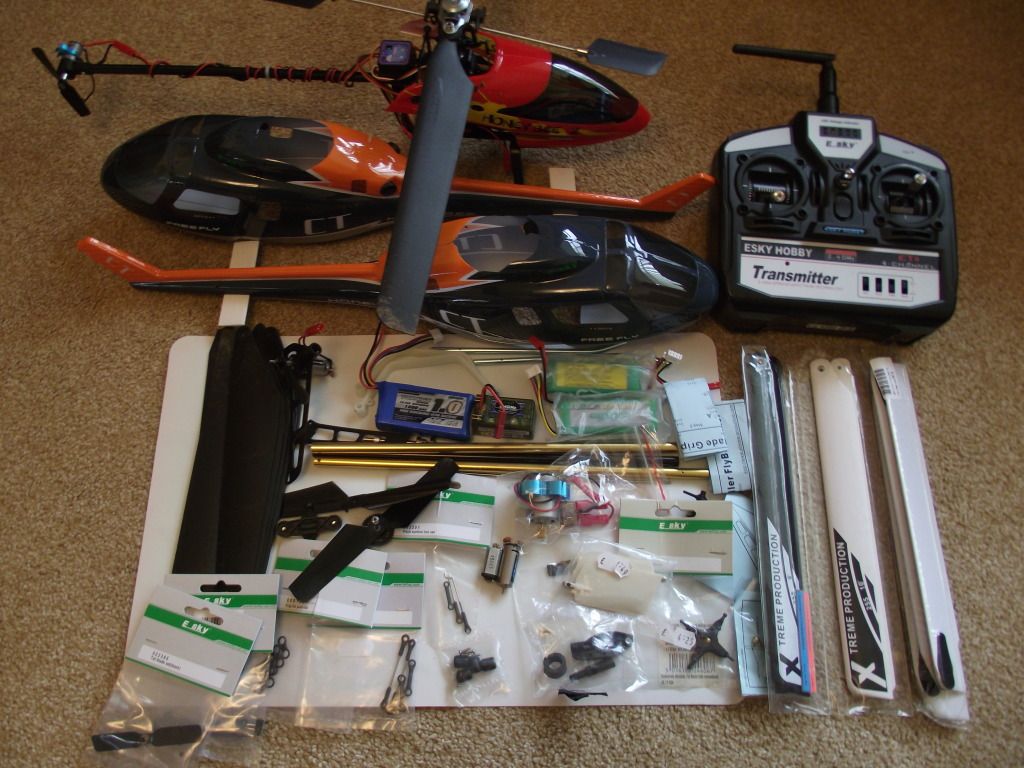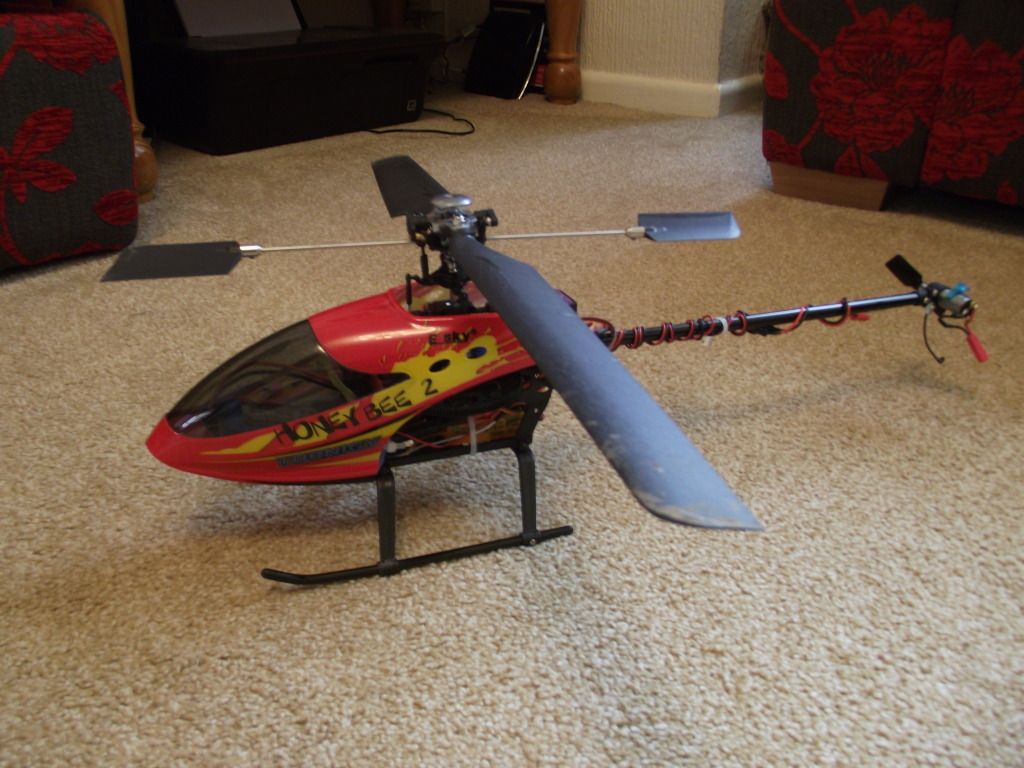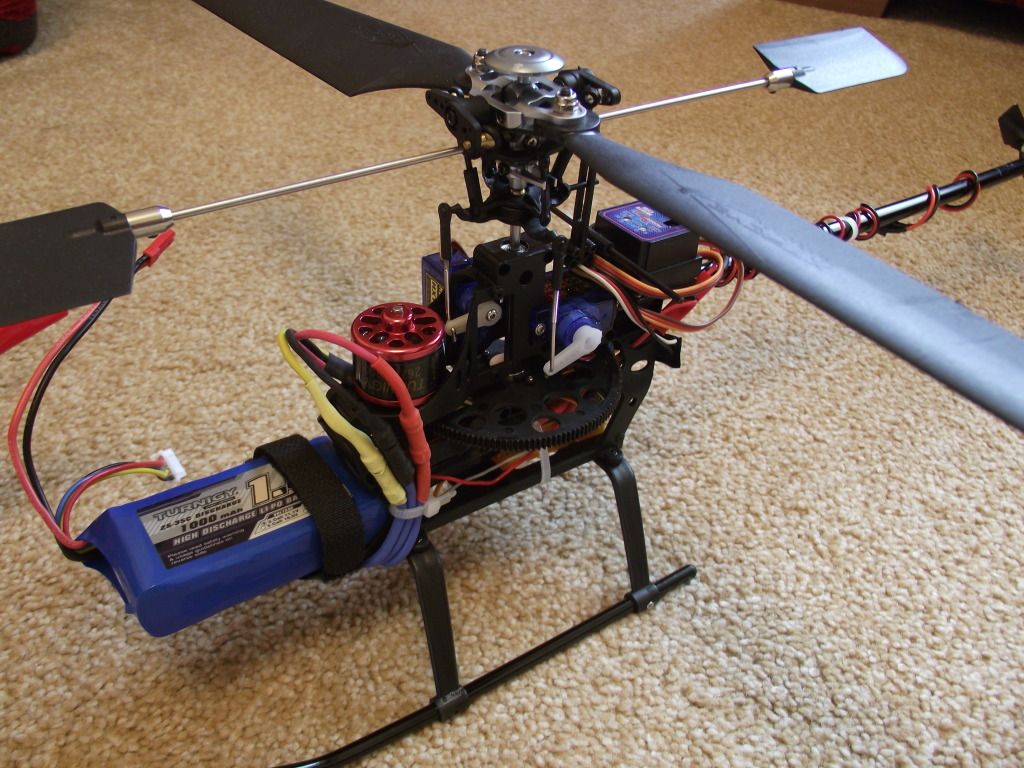 How it looks with it's fuselage on: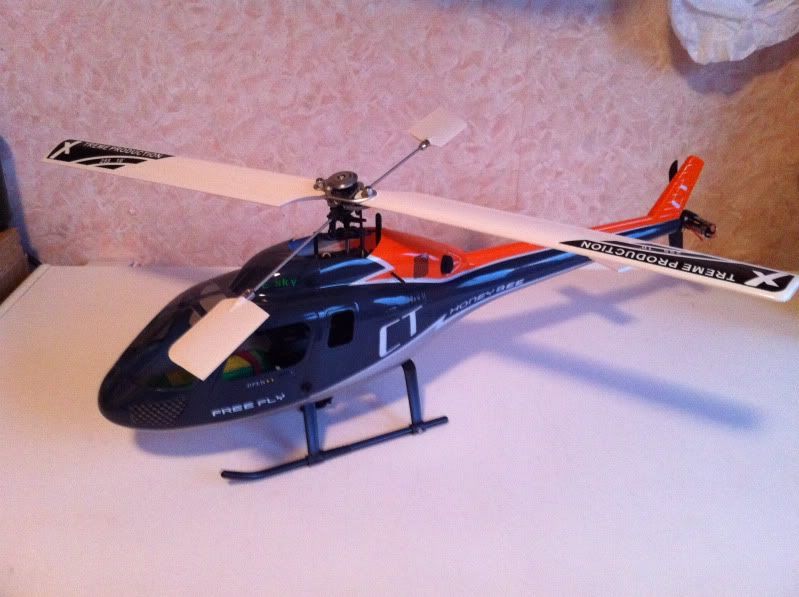 The specification:
The Helicopter:
Main Motor: Turnigy 2627 Brushless Outrunner 3800kv
Pinion: Pinion Gear 2.3mm/0.5M 8T (1pc)
Main ESC: Hobbyking SS Series 25-30A ESC
Tail Motor: 002445 Tail Motor (From a CP3)
Tail ESC: Castle Creations Pixie 7 Amp ESC
Servos: 2 x HXT900 9g / 1.6kg / .12sec Micro Servo
Gyro: Hobby King 401B AVCS Digital Head Lock Gyro
RX: OrangeRx R610 Spektrum DSM2 6Ch 2.4Ghz
Battery: Turnigy 1000mAh 3S 25C Lipo Pack
Tail Rotor: 000201 Tail rotor blade (EK1 0219)
Main Blades: EHB014 Fiber Reinforced Blade
Tail Housing: 002821 HBCT Tail Motor Mount Set
Boom: 002367 Tail Boom (CP3/CT)
Main Shaft: Central Hub and Blade Grip set v2
Modified head: EHB006 Fly-Bar Mixer (Bell-Hiller)
Spares:
EK2 0706 2.4GHz 4 in 1 Controller
000156 Main motor (EK1 0000)
EK1 0224 Main motor heat sink
EK1 0511 Plastic Paddle (White)
000207 Tail motor (EK1 0001A)
2 x EHB010 Direct Drive Tail Motor (For Honey Bee FP / CP)
2 x 000201 Tail rotor blade (EK1 0219)
000199 Tail rotor and drive gear set (EK1 0217)
000187 Rotor head set (EK1 0200A)
3 x 000188 Ring like push rod (EK1 0201)
EK1 0234 Pitch control link set
000193 Swashplate set (EK1 0207)
002386 Tail Blade Set
EHB012-P Direct Drive Motor Mount (Plastic)(For Honey Bee FP / CP)
EHB004-10 Wooden blade 255mm - 10 degree pitch (white)
EHB005 Wooden blade 225mm - 8 degree pitch (black)
4 x000155 Digital Servo (EK2 0508)
000190 Center hub set (EK1 0203)
002371 Tail rotor housing
EHB011 Direct Drive Tail Blade
4x Wooden blades, not pitched, used for setting the helicopter up
3 x 000189 Main blades (EK1 0202)
002394 Tail Boom
1 x EHB014 Fiber Reinforced Blade
3 x ESKY EK1 0188 11.1volt (3S) 800mAh 10C
EK1 0438L Skid set Blue
EK1 0563 Tail boom set
EK1 0439 Skid bar set (in white)
002389 Copper Cover
2 x 002825 HBCT Fuselage Set
000202 Training kit (EK1 0221)
Turnigy 1000mAh 3S 25C Lipo Pack
Also included a bent mainshaft and flybar which can be used if straightened.
Thanks for reading.