Hello everyone, new to the site but not to bikes. However I've never learned all that much about identification and the greats of history. As a US citizen I also don't know much of the British history, but upon moving to Lisbon three years ago I have had to become more of a road rider (for lack of better transportation if nothing else!) There is quite a scene of vintage, single and fixie riders here, and so I have begun to appreciate the finer things in life
On a trip to the UK this summer I acquired a frameset at Netley Marsh that had obviously been restored relatively recently, but never completed. It was also obvious that it has been passed around quite a few times, but the reason was less than obvious, more on that later. It is a beautiful Candy Apple red over what I believe to be a full chrome job, with nice stays and fork legs peeking out shinily.
The lugwork is detailed, not Carlton Jewel detailed, but more than I've ever owned. I took these pics for myself to compare the lugs to Nervex pictures online, so please excuse the mud.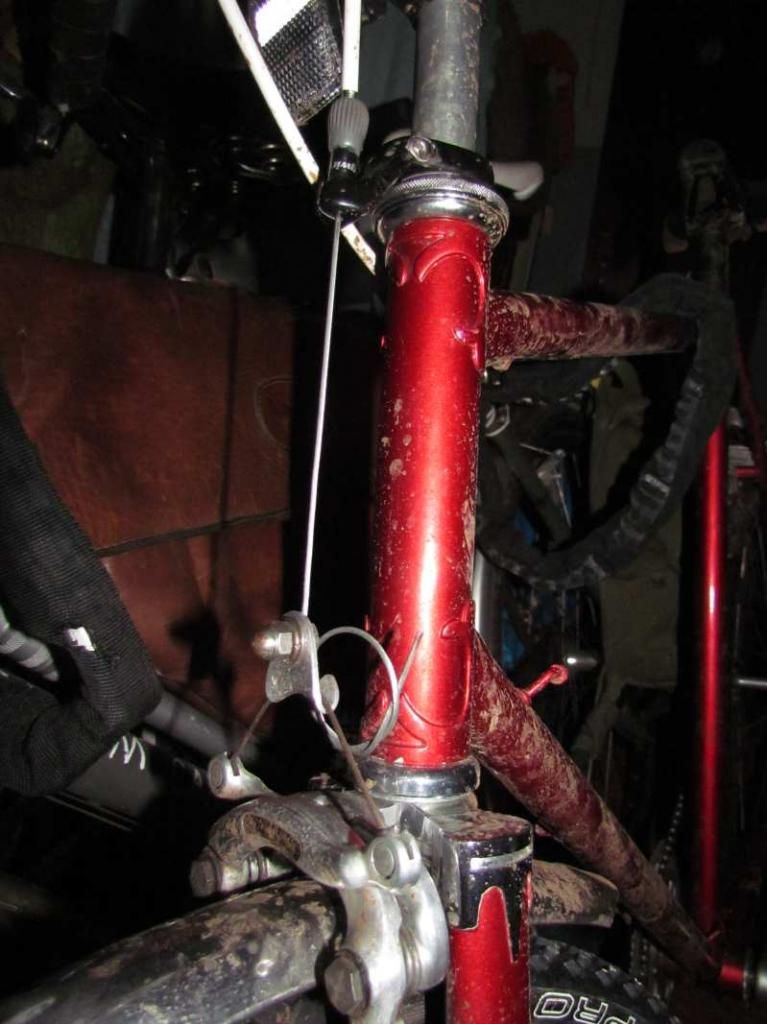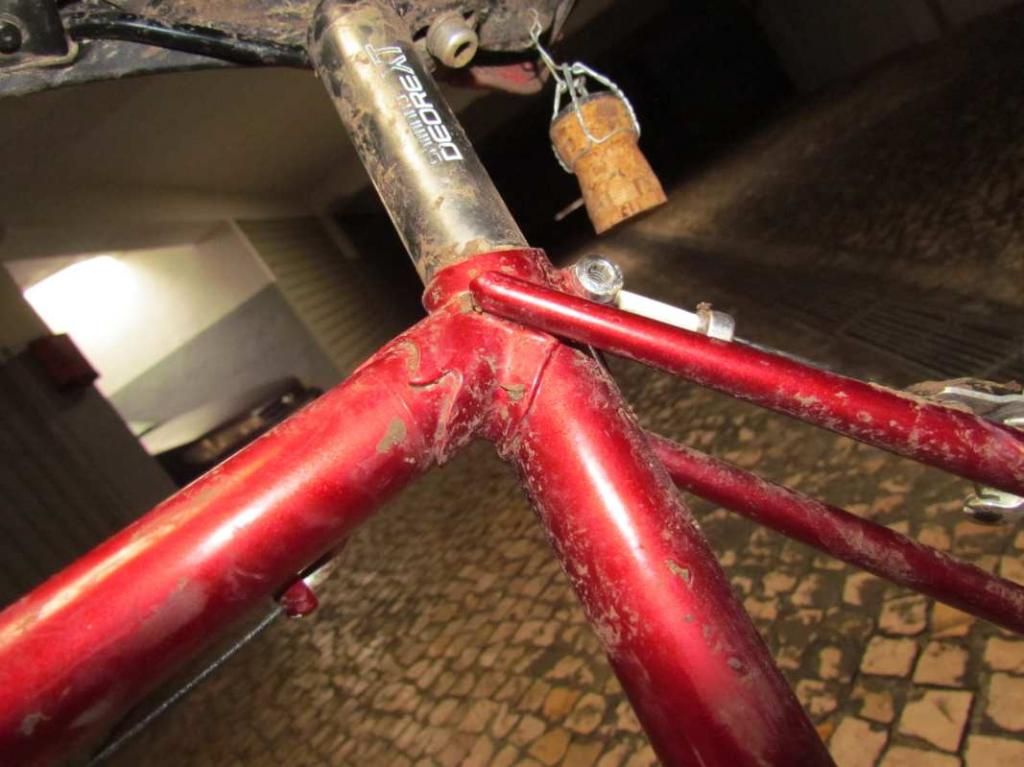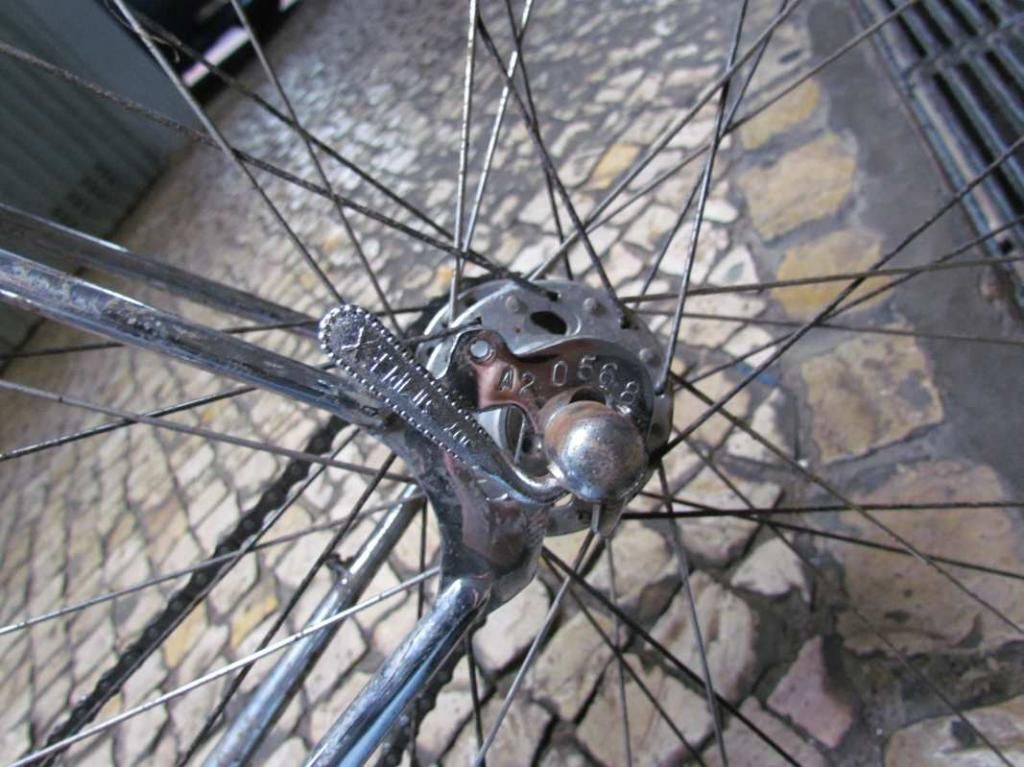 As I traveled back to Portugal I searched out parts across the UK, France and Spain. By the time I got home I had basically all the bits I needed to build the whole bike. Twice in fact
So I set to.
Upon starting to actually assemble it, the reason that it had been abandoned after such a promising start became clear. The chromer had chromed everything (or the preparer had failed miserably in his job of masking off things that shouldn't be chromed)!!! The headtube was fractions too small for a headset!!
the bottom bracket threads were just a bit too tight to accept a BB!!
the single post for the downtube shifter lever is too fat for the lever to fit onto!!!
Its threads are too chromed to mount the lever even if it fit!! even the dropouts on the fork and rear were fractions too tight to slide an axle into!!!
So in the meantime it's first reincarnation is a singlespeed, partly due to the shifter post, and partly due to needing to overhaul the wheels I want to use for a multispeed version. After lots of filing and grinding and tapping, headset is in place, sealed bottom bracket installed, and wheels mount and unmount cleanly.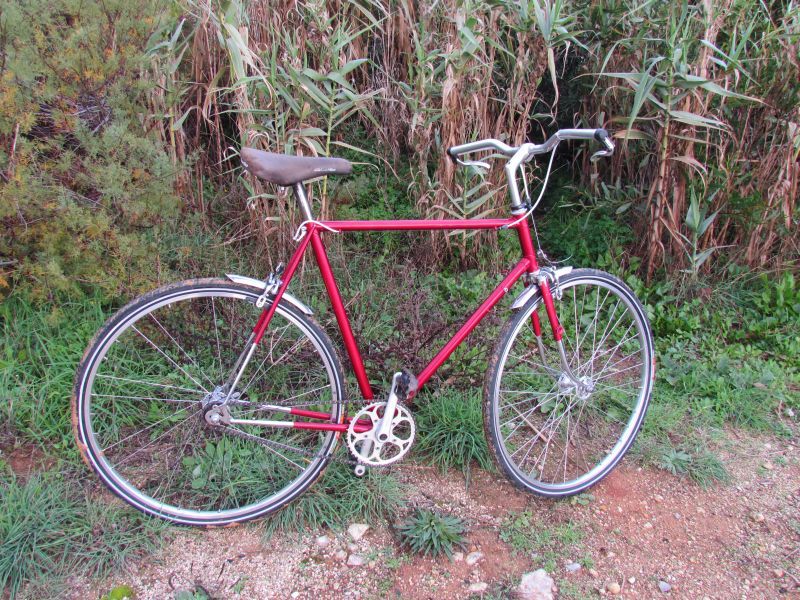 Of course being a utility bike user, I couldn't go for very long with it as a lightweight, clean and tidy singlespeed, so I put on my seatpost rack from the full sus mtn bike for errands. Kinda funny that my panniers knew what color to be long before their bike arrived
And so, if you've followed my tale to the end, I'll ask my original question.
Can anyone hazard a guess at the mark of my fancy new bike?!
The lug work is a good start, the serial number has some clues, and one further bit that may be the telling factor is the offset pump tabs? They are 45° from inline, toward the left side, away from the single downtube shifter on the right.
Thank you in advance for any advice and looking forward to being able to contribute to the community!!
...