Hi all,
The time has come to finally invest in a new fork for my Rampichino.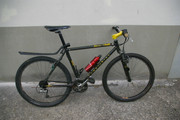 It's a Generation-II, which originally came with front suspension. It has been broken since I own the bike (1999 or thereabouts) and I have not been using the bike at all for the past decade (I live in the UK, the bike is still in Italy).
I'd like to replace the fork with a rigid one. The problem is that it's a threadless 1 1/8, with cantilever brakes. And I refuse to have a fork which sports the mounting bracket for the disc caliper.
The choice is therefore quite limited, as far as I understood.
Any pointers?
I'm happy to buy second hand, but Ideally I'd like to find something that doesn't need much maintenance nor a change in paint scheme, unless it's a tremendous fork really worth the hassle.
Cheers,
Ugo