I have a few pics up un the german mtb forum, maybe they are of help?
https://fotos.mtb-news.de/s/69183?page=2
First to remove the two retaining coups. You need to know they are slightly different. One has a thread, the other one doesn't.
1) Remove the nut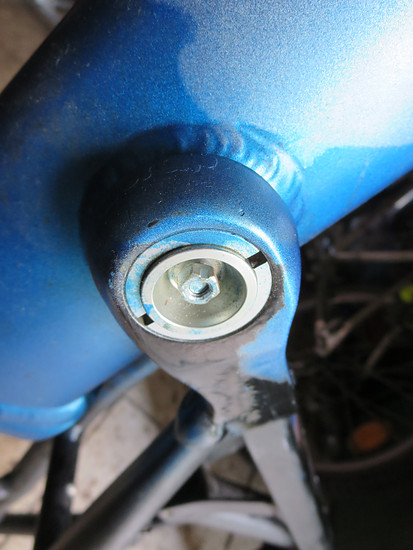 2) Loosen the allen bolt a few turns, so it stays in the thread of the opposing coup,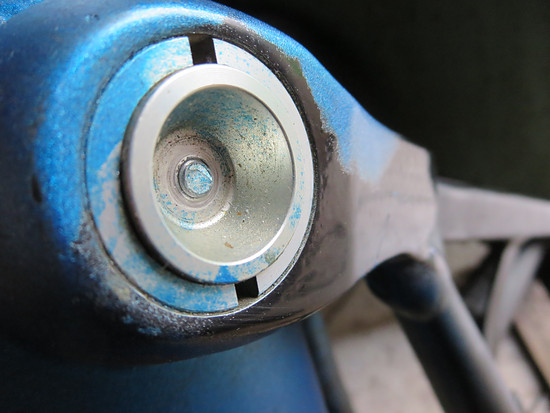 then give it a blow so the coup with the shred pops out.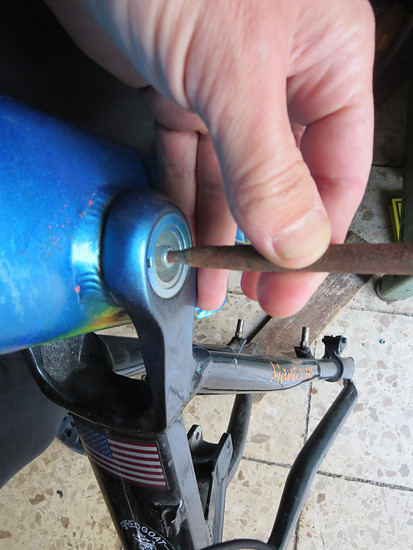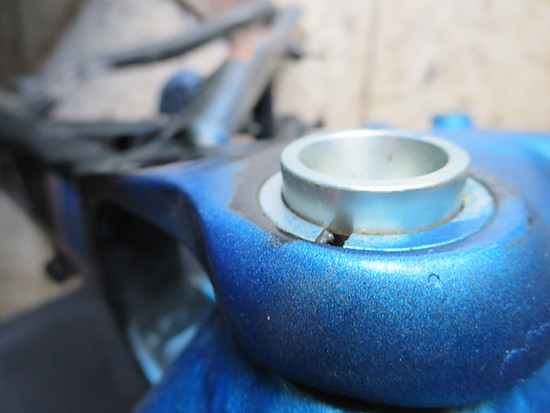 3) Remove the bolt and the coup that you just loosened.
4) put the nut on the allen bolt and screw it in so far that the thread sticks out 5mm
5) Stick the allen bolt through the the pivot and use a hammer to pop the second coup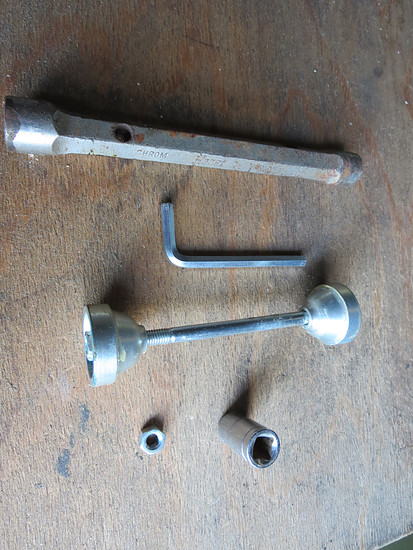 Now comes the tricky part. You have to press or hammer out the bushing sleeve. Be sure to secure the pivot eyelets from breaking. Best would be to use a vise with plastic jaws. Or use some redneck hi tech like I did. (This is really scatchy, I know...):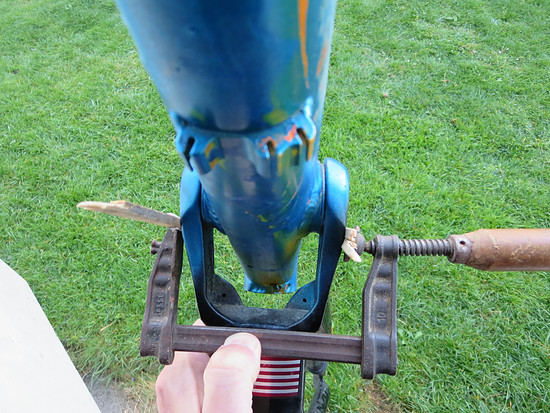 Just make sure, the eyelets cant bend to the outside or they might brake.
That sleeve can be a real pain. Be careful not to mar it up by using properly fitting spanner sockets to hammer on
What do you have in mind for a dampener?
_________________
My bikes:
1995 Specialized FSR
,
1995 Ibis Szasbo
,
1992 BikeTech Hikari
, 1997 Klein Mantra
(pics)
,1992 Scott team racing
(pics)
, 1989 Kuwahara Pacer
(pics)
, 1992 Centurion Titan
(pics)
, 1985ish F.Moser jodler
(pics)
, 1992 Hercules Titanal
(pics)
, 1994 GT RTS-1
(pics)
,
1995 Klein Pulse
,
Current projects: 1996 GT LTS Thermoplast,
1992 Klein Pinnacle
,
1992 Marin Rocky Ridge
Ex bikes:
1992 Rocky Mountain Cirrus
, Cannondale
SM2000
, Specialized
Rock hopper comp
,