Quick question on frame sizing (though the answer could be longer if my trawls through the internet are right).
I have a 1992(?) Carrera Krakatoa with a seat tube that measures 48cm (19"?)from the BB spindle to the top of the tube, and its around 44cm (17.5"?)to the centre line of the toptube intersection point. The top tubes about 56cm long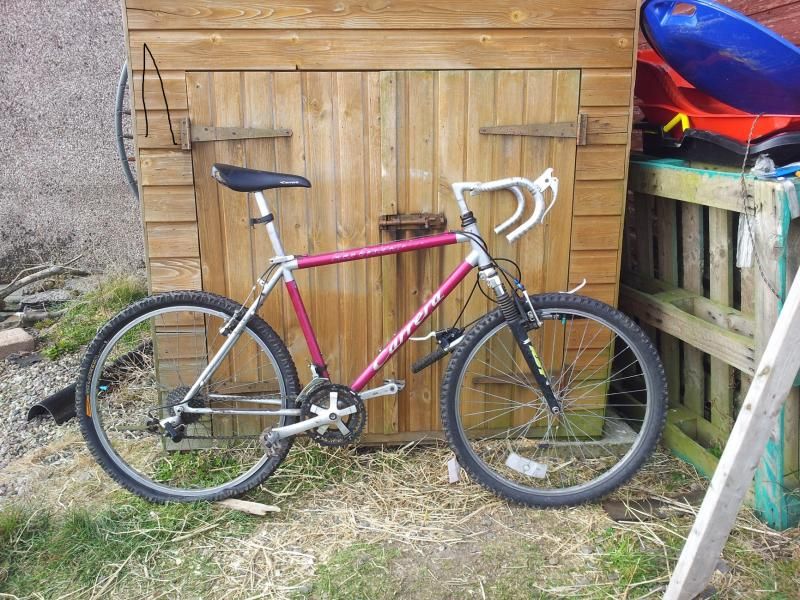 (drop bars are fitted to see how my 'project' might look)
The forks are probably a bit long for the frame so the Toptube is sloping more than it should
So is it a 17.5? or a 19 " frame? or none of the above? And why isn't there a standard for sizing!
And at 5' 11" with a 33" inside leg and long arms, have I been riding the wrong size frame for the past 20 odd years (Bought it second hand as a spotty faced 16 year old so cant be sure of the size).
My newest bike is a cycle to work acquired 2012 voodoo hoodoo with a 20 " frame and it feels comfortable and stable (longer top tube/wheelbase) , but then the Marin Hawkhill (a free of charge donation from a friend) I commute on is the same size as the Carrera and feels comfortable too if a bit more responsive (twitchy?).
As mentioned above I was going to be modifing the carrera with drop bars possibly even v brake adaptors and 700c wheels and cross tyres, but if the frames not the right size I don't want to be wasting my time with it
Confused and befuddled.
Andy