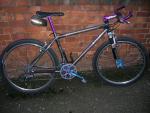 Clark Kent Titanium
I need your help to sell my baby. Real baby forces sale.
Lee Puddle Penshurst 1993
My mate Lee on his RTS 3 at Penshurst in Kent in 1993.
clark_kent_f14
1995 Clark Kent F14
Date: 09/03/07
Owner: harzkristall
Views: 2874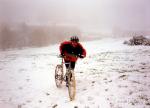 Me Brook Street_ Erith Kent 1995
My 1991 Marin Bear Valley after its battleship grey respray in 1995. Obviously the fashion police were coming after me!