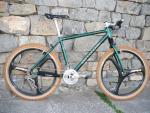 1995 NOS Cannondale F 3.0 Alu Series
PinaReturn's retrobike from Spain... with XTR M900, CODA, ONZA, PAUL, SPIN's, TIOGA, RINGLE and FLITE ALPES. / 10.8kg / All is NOS except the Spin wheels and the rear XTR M900 derailleur!
Onza HO Pedals
Instructions for the Onza HO pedals
Mr K's 1994 Specialized FSR
McRoy DIRT Invocation!
Onza Archive
Onza stuff