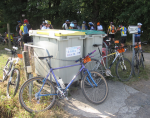 Mr K's 1995 Fat Chance Buck Shaver
Much better as originally intended - with the rigid Tange forks. Took it to France to do a VTT old school event this summer.
Fat Chance Buck Shaver 1995
1990 MB-Zip
1990 Bridgestone MB-Zip 42
1993 B2
1993 AMP Research B2 Small Black
clark_kent_f14
1995 Clark Kent F14
Date: 09/03/07
Owner: harzkristall
Views: 2882
Tri-Align II
1998 Twister
1998 Breezer Twister 16.5
Retro alpinestars and Raleigh clothing
My collection.