Apart from the previous bits and bobs which need sorted, this build is finished. For those who may be interested in a similar build be warned the costs spiral - and this is true of almost all builds.
I had planned a quick, cheapish build and that did not happen. Numerous hurdles were put in my way.
I suspect that there is no such thing as a quick build.
Anyways here is the build list (where i know what the bits are) -
Frame: Townsend Lady Royale mixte - CroMo
Fork: Townsend steel
Headset: Townsend
Stem: Cinelli
Handlebar: GB Maes
Bar Tape: Deda
Brake Levers: Shimano SLX
Brake Calipers: Shimano SLX
Brake Pads: N/K
Brake Cables: N/K
Shifters: Stem mounted Shimano
Front Derailleur: Shimano 105
Rear Derailleur: Gipiemme
Derailleur Cables: N/K
Cassette: N/K
Chain: Clark
Cranks: Thun
Chainrings: Thun
Bottom Bracket: Townsend OE
Pedals: Can't remember!
Rims: Alloy ATB
Hubs: Shimano
Hub Skewers: Maillard
Tyres: Specialised Fatboy
Saddle: Selle Italia SLR Carbon
Seatpost: NK aero
Extras: Large amount of patience and Cateye Wireless
Here are a few slightly better pics -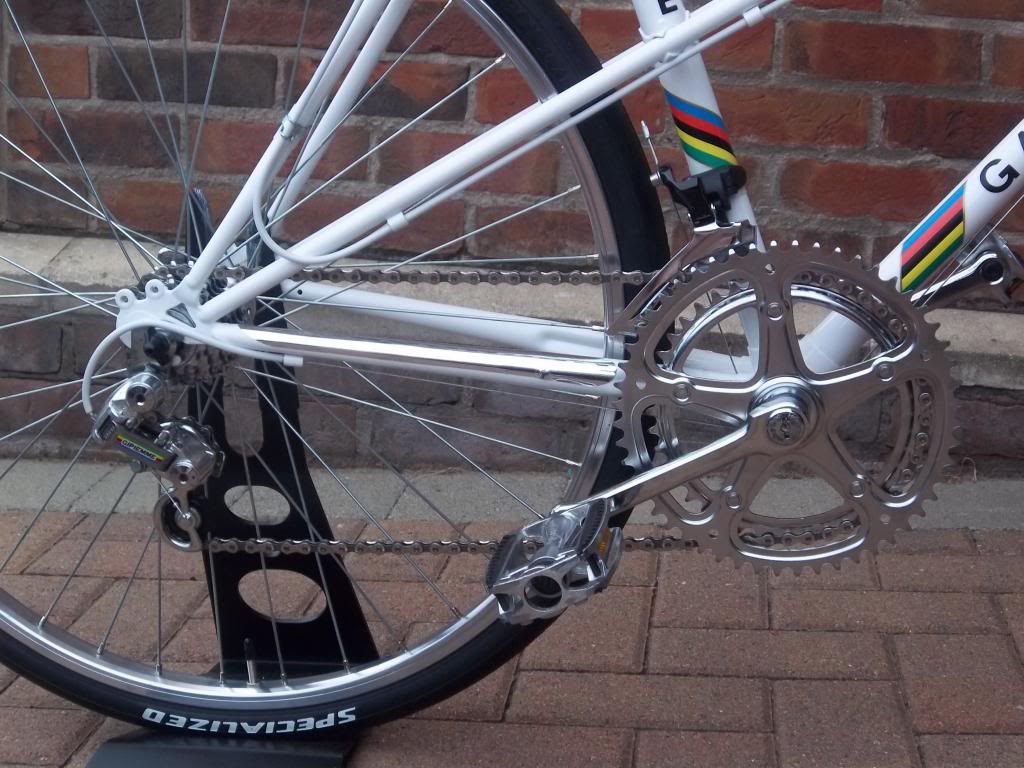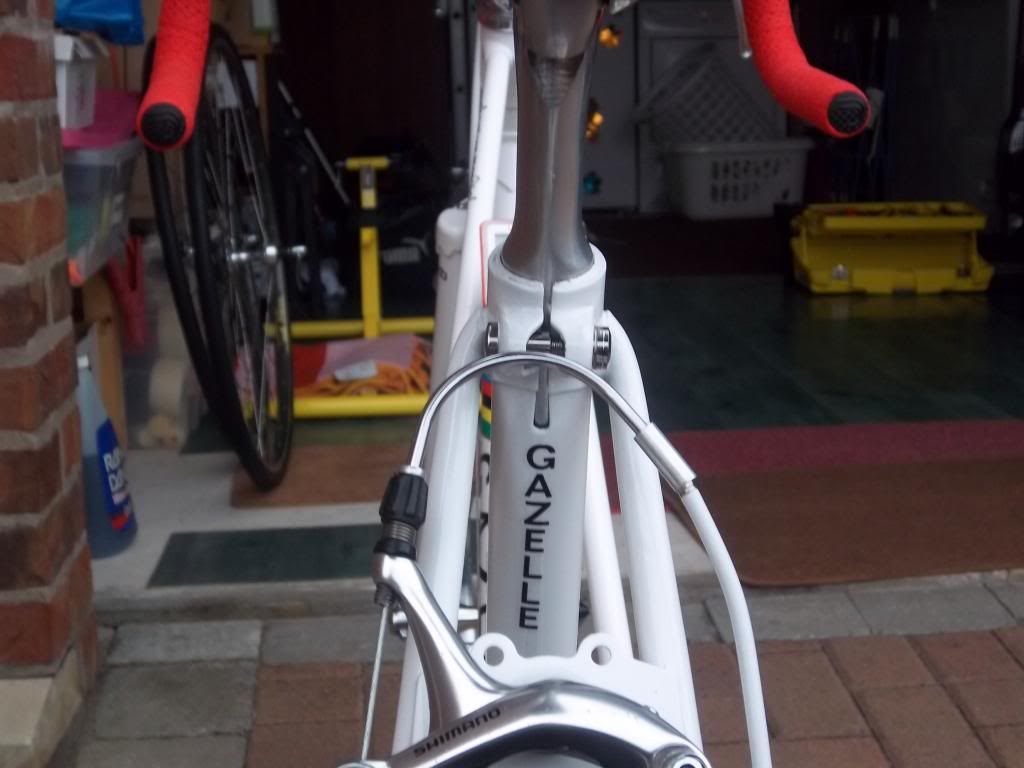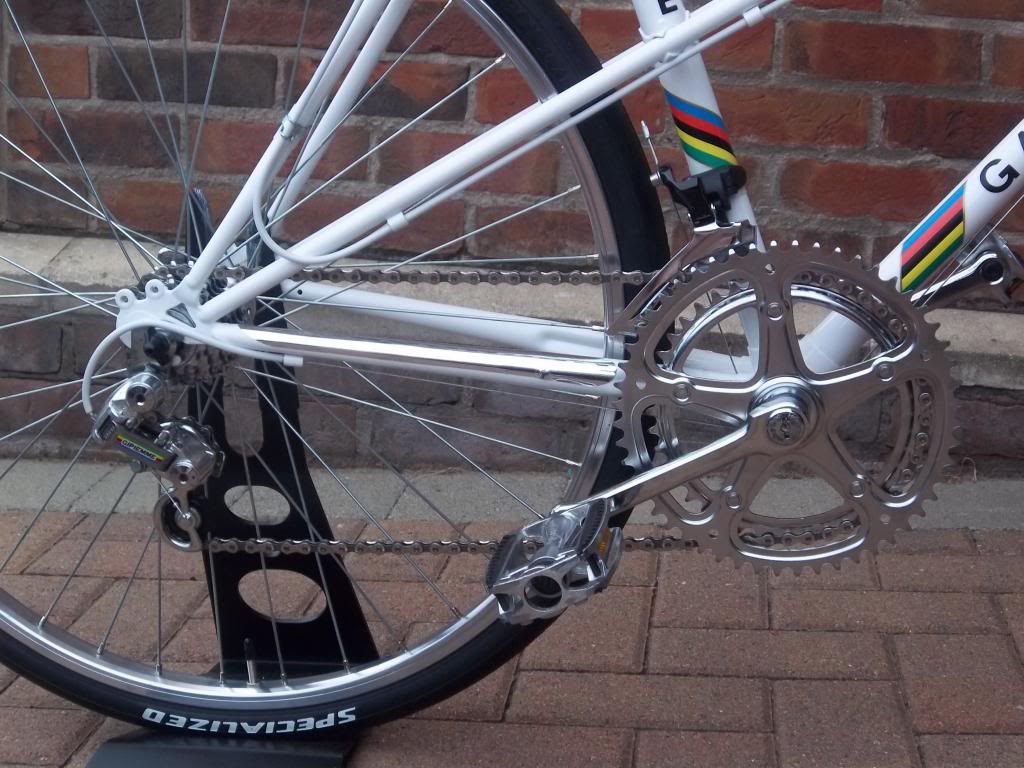 And here is the before and after shots -
BEFORE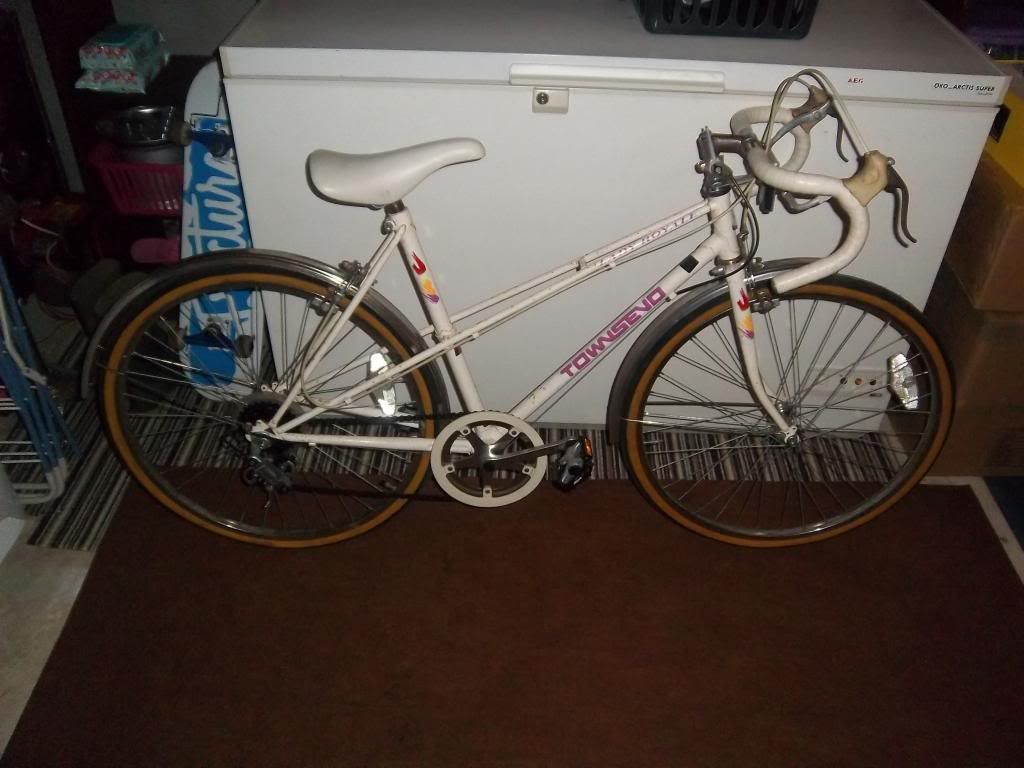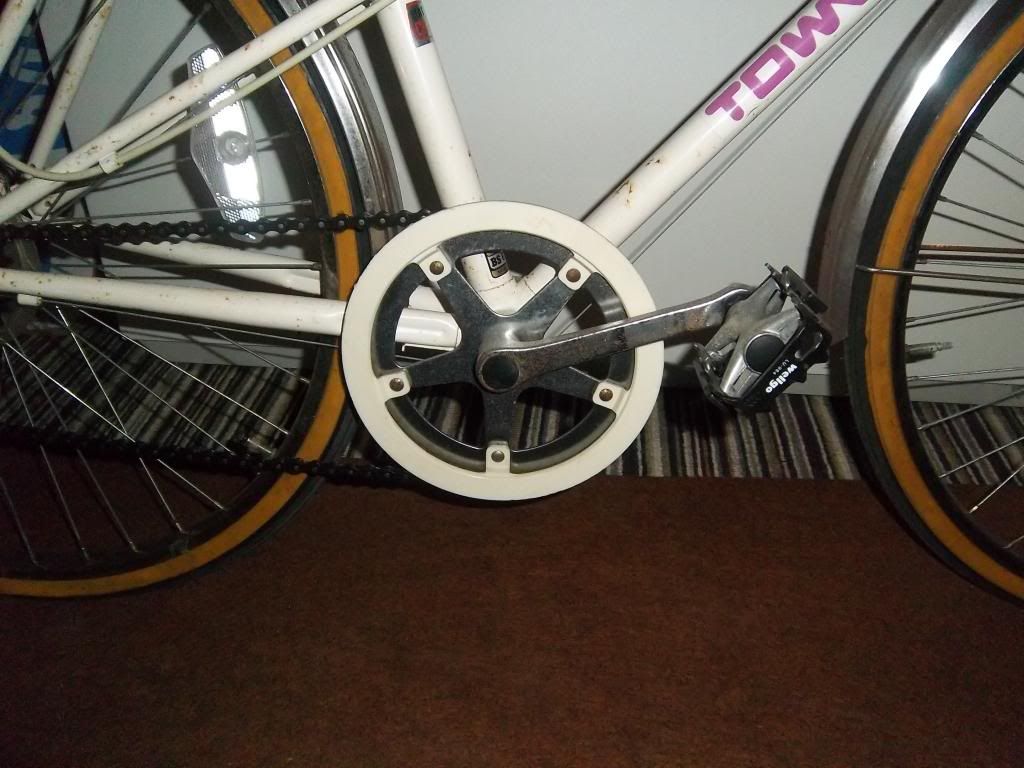 AND AFTER -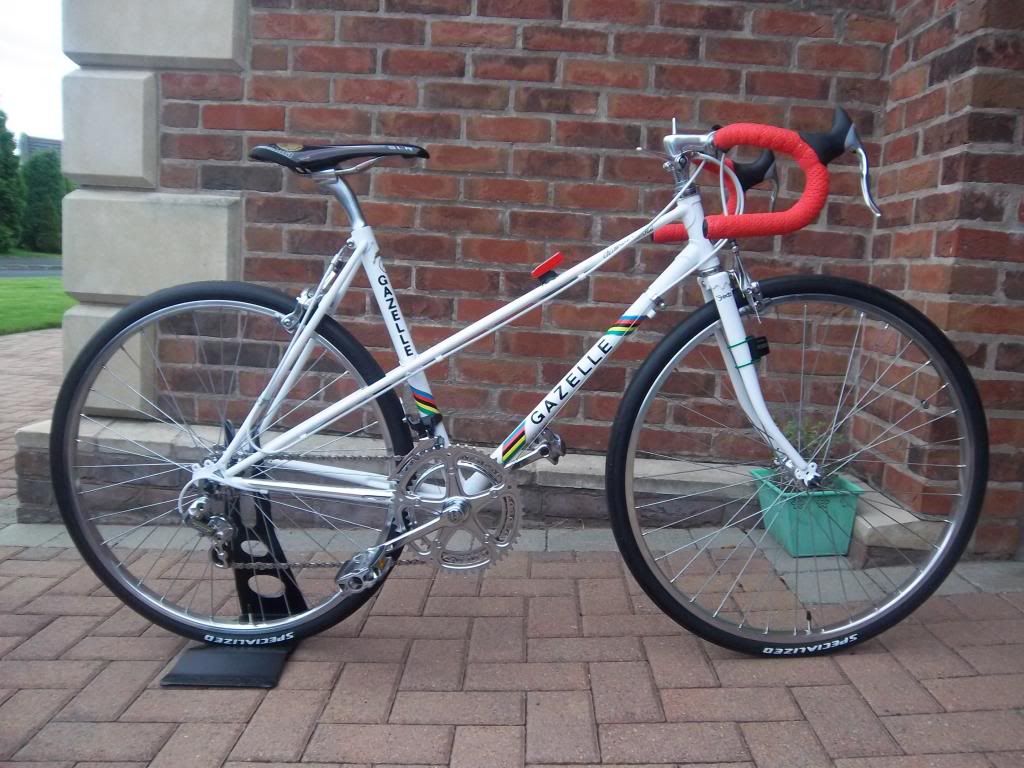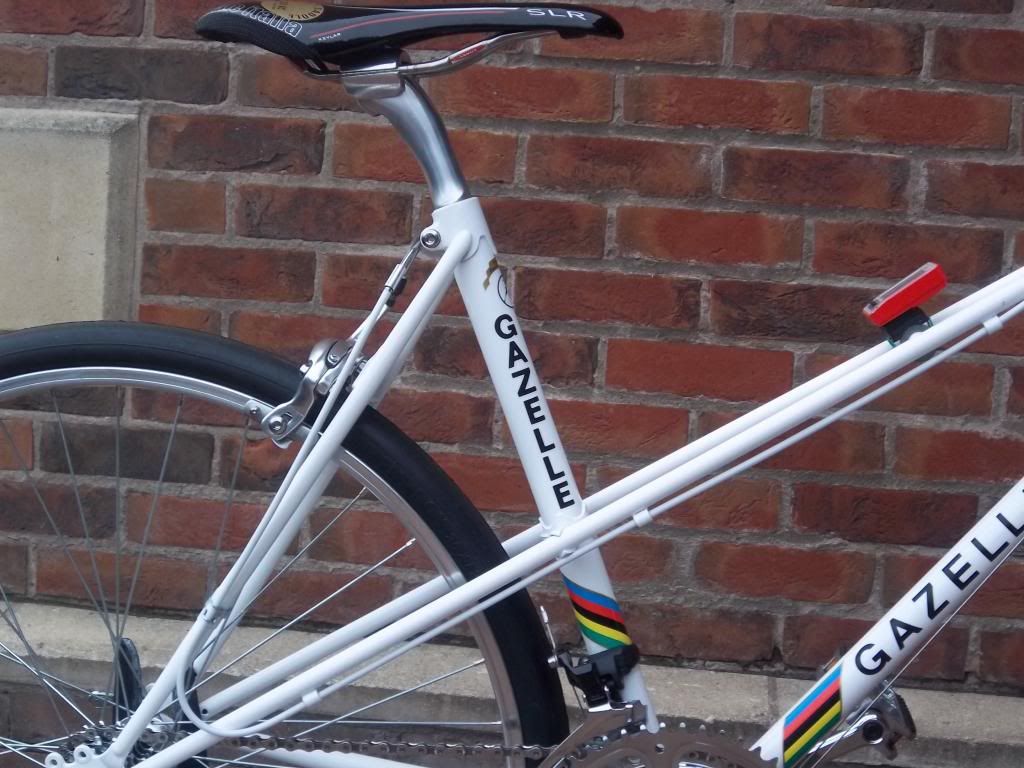 More pics are available here -
http://s1290.photobucket.com/user/TGR15 ... t=3&page=1
This build is not a normal retro one and i know decals do not make a bike but i am rather pleased with the results. To give an idea of costs -
Original bike - £45
Sandblasting - £15
Paint, lacquer and labour - £155 est.
Wheels - £20
Tyres - £44
Cables and outers - £12
Chain - £9
Levers - £13
Front Mech - £15
Rear mech - £25
Saddle - a gift from a friend but £80 on line (Thanks Arjan)
Decals - £32
Brakes - £40
Seat post - £15
The total is around £500 (too many number to add for me), but this does not include a number of other bits which i did not/could not use - including 9 BB axles, a set of wheels, tyres and tubes for 24'' OE rims. The point of this is that a change of plan will cost.
Special thanks to everyone on RB who gave me the usual much needed pointers and very special thanks to
Will911 - for bits and advice
Ian Raleigh - for advice
Dan (Danson67) - for advice
and Arjan for the saddle.
Thanks all, i hope my wife enjoys the bike and gets the weather to use it!
Richard
_________________
Built - Raleigh Rapide / Van Tuyl / Raleigh Ritmo / Forme Longcliffe / Will Cee Winter / Python Rock / Gazelle CM Mixte (aka Townsend) ///// Pending - Rossin Prestige Team / Gazelle CM A / Gazelle CM AB / Fulmar / Peugeot Sportive / Raleigh Flyer / Batavus Champion / Raleigh Flyer / Peugeot / Look 241 Kelme / Raleigh Pro Race