Everything has to go so I'm open to all reasonable offers, just be quick as I ebay the parts after having listed them here for a short while without interest. Initial asking prices include PayPal fees. However, discounted prices or if you instead make an offer and it is accepted - please add 5% on checkout. Bulk purchases are more than welcome (for pricing discount and postage savings). I will try to follow the order of interest as shown but dibs are only valid if immediately followed by a meaningful PM.
Prices listed and discussed are without postage (signed for delivery, limited tracking) at cost. Dispatch within maximum of three days but normally quicker. Some countries may charge import duties.
I keep adding parts from time to time, so if right now you don't see something you need - just subscribe to the topic and I'm sure it will appear here sooner or later
.



AVAILABLE SOON: Lots of XT M730/5, XT M737/9 and other parts.
----------------------
VGC Shimano PD-M520 Black Reversible Clipless Pedals & Flat Platforms -
NOW £10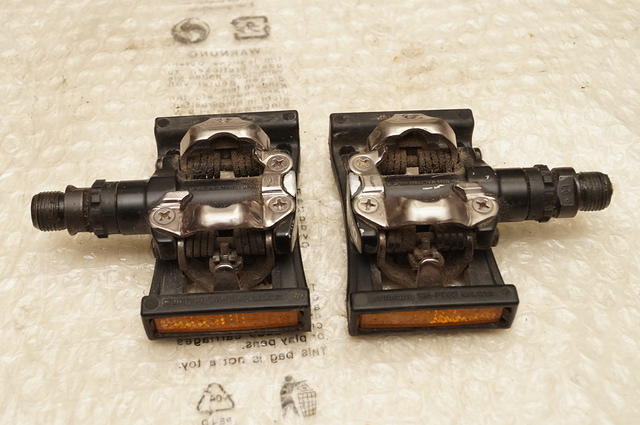 Hi-res photos available here

-> http://cybernck.com/pb/index.php/MTB1
----------------------
Reydel GTi Black Leather Saddle -
NOW £30
More photos:
http://cybernck.com/pb/index.php/SICEVI?page=1
----------------------
STEMS (1 1/8") & HANDLEBARS
(need to update this section)
- Ritchey PRO OS 9 cm stem - £20
- Generic aggressive angle 11 cm stem - £15
- Adjustable angle 11 cm stem - £15
- ZOOM quill 10 cm stem (incomplete) - now binned
- Unknown 57 cm handlebar & 10 cm stem combo - £10
- Bontrager Race 56 cm handlebar - £5
- Scott handlebar 58 cm handlebar - £5
- Generic 13 cm stem - £5
- CULT 12 cm stem - £5
- Specialized 14 cm stem - £10
- Tranz-X 13 cm stem - £10
----------------------
SOLD:
Shimano PD-M525 SPD Pedals - FREE
Shimano Deore XT FD-M737 28.6mm Bottom Pull Front Derailleur - £13.50 (ebay)
Sugino XD Triple Square Taper Chainset 175mm 46/36/26T & BB-UN52 Bottom Bracket - £20 (ebay)
Shimano DX PD-M635 Red Reversible Clipless Pedals - FREE
Shimano Deore XT BL-M739 + BR-M739 V-Brake Set - £60 (ebay)
Shimano Deore XT M737 STI Brake/Shifter Levers for Cantilever Brakes - £25 (ebay)
Shimano Deore XT CS-M737-1 Type-ak 11-30T Cassette - £11 (ebay)
Shimano Deore XT M730 M735 Quick Release Wheel Skewers QR 100 / 135 - £19 (ebay)
VGC Shimano Deore XT ST-M095 (M735) STI Brake/Shifter Levers - £45 (ebay)
RaceFace Black Triple Chainrings 46/36/24T 110 BCD - £45
VGC Grip Shift SRT 800X-32 3x8-speed Shifters & KTM-branded Grips - £25
Shimano Deore XT RD-M735 Medium Cage Rear Derailleur - £18 (ebay)
Shimano Deore XT FD-M735 28.6mm Bottom Pull Front Derailleur - £25 (ebay)
Shimano Deore XT BR-M734 (M735) Cantilever Brake Set - £15 (£23 on ebay)
Shimano Deore XT FC-M730 (M735) 46/36/24T 175mm - £15 (ebay)
Shimano Deore XT M737 Rear Derailleur long cage - £15 (ebay)
Shimano Deore XT ST-M095 (M735) STI Brake/Shifter Levers - £35 (ebay)
Selle Italia SLR BioFitFoam Carbon Fibre Vanox (2010), 167 g - £25
Shimano Deore XT M730 M734 M735 Cantilever Brakes Set - £15 (ebay)
NOS Selle Bassano Vuelta R531 Manganese Cork-Look (1994), 246 g - £25 (£32 on ebay)
Ritchey Logic Cantilever Brake Levers & (Dia-compe or Tektro?) Brake Set - £25 (ebay)
Shimano Deore XT M750 3x9 crankset (crank arms heavily scuffed, spider OK, bolts present) - £8.16 (ebay)
Vintage Shimano Deore XT PD-M735 Small Cage Flat Pedals - £55 (ebay)
Shimano Deore XT M730 M735 Quick Release Wheel Skewers QR 100 / 135 - £23 (ebay)
Shimano Deore XT M730 M735 Quick Release Seatpost Skewer QR - £10 (ebay)
Rock Shox Indy SL, 175 mm A-head, some damage to the stickers = £30
VGC Shimano XTR M952 long cage 9-speed rear derailleur - £40 (ebay)
Shimano Deore XT BR-M732 Wide Cantilever brake (pair, front) - £12.50 (ebay)
Shimano Deore XT RD-M737 rear derailleur (spares or repair) - £5 (ebay)
Shimano XTR RD-M952 rear derailleur (mediocre) - £20 (ebay)
NIB/NOS Shimano Deore XT BB-M730 36x24T ITA bottom bracket - £30 (ebay)
Shimano XT M739 V-brakes, good condition, w/ usable original pads = £30
VGC Shimano XTR RD-M951 inverse operation rear derailleur - £60
Shimano XT M730 pedals, reasonably good bearings, no play in spindles = £30
Shimano XTR BB-M950 116 mm Octalink V1 bottom bracket - £40
Shimano XT M735 rear derailleur, long cage, some play in linkage = £10
Magura HS22 Raceline, faded neon yellow, missing one quick release = £30
Shimano XT M750 34.9 top pull front + long cage rear derailleur = £25
Shimano XTR M952 rear derailleur, long cage = £30
Magura HS22 Raceline, neon yellow, nice but with cut hoses = £30