Everything has to go so I'm open to all reasonable offers, just be quick as I ebay the parts after having listed them here for a short while without interest. Initial asking prices include PayPal fees. However, discounted prices or if you instead make an offer and it is accepted - please add 5% on checkout. Bulk purchases are more than welcome (for pricing discount and postage savings). I will try to follow the order of interest as shown but dibs are only valid if immediately followed by a meaningful PM.
Prices listed and discussed are without postage (signed for delivery, limited tracking) at cost, as follows: front derailleur £6.50, most other items £8.50, chainset or combinations under 1 kg @ £12, combinations over 1 kg @ £17, full groupset £35, wheelset £35, build kit £45 (the same pricing Worldwide). Dispatch within maximum of three days but normally quicker. Some countries may charge import duties.
I keep adding parts from time to time, so if right now you don't see something you need - just subscribe to the topic and I'm sure it will appear here sooner or later
.



AVAILABLE SOON: Lots of XT M730/5, XT M737/9 and other parts.
----------------------
Shimano BB-UN71 68 x 122mm Bottom Bracket -
NOW £10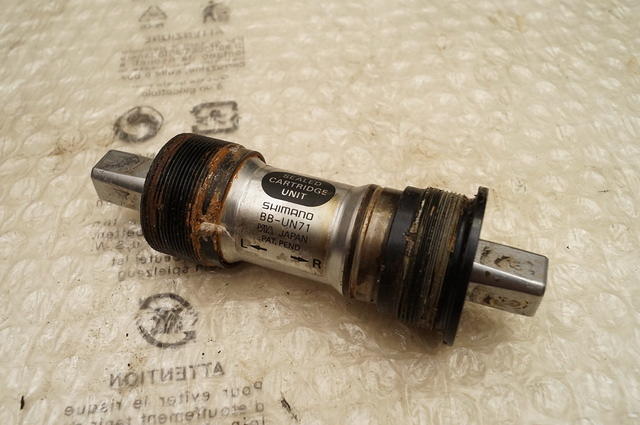 Shimano FD-M739 31.8mm Top Pull Low Clamp Front Derailleur -
NOW £10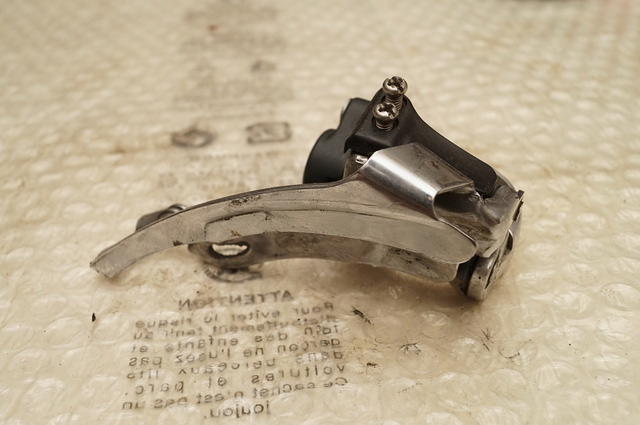 VGC Shimano LX/Parallax 36h Black Front & Rear Hubs -
NOW £15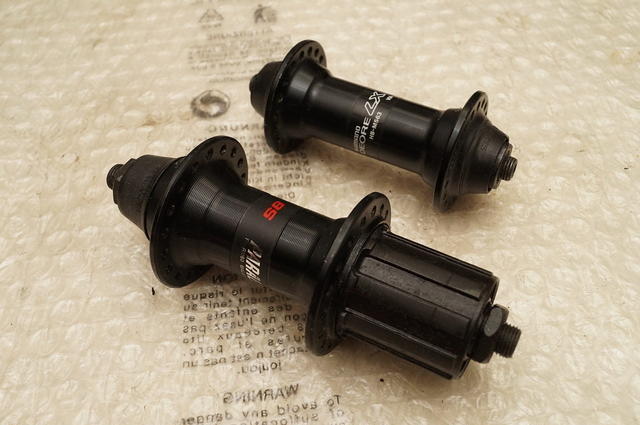 Shimano LX FC-M659 Triple Square Taper Chainset 175mm 42/32/22T & BB-UN52 68x112mm Bottom Bracket -
NOW £20
Middleburn Red Anodized RHS Crank Arm 175mm 110 BCD (Wihout Chainrings) -
NOW £30
VGC Shimano PD-M520 Black Reversible Clipless Pedals & Flat Platforms -
NOW £10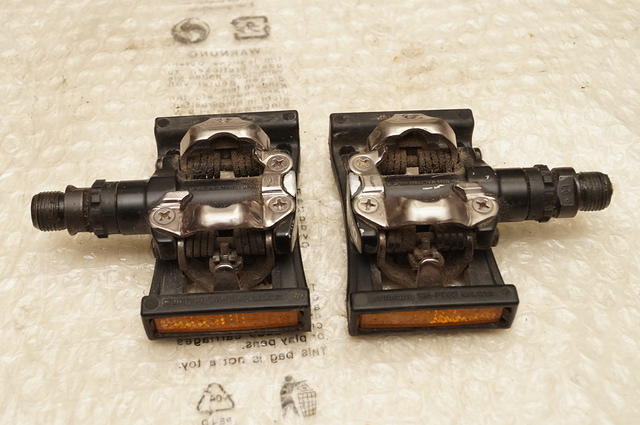 Shimano ST-M091 XT/DX Trigger Shifters -
£15
Shimano Deore XT M730 M735 1-1/8 Threaded Headset -
NOW £5
Shimano 8-speed HG cassette, 11-30T, very little use = £15 ->
£10
(reserved)
Hi-res photos available here

-> http://cybernck.com/pb/index.php/MTB1
----------------------
Selle Italia Turbo Grey Leather Saddle (1985) -
NOW £10
Reydel GTi Black Leather Saddle -
NOW £30
More photos:
http://cybernck.com/pb/index.php/SICEVI?page=1
----------------------
STEMS (1 1/8") & HANDLEBARS
(need to update this section)
- Ritchey PRO OS 9 cm stem - £20
- Generic aggressive angle 11 cm stem - £15
- Adjustable angle 11 cm stem - £15
- ZOOM quill 10 cm stem (incomplete) - now binned
- Unknown 57 cm handlebar & 10 cm stem combo - £10
- Bontrager Race 56 cm handlebar - £5
- Scott handlebar 58 cm handlebar - £5
- Generic 13 cm stem - £5
- CULT 12 cm stem - £5
- Specialized 14 cm stem - £10
- Tranz-X 13 cm stem - £10
----------------------
SOLD:
Shimano PD-M525 SPD Pedals - FREE
Shimano Deore XT FD-M737 28.6mm Bottom Pull Front Derailleur - £13.50 (ebay)
Sugino XD Triple Square Taper Chainset 175mm 46/36/26T & BB-UN52 Bottom Bracket - £20 (ebay)
Shimano DX PD-M635 Red Reversible Clipless Pedals - FREE
Shimano Deore XT BL-M739 + BR-M739 V-Brake Set - £60 (ebay)
Shimano Deore XT M737 STI Brake/Shifter Levers for Cantilever Brakes - £25 (ebay)
Shimano Deore XT CS-M737-1 Type-ak 11-30T Cassette - £11 (ebay)
Shimano Deore XT M730 M735 Quick Release Wheel Skewers QR 100 / 135 - £19 (ebay)
VGC Shimano Deore XT ST-M095 (M735) STI Brake/Shifter Levers - £45 (ebay)
RaceFace Black Triple Chainrings 46/36/24T 110 BCD - £45
VGC Grip Shift SRT 800X-32 3x8-speed Shifters & KTM-branded Grips - £25
Shimano Deore XT RD-M735 Medium Cage Rear Derailleur - £18 (ebay)
Shimano Deore XT FD-M735 28.6mm Bottom Pull Front Derailleur - £25 (ebay)
Shimano Deore XT BR-M734 (M735) Cantilever Brake Set - £15 (£23 on ebay)
Shimano Deore XT FC-M730 (M735) 46/36/24T 175mm - £15 (ebay)
Shimano Deore XT M737 Rear Derailleur long cage - £15 (ebay)
Shimano Deore XT ST-M095 (M735) STI Brake/Shifter Levers - £35 (ebay)
Selle Italia SLR BioFitFoam Carbon Fibre Vanox (2010), 167 g - £25
Shimano Deore XT M730 M734 M735 Cantilever Brakes Set - £15 (ebay)
NOS Selle Bassano Vuelta R531 Manganese Cork-Look (1994), 246 g - £25 (£32 on ebay)
Ritchey Logic Cantilever Brake Levers & (Dia-compe or Tektro?) Brake Set - £25 (ebay)
Shimano Deore XT M750 3x9 crankset (crank arms heavily scuffed, spider OK, bolts present) - £8.16 (ebay)
Vintage Shimano Deore XT PD-M735 Small Cage Flat Pedals - £55 (ebay)
Shimano Deore XT M730 M735 Quick Release Wheel Skewers QR 100 / 135 - £23 (ebay)
Shimano Deore XT M730 M735 Quick Release Seatpost Skewer QR - £10 (ebay)
Rock Shox Indy SL, 175 mm A-head, some damage to the stickers = £30
VGC Shimano XTR M952 long cage 9-speed rear derailleur - £40 (ebay)
Shimano Deore XT BR-M732 Wide Cantilever brake (pair, front) - £12.50 (ebay)
Shimano Deore XT RD-M737 rear derailleur (spares or repair) - £5 (ebay)
Shimano XTR RD-M952 rear derailleur (mediocre) - £20 (ebay)
NIB/NOS Shimano Deore XT BB-M730 36x24T ITA bottom bracket - £30 (ebay)
Shimano XT M739 V-brakes, good condition, w/ usable original pads = £30
VGC Shimano XTR RD-M951 inverse operation rear derailleur - £60
Shimano XT M730 pedals, reasonably good bearings, no play in spindles = £30
Shimano XTR BB-M950 116 mm Octalink V1 bottom bracket - £40
Shimano XT M735 rear derailleur, long cage, some play in linkage = £10
Magura HS22 Raceline, faded neon yellow, missing one quick release = £30
Shimano XT M750 34.9 top pull front + long cage rear derailleur = £25
Shimano XTR M952 rear derailleur, long cage = £30
Magura HS22 Raceline, neon yellow, nice but with cut hoses = £30