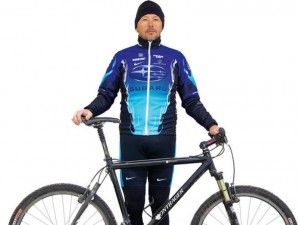 The words rare and unique are used all too freely in the world of retro – few bikes deserve to be described as such and this is truly one of them. This Bontrager Experimental was built around 1995 at Bontrager's Santa Cruz frame shop and currently resides with a well regarded collector here in the UK.
This particular Bontrager Experimental and the other six or seven completed around the same time were built out of a debate as to which frame material was best. Keith Bontrager's take was that no material could be said to be best and each should be used in a frame to optimize it's properties. This frame consists of
*Large diameter Aluminium main triangle = Lightest and Stiffest.
*Steel chainstays and dropouts = small diameter tubing so the tyre chainstays and chainrings have good clearance and the most durable dropouts.
*Carbon Seatstays = The lightest and stiffest for brake mount stability (flexi stays make the rear brake feel Mushy)

To quote Bontrager on the end results
It turned out really well and could have been taken much further. No one was very interested in pursuing it further because it was complicated to make and the benefits seemed small.
The advantages were not tangible enough to make it an easy sell either. Light weight is such a dominant spec, its the only thing that sales really wants….
Now the sales of carbon has eclipsed all of the work in other materials its not really very useful anymore.
Sadly it would seem this innovative design at a time of homogenization in the MTB industry and was never explored any further than the prototype stage. The frame continued to be used by Bontrager for product testing until it was sold on back in 2011.
Thanks to Sinnerman aka Carl along with Keith Bontrager for allowing the bike to be featured on the site. Click here for the full Bontrager Experimental thread. Enjoy the images