Another piece of Italian Exotica currently residing within Edinburgh Bike Stations show room.
A Sancineto road bike, exact model unknown but its from Gianni Sancineto (Grandson of Founders) time, of quality Columbus Nemo tubing and has a full Campagnolo groupset as well as deep section Campagnolo Atlantis rims. Size is 50cm, 16 speed with ergoshifters
[url=https://ibb.co/bFMPSNs][img]https://i.ibb.co/XDrbhF7/PICT0034.jpg[/img]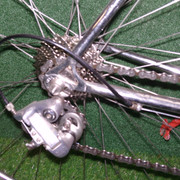 [/url]
Sale Withdrawn for Moment
If interested contact me as I am the internet sales volunteer for the Bike Station.
Cheers