Forth in the series of posts, the later evolution of the buuba series of hubs.
The initial evolution was quite straightforward. the bubba hub was cool and light with the bubba rear being the screwon counterpart. See
http://www.bikepro.com/arch_products/hu ... ngle.shtml
, but realistically you know all this. It moved the game on from the likes of bullseye, as it was a lighter, one-piece machined body, that added expense, but decreased weight.
The game moved on, with the superbubba (with a lawsuit on the way when a certain largescale japanese manufacturer copied the profile of the Ringlé hub) and the super-8, acknowledging the evolution of riders into the suspension era, and also wanting hyperglide. The final production evolution was with the superduperbubba (d-shaped axle) for serious suspension improvements, making the front axle 'structural', and the superdupar 8 rear. Again, you know all this, and there's some info here:
http://www.bikepro.com/products/hubs/hubs_ringle.shtml
The superduper8 was really as far as that evolution went for ringlé components, and for me represents a pinnacle in the design. I try and keep these hubs available for people as they are very usable and durable.
The last commercial product as far as hubs went, prior to the takeover by Sun Metal, ws th ti-stix hub, that ran for a season in perhaps 1996. As you'll see later, these were heavily drawing on the experiances of the grafton brake project
These are perhaps one of two pairs of Black Ti-stix hibs, most being hi polished. Marcel in the Nl has the other (let me know if you want me to edit this out Marcel)
The hub as I say is pretty cool, expensive, as its machined from solid. here is a superdupereight hubshell halfway through production:
But whilst all this was going on, experimentation with discs wasn't beng left for the 'others'. These are some of the first disc hubs that were experimented with. A solid steel disc to getthings rolling, wide spaced flanges, and as much as anything, experimentation with what was manufactuarable, reliably and repeatably. Bear in mind, at this stage, there was no ISO standard to keep too, so it was a case of carving a way.
There were also arrangements for initially just 'getting' a rear dics on bard, cobblig together with existing kit.
Also, there were rear 'evolutions' in place looking at ways to help Mert Lawwill get a proper rear disc on bard the rear end of his full suspension dikes, moving away from the expensive Phil Wood drums that had been used up to that point.
I have one of these early disc hubs hubs (originally with a steel disc) built up on my Boulder Starship in readers bikes, but as I discussed in that post (
http://www.retrobike.co.uk/forum/viewtopic.php?t=52540
) , the disc to spoke clearance is minimal, and not really suitable for modern calipers. But there were no 'modern' calipers BITD. What there was, was a full on onslaught at trying to resolve a problem, by perhaps some of the biggest names in MTBs in around1992, when theproject began, between Ringlé Components, Grafton Performane, Yeti Cycles, and Penske shocks.
At the time, Paul Tracy was racing for Yeti, and also racing Indy Cars for Penske. Betwen them all, they tried to develop a complete front end solution. Yeti and Penske worked on a set of forks, Grafton worked on a carbon disc brake and caliper, and Ringlé worked the hubs.
What we have is way unusual, in that the disc caliper that is a cable actuated hydraulic, so you could use a standard Grefton re-entry lever to actuate the thing. But critically, this caliper is WAY low profile, so the hub flanges can be as wide as possible, without the caliper getting in the way of the spokes.
The hubs used a variety of star shaped flanges to support the spokes, and they are stunning.
The fork however was a little flexable as there was no brake arch support. My one has a latterly brazed on boss on each dropout for a through axle design, to try and add stiffness. Again, there was no through axle design back then, so the arrangement initially uses an expander bolt from a Zooka stem.
4 sets of this front end were made, one to each of the parter companies. this red setup is the one kept by Ringlé components. Scant has some good pix of the blue steup kept by John Parker of Yeti. Perhaps you can pop up some pix of that Scant?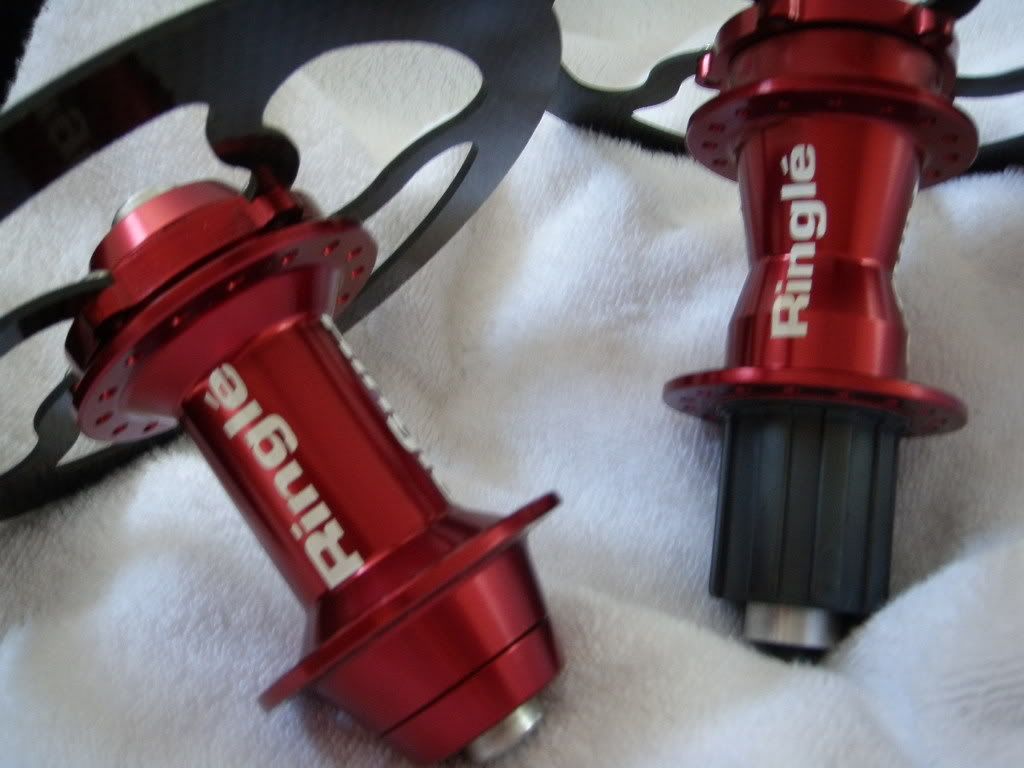 The Wide through axle design caught the eyes of the likes of Paul Turner from Rockshox, so varieties of thruaxle designs were experimented. Some of these grossly oversize hubs are stunning, with machining between the spoke eyes on the flanges. Some are so wide they look like motocross hubs.
Out of all this, the only thing to really commercialy progress was the Boxxer hub for Rockshox. The Grafton brake never went any further for multitude of reasons including touble at the Grafton ranch.
What it did pave the way for was thru axles for DH, and the move towards a standardisation for disc formats.
Other great stillborn ideas also included this planetary internally geared hub. XC racers were experienting with, at the time, 2x8 gearing for XC racing. Why not eliminate the frontmech and extra ring entirely, and put it all inside the rear hub? Enter the Super2x8 rear hub.
Thre is a really perverse part of me that wants to pop a wide ratio 9 seed on this cassette, lob on an action tec 11t lock ring, have the 2 speeds in the hub, and use a mountain tamer quad ring conversion up front. A theroretical 80 speed machine. But I'm sure the torque in first gear would make the hub explode and then I'd have killed a piece of history forever. .