Hi Retrobikers,
I've a few lonely cycle related products looking for new homes
, pictures speak a thousand words, so judge for yourself really, any issues with the item , I'll try and outline, and describe best I can, but if you have any further questions regarding an item(s) or you need more images , either send me a personal message or reply on this thread please.
Always happy to listen to close offers or trades etc
All prices include UK mainland signed for postage, Contact me for overseas shipping..
Forks
Mag21 I believe, please correct if I'm wrong , had these a long time and can't remember
:facepalm:
The Mag 21 works well, holds air but i'd recommend a full strip down and service to get the best out of these, steerer is 1 1/8th threadless x 216 mm long,
priced at £ 50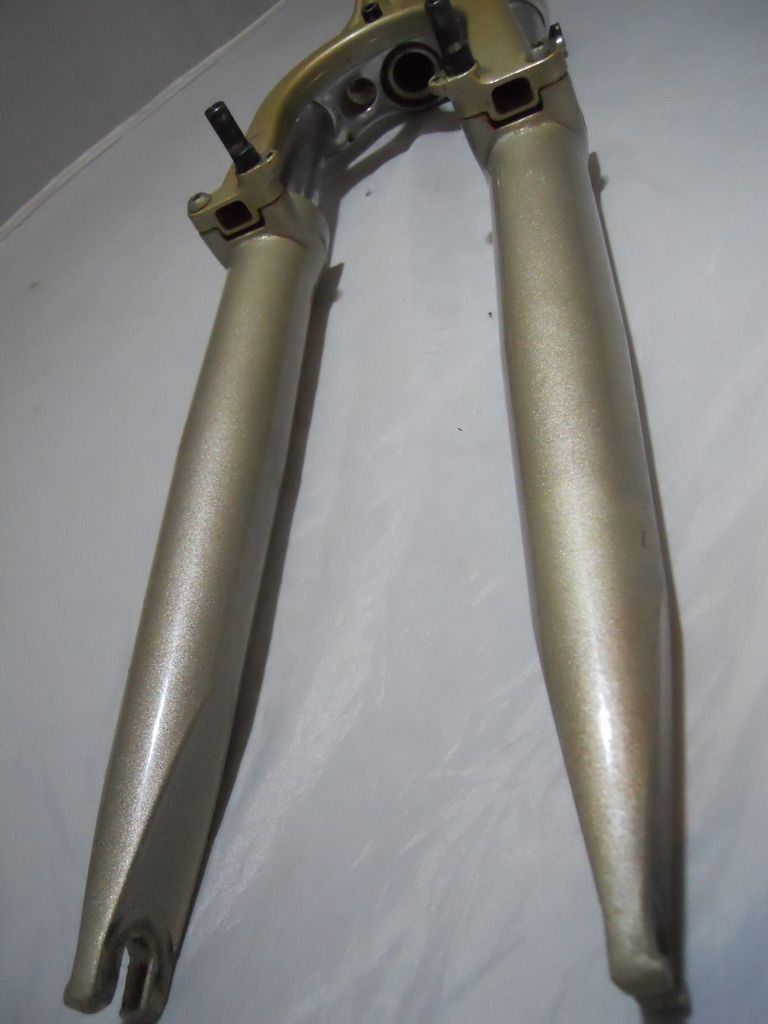 The Judy XC, needs at minimum new elastomers , as the ones originally that came with this fork were disintegrated, as such not a working fork, so class this as spares or repair, steerer on this one is 1" threadless x 203 mm,
SOLD at £ 50
Stems
Controltech Stem 1"x1/8thx130mm Ahead fitment, plenty of paint chips and general workshop marks, mechanically sound
Priced at £20
Bontrager 1" x 130 mm quill fitment, fitted then removed, so almost like new, Excellent condition,
Priced at £ 30
Easton EA50 1"x1/8th x 100mm Ahead fitment, nice usable condition, scuffage to decals, few marks
,
Priced at £ 14
Silver Ritchey 1"x1/8th x 115 mm Ahead fitment, OEM decals worn away, polishes up nicely,
Priced at £ 18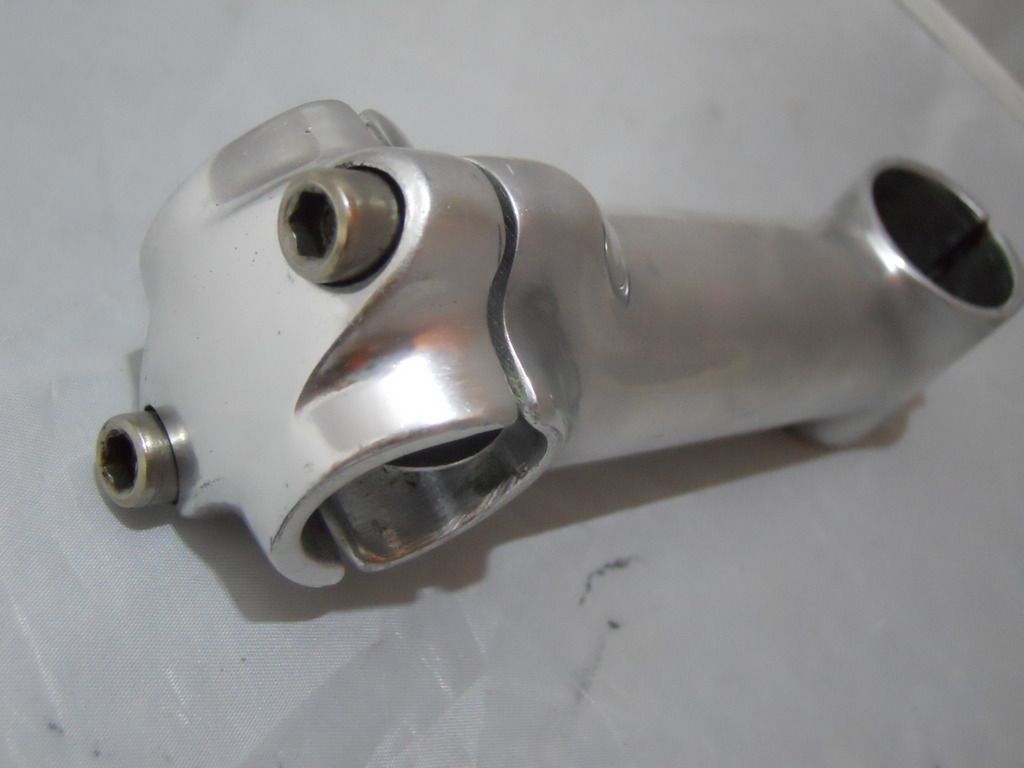 Grey Ritchey 1" x 135 mm Ahead fitment, Grey comp finish, Workshop marks
,
Priced at £ 18
Ritchey Force 1"x1/8th x 150 mm quill fitment, inbuilt hanger , Black mirror chrome finish, some wear,
Priced at £28.00
Salsa 1" x 1/8th x 150mm, nice overall condition, includes 3dv alloy quill bolt
,
Priced at £ 45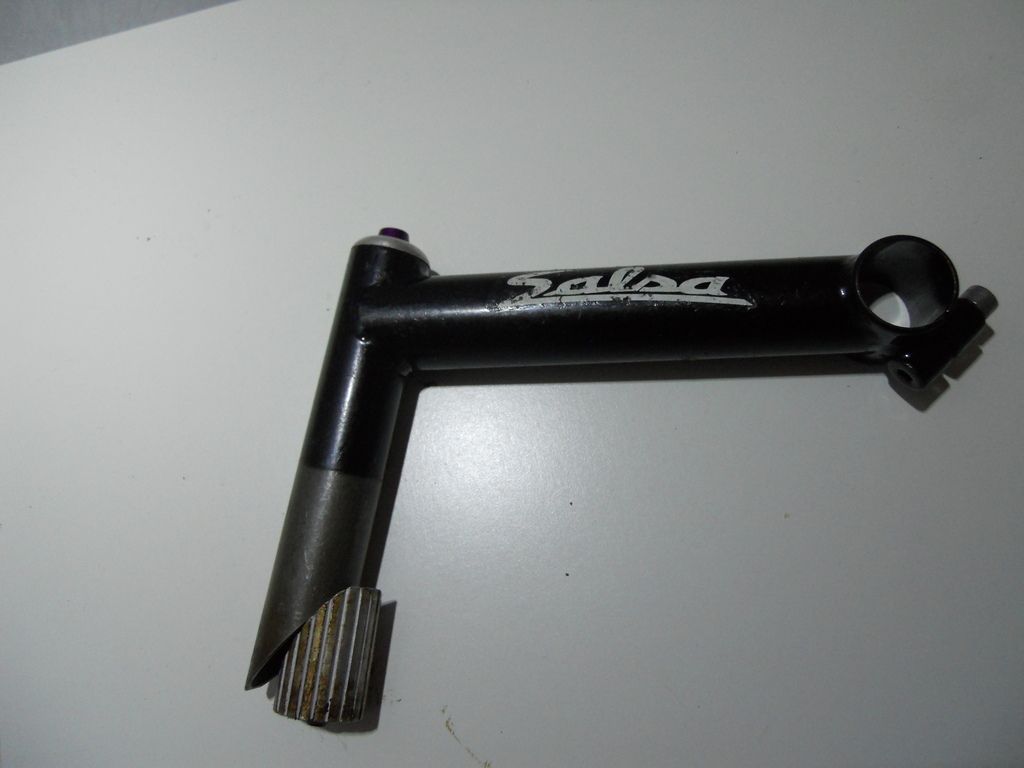 Pedals
Not quite retro, but very suitable for that build.
DMR V12's with extra terra pins installed, spare pins included, no play on axles ,excellent condition, very very grippy, and they have covered around 40miles from new, associated shoe wear to platforms however,
SOLD for £ 25
Sold
Shimano SPD/Flat Pedals
SPD one side, Flat pedal the other, ideal for commuter duties or pub bike if you're feeling like a challenge when you've had a few, very little miles on these, I've never used the SPD side of the pedal, no play ,very nice condition,
Priced at £ 20
Brake Levers
Shimano M733 2 finger cantilever brake levers , including hoods, Mismatched brake cable barrel adjusters, mechanically sound, cosmetically seen better, usual marks to lever blades etc
,
SOLD at £25.00
Shimano Deore BL-MT63 2 finger cantilever brake levers , Red rubber finger hoods/covers, mechanically sound, need a little polish up on the levers
Priced at £20.00
Brakes
Front & rear Shimano BR-M739 V brakes.
The Ti/alloy bolts currently fitted will be replaced with the OEM bolts and fixings, as with all my parts I sell , these will be cleaned and re-greased prior to shipment, will come supplied with brake pads as shown in pics, very nice condition ,all logo's present and correct, no play in the bushings /plates etc , everything is tight and they work great, bought these NOS and only used a handful of times,
Priced at £ 60.00
Gear Shifters
Shimano SL-MT62 Thumbshifters, 7 speed indexed, and these have that hidden 8th click, or you can run them on friction, still one of Shimano's best ideas they did away with :facepalm: , The logo on the front (right hand) top cap shifter has worn away, and has a couple of tiny dents on the plastic logo cover, I suspect its where I have turned the bike upside down in a moments madness to fix something :facepalm:
, left hand shifter is very nice condition and a little autosol (other brands available :facepalm: ) it would be a stunner !!! anyway, everything functions perfect,
Sold at £ 25
Shimano SL-M739, 8 speed V brake and 8 speed gear shifter combo, I bought these NOS and I've only used them on two rides that fitting so in excellent condition,all logo's current and correct. These are currently shown with titanium fittings which will be replaced with the OEM bolts and fixings prior to shipment
Priced at £ 90.00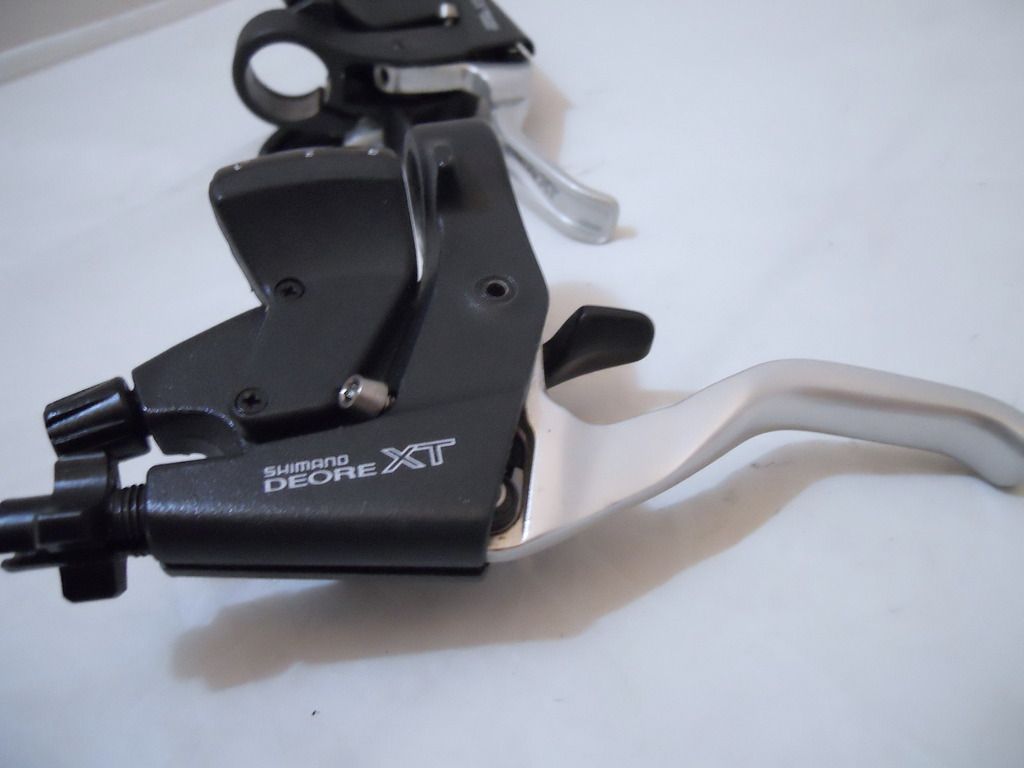 Front dérailleurs
Two XT M73 series derailleurs available,
Shimano XT M736, Top pull, 31.8 clamp, some minor wear to inner plate, logo intact and good overall condition,
Priced at £ 28
Shimano XT M732, Bottom Pull, 31.8 mm band on clamp, wear to inner plate, logo intact, excellent condition,
Priced at £ 28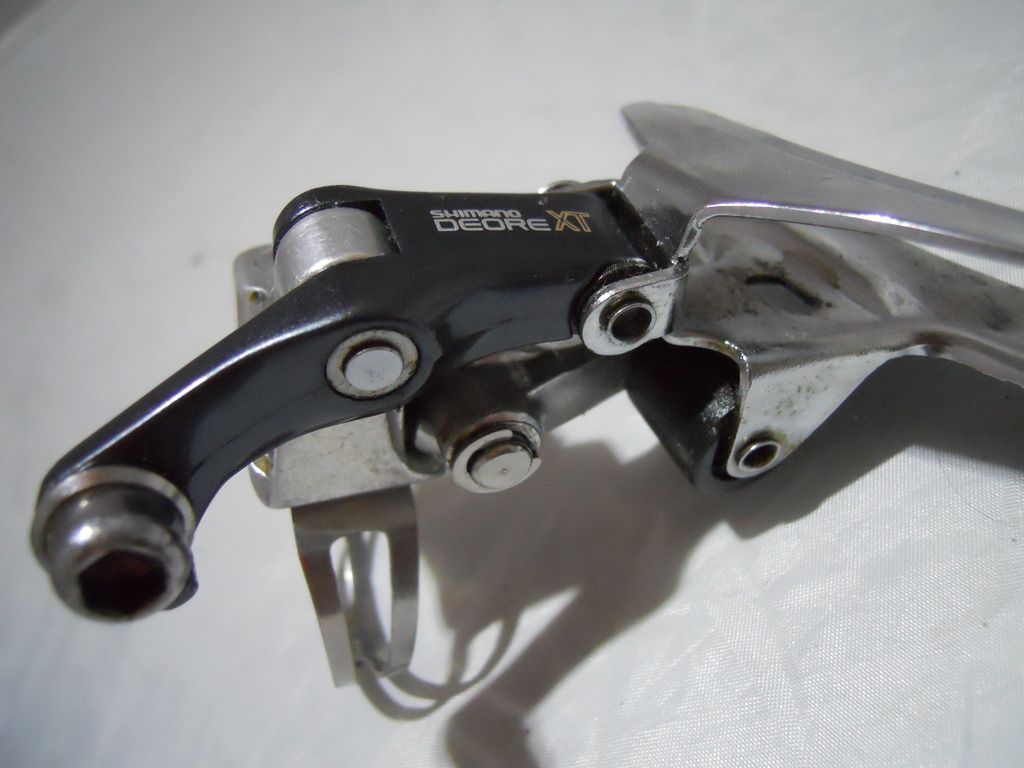 Handlebars
Various widths and types,
Answer Hyperlites in a lovely shade of Turquoise, unfaded , and very few marks to them, width is however 480mm wide, Overall very nice condition, (Stem sold separately
)
Sold at £ 50
Ritchey 6061 Alloy bars 580mm wide , slight fading to the black finish , minimal surface scuffs
Priced at £ 20
Frames , available soon.
Koga Miyata Carbolite 18.5" , Fantastic, Virtually unmarked condition . See separate thread on this for further details.
GT STS Thermoplastic 15.5" , Excellent near new condition , some decal lift, Rear Shox Serviced . See advertisement details in the 1998 for sale forum
Trek 800 16-17" Light Blue, Ideal Pub frame, has some rust coming through, paint chips etc. £ 40. Posted UK
Raleigh Dyna Tech, Media blasted , ready awaiting paint for new buyer 16-17" £ 50. Posted UK
Scott Windriver 15.5-17" , blue/pink , has paint chip issues, some paint fade, nice and light frame £ 80. Posted
Diamond Back Apex 18", Luminous orange, has some paint chip issues, nice OX series frameset £ 50.00 Posted
Univega Moo Moo 16-17.5" , Custom painted by myself , has some wear to paint now, but underneath its a lovely 969 Univega tubeset, Tange big fork colour matched. ** Currently on hold **
1990 Scott Pro Evolution , measures 18" centre to centre, and 20" centre to top, with a top tube measurement of 22.5" , 1 1\8" Headtube, 28.6 Top pull band clamp, and 26.4 seat post size,
Only produced for one year , after which Scott stopped production of thissteel version and superseded it with an alloy tubed version of their E stay frame.

In near immaculate condition , however to be aware there is a tiny tiny dent on the down tube on the non drive side , I've tried to photograph this but its near impossible to pick it up, pm me if this is a concern for you, it is patina at the end of the day at certainly will not effect the structural integrity of that tube, the previous owner had this refinished at Bob Jackson's prior to my purchase.
Priced at £ 100 Uk mainland posted, included within the sale is : Ritchey Handlebar, Stem, Headset, Generic seat pin, OEM Scott branded saddle.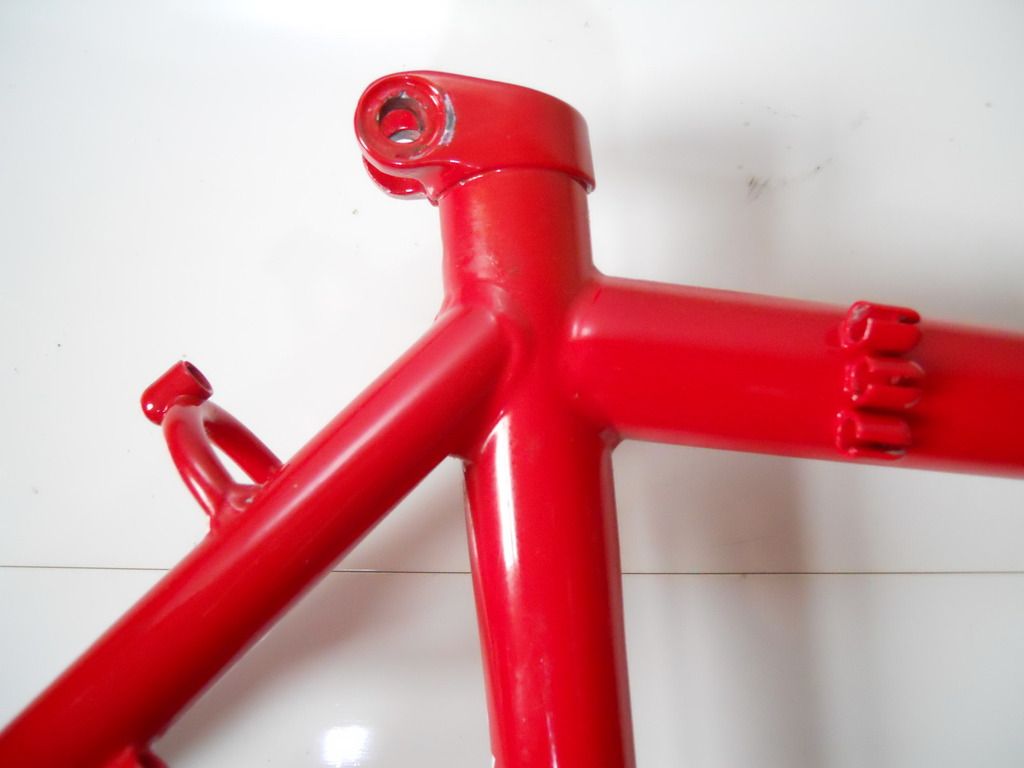 Following picture is an attempt to show tiny dent on down tube on non drive side, it has been like this since I purchased the bike, the previous owner did highlight this at time of sale , I didn't consider it to be any sort of issue either, but Id like to highlight this
Further frame pics and details coming soon.
Please remember to have someone at the address to sign for the item or it'll be trip down to see pat n jess at the local sorting office for you.
All items will be shipped within a few days of receipt of payment , which is accepted either via PayPal, Bank Transfer or possible trades.
All items I sell will arrive at your door securely packaged as to avoid damage during transit to you
Ian