So how often do you retrobike? This is no garage queen by any means. I commute 5 days a week on my steel horse, clocking up around 100-110 miles a week. Then when the weathers better and when I get bored of running, she's my weekend rider out on the Kent downs.
So, other than the frame, forks and stem, nothing is "retro". The drivetrain and components have got to be practical and, where possible, hard wearing. This proves a lot harder than you'd think. Even with weekly deep cleans during the winter, I'll get through a cassette and chain every 3-4 months, bottom bracket every 6 and cranks and chain rings every 12 or so.
This is it's latest guise where I had to bring forward the annual MOT forward. She's got a new drive train plus cables and shifters. She was sporting X9 gripshift but I've finally given in to normal shifters. I treated her and my arse to a new saddle - to be fair the last one was 4 years old - and grips.
As a commuter, she absolutely flies; I'm guessing she's sub 24lbs (very high tech weight test with the 97 Explosif). On 1.25 tyres she's nippy and with 48T up front and my crazy looking legs, I'll keep up with the average cycle nazi, I mean carbon-freak Trek racers
Her identity is a bit of a mystery. I bought her from Charlieboy back in 2011 when my 1997 Cinder Cone gave up the ghost (
viewtopic.php?f=6&t=56486
). She's had the rattle can treatment which to be fair has been extremely durable. It'll last a couple more years then I'll treat it to something new. She has the top routing for the rear brake only and bottom for everything else which, I think makes it a 1996 but then that had the dog collar cable routing thing on it. Of course, it could also have been a Lava Dome since they share the same frame but it's definitely not a Fire Mountain or Hahanna as the geometry is the same as what I had before.
To compliment it's unknown origins, the decals are a complete mixture of 1997/96/95 with some non-specific colour schemes.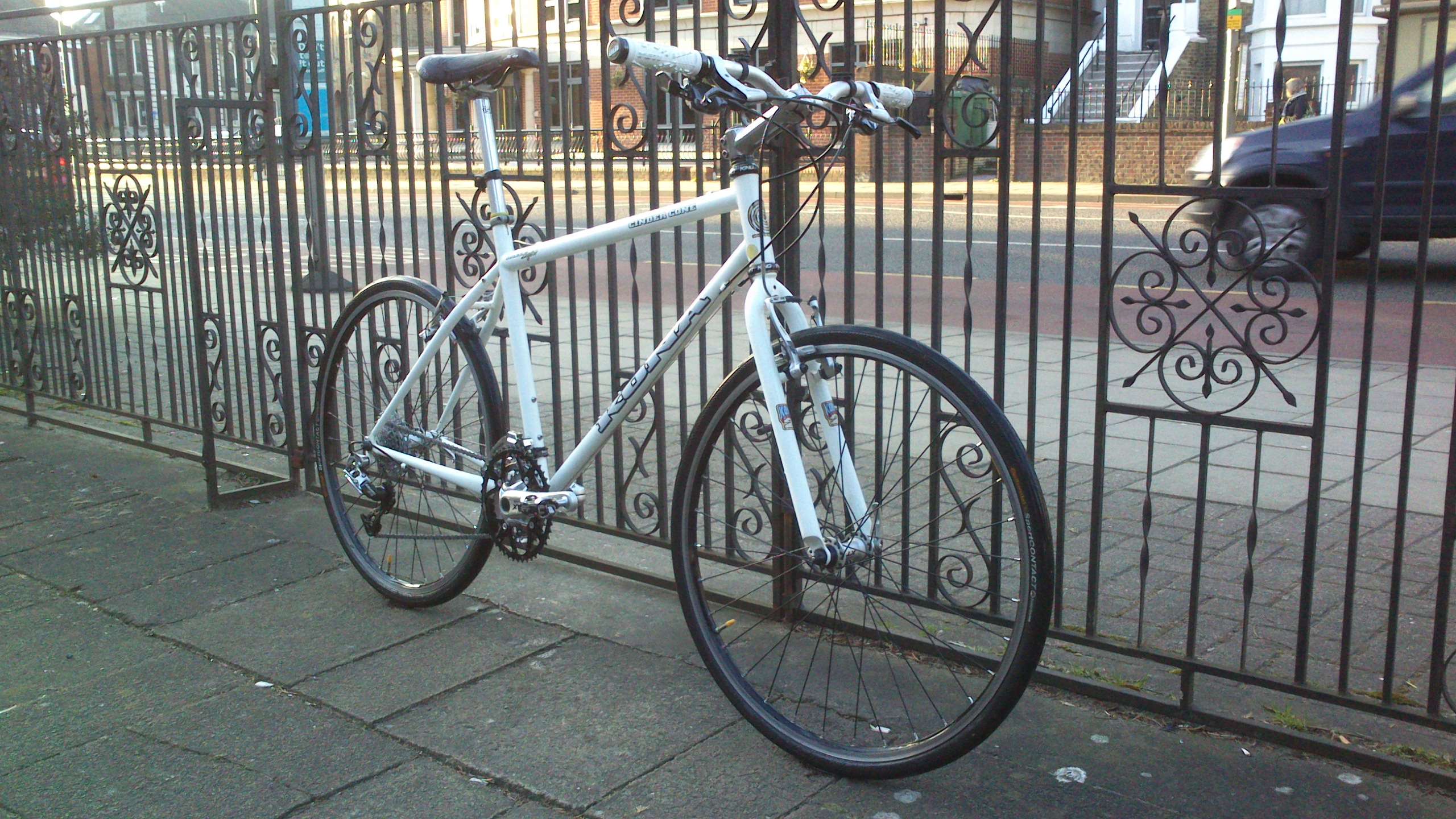 Even though she has an identity crisis, I f
u
cking love this bike. It's my #1 means of transport (I haven't owned a car since 2002) and get's me safely to and from where-ever I go (touch wood). We've been through hail, snow, rain, baking sun, stupid gale force sea winds...and come out the other side. We've even had the odd "nice bike" comments at red lights.
To the posters who queried slicks on MTB's - this is why we do it so we can use our steeds every day. Try it out - you might like it :!: