Sold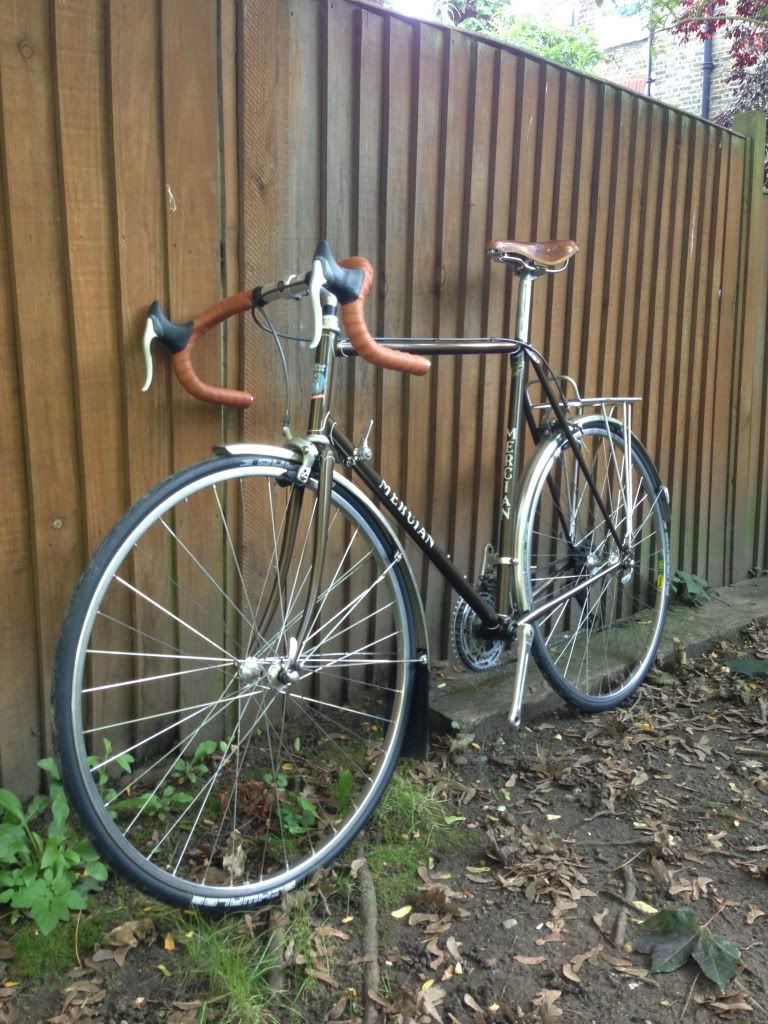 Classic Mercian Road Bike
A beautiful handmade Mercian 'Olympic' from 1982 in metallic/pearlescent dark brown with white pin-striping on the lugs. It is in absolutely fantastic condition having been much loved and carefully maintained, with excellent, rust free, shiny and solid paintwork giving a beautiful authentic patina to genuine a 31 year old classic/vintage bike. You will have to wait a long time to see another bike of this era in better condition. I bought this bike from the original owner a few months ago and am selling only because I have too little space and its 'last in, 1st out!'
The frameset is Reynolds 531 (frame & forks), with a 60cm actual seat tube length (centre of bottom bracket to top of seat tube) and a 58cm cm long top tube (centre of headset to centre of seat post). It is best suited to someone approx 5ft11" / 6ft or taller. It is a fast audax / light touring type frame, with clearance for mudguards if desired, but steepish headset angle for a sharp, responsive ride. The quality of the components is excellent and well thought out throughout - most of it original 1980s equipment, though the brakes were upgraded from the original centre-pulls to considerably more effective dual-pivot Shimano 105s when moving across to 700c rims. Full specification is as follows:
Frame - Reynolds 531 hand built lugged frame in its original metallic/pearlescent deep brown with white detailing. A really unusual colour scheme that looks great. No rust at all and extremely good paint, with plastic frame protector applied to protect areas of rubbing (eg where a frame-mounted pump was fitted). Stainless steel stick on chain stay protector. Reynolds 531 transfer was starting to peel off so has been covered with a patch of transparent frame protector (correct replacement decals are readily available). 120mm chainstay spacing to fit traditional freewheel hub, will also convert to fixed wheel (same spacing as track frame), or can be easily spread / reset to take a modern cassette hub as it is a steel frame.
Wheels - Superb hand built wheel set with Mavic MA2s (700c not 27') laced onto classic 1980s Campag Record small flange hubs with butted stainless spokes. Perfectly true and only approx 200 miles on the wheels, so rim braking surfaces are in great condition. Hubs run super smooth and were fully serviced (new bearings etc) when wheels rebuilt.
Brakes - Upgraded to long reach Shimano 105s (to allow 700c rims to be run). Superb condition and work flawlessly.
Handlebar Stem - A beautiful Cinelli XA stem - super sleek and better looking than the Cinelli 1 but with much more secure clamping than the Cinelli 1R
Handlebars - Cinelli 'Giro D'Italia' 64-42 satin finish alloy drop bars. Fitted with brand new Brooks honey leather bar tape.
Headset - Stronglight (high quality item and fully serviced when wheels rebuilt)
Seatpost - Original SR Laprade fluted alloy 27.2mm seat post with a period correct recessed Andrew Hague seat post bolt (
http://www.bikebrothers.co.uk/andrewhag ... ents_1.jpg
).
Saddle - Brand new unused Brooks swift in honey with hand-bashed copper rivets... Lovely!
Bottom Bracket & Crankset - Stronglight. Campagnolo might have invented the quick release hub, but Stronglight were responsible for developing the square taper bottom bracket / cranks and these are both excellent quality and period correct. Bottom bracket fully serviced when wheels rebuilt.
Gears - Shimano RX100 down tube shifters (mounted on a clamped band, not on brazed on bosses - leaving a beautiful clean downtube if a fixed/single-speed conversion planned). Could also modernise with combined brake levers/gear shifters. Currently running a triple chainset with Campagnolo Veloce front derailleur (again clamp mounted, not on a brazed on boss - leaving a nice clean seat-tube for a single-speed conversion), though a Suntour Cyclone front derailleur is also included which has a longer 'throw' and thus works better on a triple set (the Campag works better on a twin). 5 speed rear freewheel (threaded) with late 1980s/early 1990s Shimano Deore XT rear derailleur.
Miscellaneous - ESGE mudguards (renamed SKS nowadays), Cateye bell, Elite lightweight tubular bottle cage and Jim Blackburn alloy rear rack.
Bike has just been assembled by Full City Cycles and is ready to roll!
Please don't ask me to put it in a box!