This lovely frame was purchased a couple years back and is an addition to my green King Of Mercia which is in road racing geometry.
It's a 1989 King Of Mercia in Touring geometry made with Reynolds 653 tubing, which from memory is Reynolds 753 main frame tubes and 531 stays.
This frame is in the Mercian configuration I have always wanted with pure touring setup in 700c wheels. In addition to having more relaxed geometry than the racing version this comes with extra bottle fitting and a canti brake setup. It also has fitting for mud guards and a rear rack which are standard fitting on the touring model but were an added extra on my road version. This being a tourer it has different/slacker rake on the fork and slightly longer chainstays as well.
The fact that this is in a stunning colour is also an added bonus though it does have a few scrapes and chips with the enamel hazing in a few places as well along with a few rust spots coming through the thin paint. Overall though I really like the colour and condition is fine as is for now. The scrapes have been touched up in a very flat sort of bright blue and so stand out greatly, something I hope I have fixed a bit better, ie: a little less noticable.
Whilst not being in the market for buying any new frames or projects at all, this came about as I had been watching it on a well known auction site and it sat really low all week so I put in a, what I thought, very cheeky bid, only to watch it be successful. It was in my opinion a bargain and thankfully my wife agreed, even she was surprised at how low it went for. We were even more surprised at it's condition when it arrived, it was obvious it was even better in person than we thought. I had to put in a bid as they rarely come along in my small size. I'm not sure why it went so low, sometimes on these sites you can never work it out, but it could have been to do with it ending mid afternoon mid week. No complaints from me at all.
It has been sitting in the loft all this time, coming out occasionally to be mocked up, only to go back up. It nearly made it at the start of last year when my other Mercian was taken off the road to get stripped and painted. Was also taken down and partially built last year before Brian went back to Aus in the spring, as we fitted the headset and started building the wheels for it, but alas other rides were already doing road duty and enthusiasm for my other one to come home meant it stalled. Since then though I have been putting some parts aside to slowly build this up so was happy for it to take a while as there are other projects rolling on. A few days touring ……..
I thought I better out it as I haven't really ever told anyone that I got it and it is going to be built and on the road now that my other Mercian is tucked away for the winter.
Anyway the last couple of months I have picked up a few bits and pieces to almost complete it to the current plan, as it has had a few, and this week I fixed or at least made a bit less noticeable those awful touch up sections.
It is a 19 1/2" 1989 King of Mercia in touring setup, cantis, fittings, geometry etc
Anyway here's how I originally got it, all it's had here is a good deep clean as it was pretty manky.
DSC_1913
by
Jamie Dyer
, on Flickr
DSC_1916
by
Jamie Dyer
, on Flickr
DSC_1918
by
Jamie Dyer
, on Flickr
DSC_1920
by
Jamie Dyer
, on Flickr
DSC_1924
by
Jamie Dyer
, on Flickr
DSC_1906
by
Jamie Dyer
, on Flickr
DSC_1907
by
Jamie Dyer
, on Flickr
If you look you can clearly see the touch up on this one, taken when my other Mercian was stripped to be painted.
DSC_0289
by
Jamie Dyer
, on Flickr
DSC_0295
by
Jamie Dyer
, on Flickr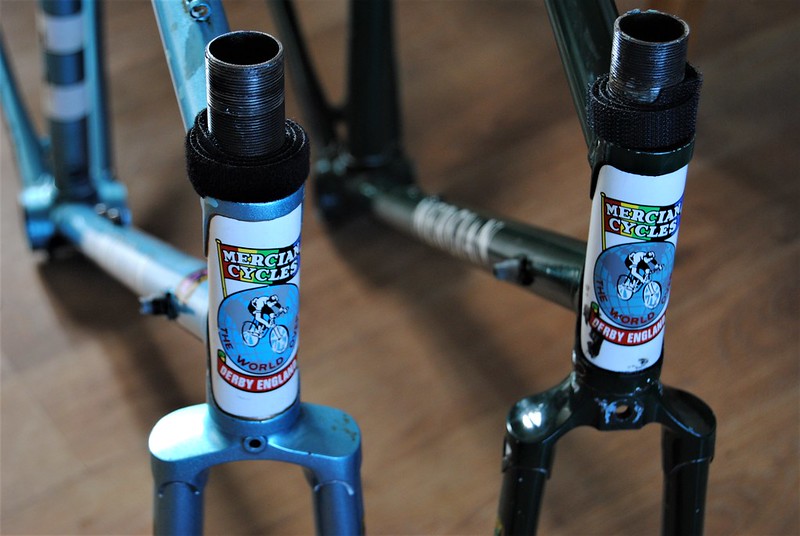 DSC_0300
by
Jamie Dyer
, on Flickr
More to come:
Last edited: