- Lusso Max Repel roubaix bibtights. A proper size UK/US Large. Water repellent stretchy roubaix fabric. Pretty good in a shower but obviously not fully waterproof. Foot stirrups that fit over your boots/overshoes so rain runs off them, not into them! Nice and warm fleece lined, great torso coverage too. Good condition, a bit of wear to the saddle area/stitching, but its double-layered here so these tights really do last and Lusso in Manchester will repair them for you if you ever need it! Top guys and very friendly. £38 posted
- Ness Full Carbon Anatomic Handlebars, 31.8 clamp, 40cm centre-to-centre, flat wing aero top, lovely semi-compact anatomic drops, around 260g, integral cables (like FSA K-Wings) or cables can be run externally if you prefer. Used for 100 miles but I'm going a size wider. For those who don't know, Ness are a boutique Italian brand from San Marino and their carbon components are made in the same factory as FSA and Cinelli, so damn good quality stuff. £65 posted
- FSA OS115 carbon faceplate stem. 31.8 x 100mm x +/6 degree. Excellent condition, lightly marked from my Garmin mount on one side (will be hidden if you mount yours obviously) Used for 100 miles but I'm going up to a 110mm. Superlight at 128g. Ti bolts. Cost £100 sell for £40 posted.
- DHB Roubaix Bibtights, size Large (a proper large as per normal clothing!). Worn for 5 or 6 rides, excellent condition, great EIT elastic interface pad, great fit, performance panelling, cut and seams for zero irritation. Comfy, warm, very stretchy yet quite windproof, zippered front and ankles, ankle grippers too. Great tights! £32 posted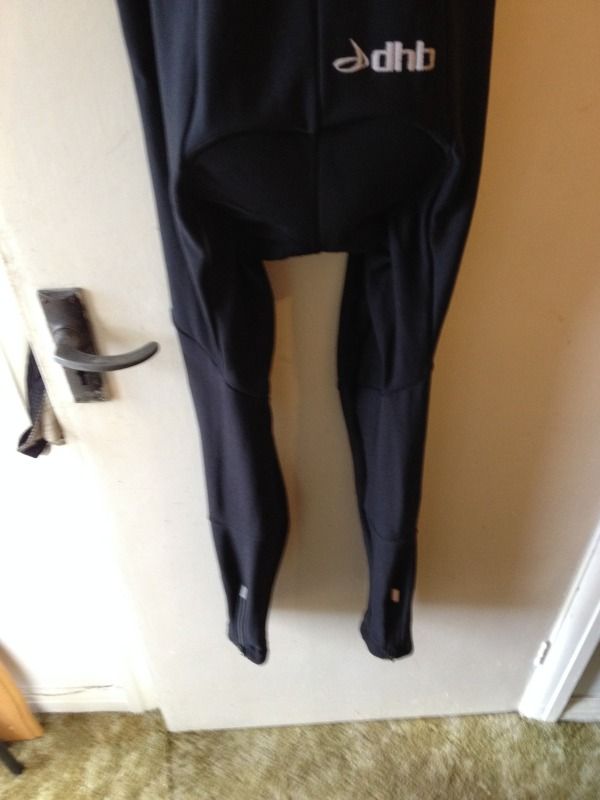 - Assos ProsLine Power Static Silver Fibre High Zip-neck Base/Mid layer, size XL (real world Large), worn 5 times, no damage, £59 posted. Great for winter, morning/evening rides and seasonal weather... like the UK all year for instance!
- NEW WITH TAGS Pearl Izumi ThermaFleece Leg Warmers. Zipped for easy on/off. Size XL (Size L SOLD), sized as per shorts.
RRP is £40, full spec here:
http://www.swinnertoncycles.co.uk/cloth ... +ads#44604
Sell for £20 posted.
- Bontrager InForm RXL Titanium saddle
143mm x 272mm
Hollow Ti rails with Vibration absorbing elastomer for added comfort
Carbon base
Zone Density padding
~200g on my digi scales
Done 3 rides so basically as new. No damage.
£42 posted
- Used chrome silver Ultegra 6620 series pedals, done approx 250 dry miles, function as new, super smooth bearings, good condition but of course some marks from use as pictured £39
Continental Gatorskin/Hardshell tyres £29 posted, £25 collected the pair, 700 x 23c
Very little use - see depth markers. Central moulding line still there too. Very minimal miles.
Some usual nicks etc as pictured but thousands of kms left in these.
Pics
http://s20.photobucket.com/user/brother ... For%20Sale