I should start this thread by saying that I have been on the lookout for a Jack Taylor for a good few years now and have come close, very close on occasion to buying one only for it to not happen for one reason or another. The last time was about two years or so ago I seen one for sale in my size, a 21'' or smaller, in Alabama in the States. I had known of the owner through various other forums and social media and so we went back and forwards for a while sorting a fair price and then also getting a shipping price. A long story but eventually, while the price was more than fair for what it was, the shipping and lousy exchange just put it out of reach. I regretted it ever since as it was such a lovely machine. I always keep my eyes open for one but lately they go for crazy money and not that many small ones ever come up.
Anyway cut to last weekend and I am out riding locally when on my way home I call in to see a friend who I have known for a while, our small sons go to school together, that sort of thing. He was asking about my bikes etc and while I see him out with his two boys on the mountain bike with seat etc I never though he was into the bikes that much. Over coffee he says to me, 'you might be interested to see my old Jack Taylor bike I have in the chicken shed' :shock: I'll have a look I said, trying to be as casual as I could. He had purchased it many years ago when at Uni in Newcastle and ridden it for years, even took it to Europe on top of his camper many times but then life just got in the way and it was put away a long time ago.
We go into the sort of side section of the chicken shed, not where they roost but a room next to it, and he pulls a plastic sheet and stuff from on top and exposes this complete bike in red colour. We wheel it outside and while it is covered in sawdust, layers of dry dust etc it is easy to see that underneath all of that is a quality machine, at least in it's day. I am sometimes not that objective when looking at some of these machines as I see the work that's gone into them but sometimes more than what's in front of me I see the potential of what it could be. Now also at this stage he is just showing me, there's no talk of moving it on. I give a quick rub to some of the thick, heavy dust, especially where I can see rust underneath and it all looks to be surface type stuff and nothing major, but it is all over. No dents or dings at all and the chain is at weird angles and looks frozen in time as it's so heavily rusted. The stem which is/was black is heavily stripped back of paint on the top. One really nice thing is that even as a Super Clubman, whoever originally ordered it, also ordered a Jack Taylor rack as the rear rack in matching red is affixed at the top with small P type clips.
The running gear is a mix of stuff, all early eighties, which the serial number confirms to be 83. It is a good part Exage LX with brifters and Shimano medium drop brakes. Black seatpost, stem and handlebars. Not my style but very eighties
I tell him what I think and that is that there's a fair bit of work to do but it's all there, just needs a bit of love put back into it. and depending on seatpost and stem being movable, it could be a pain. Either way it is far too nice to end it's life this way.
I offer to help him out with getting it back up and running as I just like tinkering and bringing something nice back into use. He said that he wouldn't ride it again as it was always a bit small for him, which makes sense as he is a good bit taller than me and the bike is a 21'', this was also clear by the seatpost being way up along with the stem. So it then turns to what are you going to do with it? which inevitably leads to would you want it? I certainly would but the huge question is what would you like for it? he didn't know what it was worth but knew it was a quality buy when he got it secondhand all those years ago and is why he held onto it. He said have a think about it and see if your interested and we will sort something. He said to call in to have a coffee in the next couple of days if I was passing.
I must say I went home riding along thinking of nothing else, though unsure of what to offer, he is a friend and while I am not financially in a position to offer too much I also don't want to even seem to be lowballing an offer, I would rather miss out than that, so eventually just picked what I thought was a reasonable number considering it's condition and work needed and what was reasonable for me. Called in the following afternoon on my way home and first question as I hoped off my bike was if he still thought about selling it after he had time to think about it as he has a history with it and knows his stuff regarding old steel machines.
He was definitely up for it moving on and was more interested in it going to a home where it would be looked after and ridden, he said he had mentioned to some riders where he worked that he had it and he was annoyed they didn't know who/what Jack Taylor is. We sorted a deal then that was very generous and more than fair my side with a caveat that if sold any moneys would be split. He knew I had no intention of selling it as I wanted to do it up and ride it. So a good deal.
Yesterday afternoon I went and picked it up and stored it in the car as a few of our families were getting together at their place to celebrate Chinese New Year. I had to double check that he was happy with me taking his bike and was more than happy that it was going to a good home. It was a great start to the Chinese New Year for sure, a great night and I had a new project in the car.
Between rain storms today I started dismantling it. I washed it first to get a good look and must admit that once the dust and muck came off it looked a lot better and the wheels, Mavic MA2 on 105 hubs, looked great, what I thought was slight rust on the eyelets was just dirt/grease. I then slowly started taking bits off, with fingers crossed for seatpost and headset. Seatpost just slide right out and the headset undone without much effort and a quick tap had the bolt down and sliding out. Overall I just have one bolt that is stuck and that is a rear rack stay bolt in the frame so I have that soaking in oil overnight.
I haven't polished it or T Cut it to see how the paint comes up, there is a lot of rust 'rash' and some bits would need touching up if left with patina. Will see how it comes up before deciding anything. Wondering whether I could touch up the bad bits and T Cut and polish and then use some sort of heavy duty wax to keep the elements at bay. I won't be putting the black stem and seatpost back on, but putting anything back on is a long way off for now.
I realise this is a long rambling post but barn type finds and amazing deals don't usually happen to me so just had to share
Jamie
DSC_1655
by
Jamie Dyer
, on Flickr
DSC_1643
by
Jamie Dyer
, on Flickr
DSC_1647
by
Jamie Dyer
, on Flickr
DSC_1649
by
Jamie Dyer
, on Flickr
DSC_1652
by
Jamie Dyer
, on Flickr
DSC_1656
by
Jamie Dyer
, on Flickr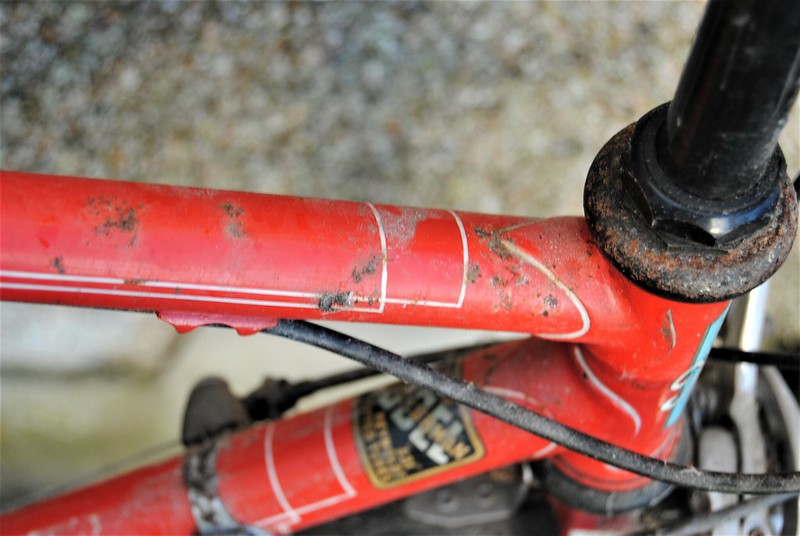 DSC_1659
by
Jamie Dyer
, on Flickr
DSC_1661
by
Jamie Dyer
, on Flickr
DSC_1663
by
Jamie Dyer
, on Flickr
DSC_1664
by
Jamie Dyer
, on Flickr
After a quick wash and strip down
DSC_1669
by
Jamie Dyer
, on Flickr
DSC_1673
by
Jamie Dyer
, on Flickr
DSC_1675
by
Jamie Dyer
, on Flickr
DSC_1679
by
Jamie Dyer
, on Flickr