For two years Joe Breeze, Otis Guy, Marc Vendetti and Julia Violich have worked on their dream, a museum of bicycling based in Marin County. It was only natural that the Mountain Bike Hall of Fame became part of the project.
If you want to gather the most movie stars possible in one place, you have to go to Hollywood. If you want to round up the biggest crowd of well known (but aging) American mountain bikers, you have to go to Northern California. The museum opening brought them out of the woodwork.
In preparation for the opening, the museum shop ordered five dozen copies of my book,
Fat Tire Flyer
and I spent a morning signing them,
Two years came to fruition on Saturday, June 6 at the Grand Opening. An invitation only "V.I.P." took place on the previous evening, and somehow I was invited. All sorts of cool people were there, Tom Ritchey, Alan Bonds, Wende Cragg, Steve Potts, Jacquie Phelan and Scot Nicol to name a few familiar to this forum. Chris Chance was overlooked on the invitation list, but i told him to show up and dare somebody to throw him out. No one did, so Chris joined us.
Tom Ritchey, George Mount and Scot Nicol.
The next day saw the "official" opening, which went all day and filled the parking lot with overflow from the museum. Hundreds of people showed up and apparently a significant number of them bought my book, because I signed a lot more copies. Even more glitterati showed up to add to the previous evening's list. Denise Caramagno joined us; she was my partner in the original Fat Tire Flyer magazine, and she was the person who coined the immortal phrase, "fat tire flyer." Even Charlie Cunningham made an extremely rare public appearance, a two minute bike ride from his house. The MTB press was represented by Maurice Tierney, publisher of Dirt Rag.
Pix. You want pix. Because mountain bikers don't like to read big words.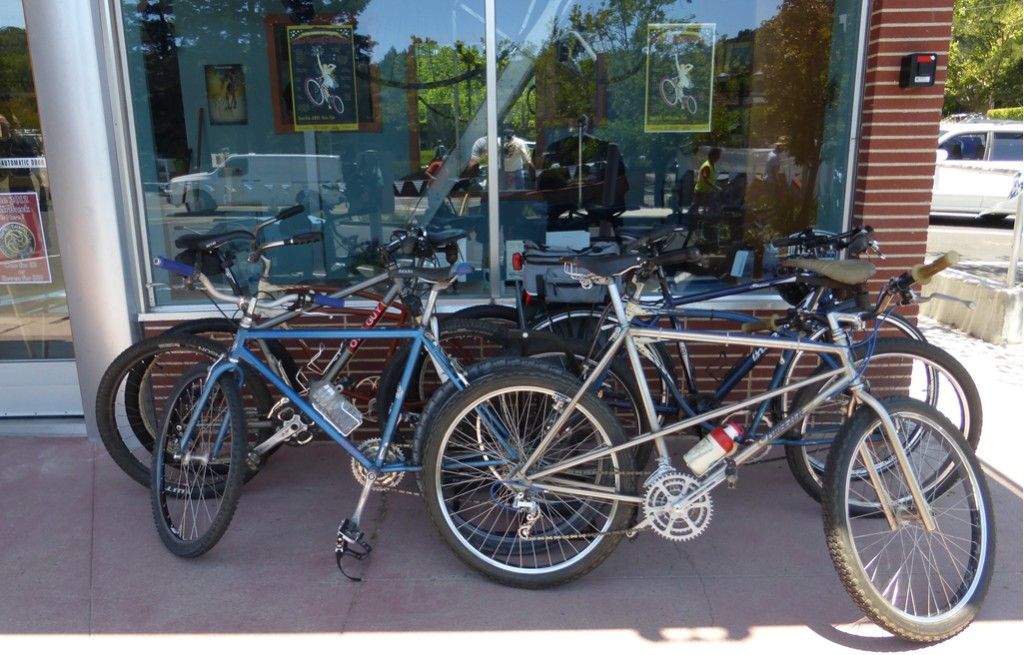 The bike rack in front of the museum held some of the most collectible mountain bikes in the world. Marc Horwtiz's TrailMaster on the left, my Breezer #2 on the right. Clunkers in the back.
Myself, Jacquie Phelan, Denise Caramagno and Charlie Cunningham. Jacquie tries, unsuccessfully, to dispel the confusion over which guy named Charlie she is actually married to, since she and I are often seen in public, but neither of our spouses is. She is married to the one named Cunningham.
This ten foot tall FS MTB must be from the Giant Bicycle Company. I was disappointed to find that the pedals do not turn, so it can't actually be ridden.
He's baaaack. Chris Chance shows off his 2015 model.
Alan Bonds rode a Koski BroCruiser.
Joe Breeze and Mert Lawill
Maurice Tierney, publisher of Dirt Rag, photobombs Wende Cragg, Kay Petersen Cook and Denise Caramagno.
Forum member Geoff Halaburt photobombs Chris Chance, Steve Potts and Charlie Cunningham. In the background, Jacquie Phelan misses the moment.
Scot Nicol is, like, really really tall.