This bike is not exotic Italian but it is rare, very rare, I have never seen one in Edinburgh its home town until now. Edinburgh Bicycle used to sell its own shop brand bicycles starting sometime in the 1980's until a few short years ago when the Revolution Brand which they later used, stopped trading.
In the 90's the bikes were predominantly Mountain Bikes and Hybrids, as that reflected the best selling trend. I had a Contour 300 mtb which was very good VFM, good equipment level and based on a chromolly/hightensile steel mixed Falcon Cycles frame and fork.
This Bike is a tourer and obviously dates from the 80's before the mtb boom which makes it quite early in Edinburgh Bikes own brand bikes. The frame is Reynolds 531cs and the fork Reynolds 501. Research shows it to be similar to some Falcon Cycles bikes of the time and this is likely. Groupset seems to be mainly Suntour. Wheels are 27 x 1&1/4" with new tyres fitted. Size of ST C-T is 25" and TT is C-C is 23" so a bike suited to the taller rider. Rear dropouts are cast horizontal with adjuster screws and 126mm OLN, Front 100mm OLN. Brakes are cantilever.
Would make a good tourer or tall guys CX bike or for the new trend of Gravel riding.
Condition is very good, only a slight ding in top tube near seat. Colour is Gloss Black.
Price a very tempting £
185
[url=https://ibb.co/4Y6w883][img]https://i.ibb.co/nnHq77t/PICT0023.jpg[/img]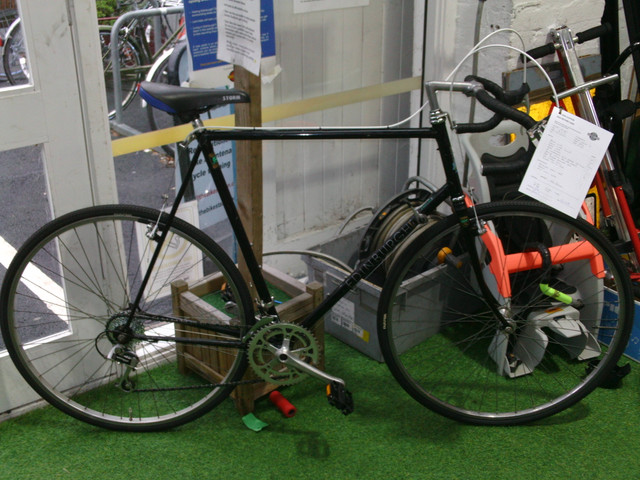 [/url]
If you are interested contact me. You would need to arrange a courier but we have bike boxes etc.
The Bike is on sale in the shop and might go to a customer who walks in but if you are seriously interested a reserved sticker can be applied.
SOLD
To A Walk in Customer