Sram Force 22 gear Train. After Upgrading to Red 22, have a spare set up
Would consider "trades/px
Red front and rear Force 22 mech and brake/shifters for sale, condition is mint, with all instructions/boxes, front mech is actually a Red 22 with built in chain catcher, £185 posted for all three, I can put pics up, but they are aesthetically as new.
This is about half new price, not much heavier than Red and identical function, BUT way lighter than both Shimano D/Ace-Ultegra and current Super Record. Rear mech is 161g, both shifter/brake levers 308g.
Pics below, as new condition, not a mark, so a real bargain for someone.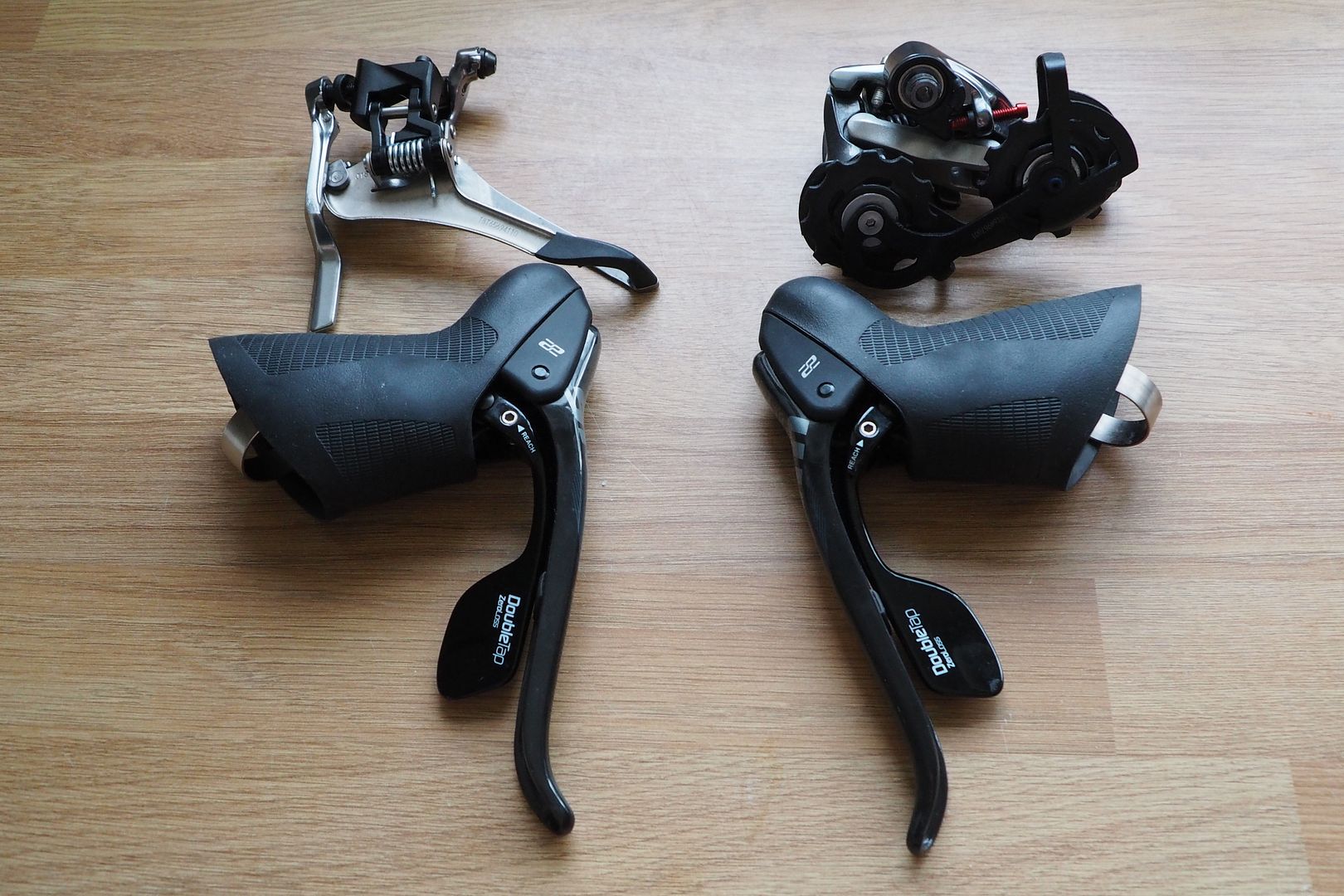 Hope Carbon 300mmx31.6mm layback carbon post, with clamp for 7x10 rails, clamps for 7mm round available from Hope, £40 posted, very light and as new, boxed with instructions
Selle Italia/FSA K-force light monolink seatpost/saddle 27.2mmx350 carbon post 10mm layback Titanium bolts, very light and comfy pro level combo, Saddle is the carbon monolink flow version £90 posted, way under half new price for both, as new condition
Set of minipumps, £10 each posted, one cost £30 new the SKS one and has built in pressure gauge
Boardman one now sold
Sram 50t 10/11 (ran 11 speed chain no problem) speed chainring, little use, swapped for Rotor rings 110bcd very light and brilliant shifting £18 posted.
SOLD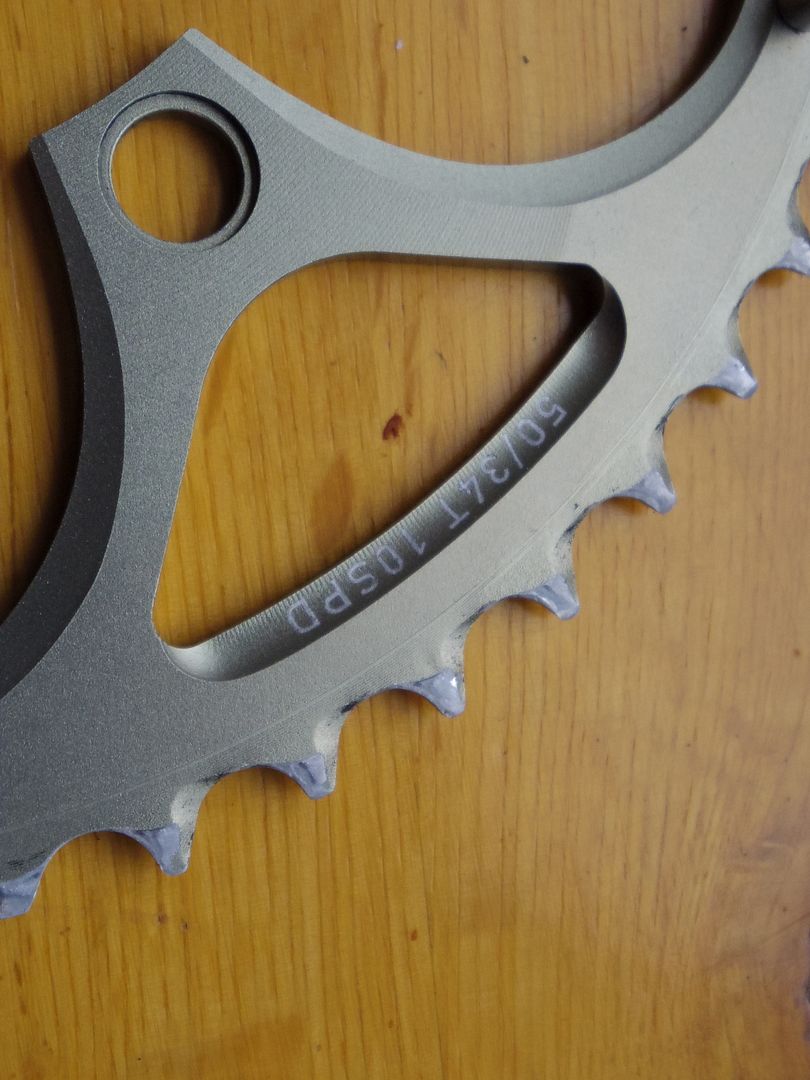 Tune unused carbon steerer tensioner/bung 1-1/8th these are £20 plus each and about as light as they go, £10 posted
Also a mint Reynolds one £10 posted
Sram RED 32.0mm- band on front mech, really tidy with Titanium cage, minimal wear, the lightest you can get. £35 posted Only selling as don't have a frame to hang it on, beautiful piece of kit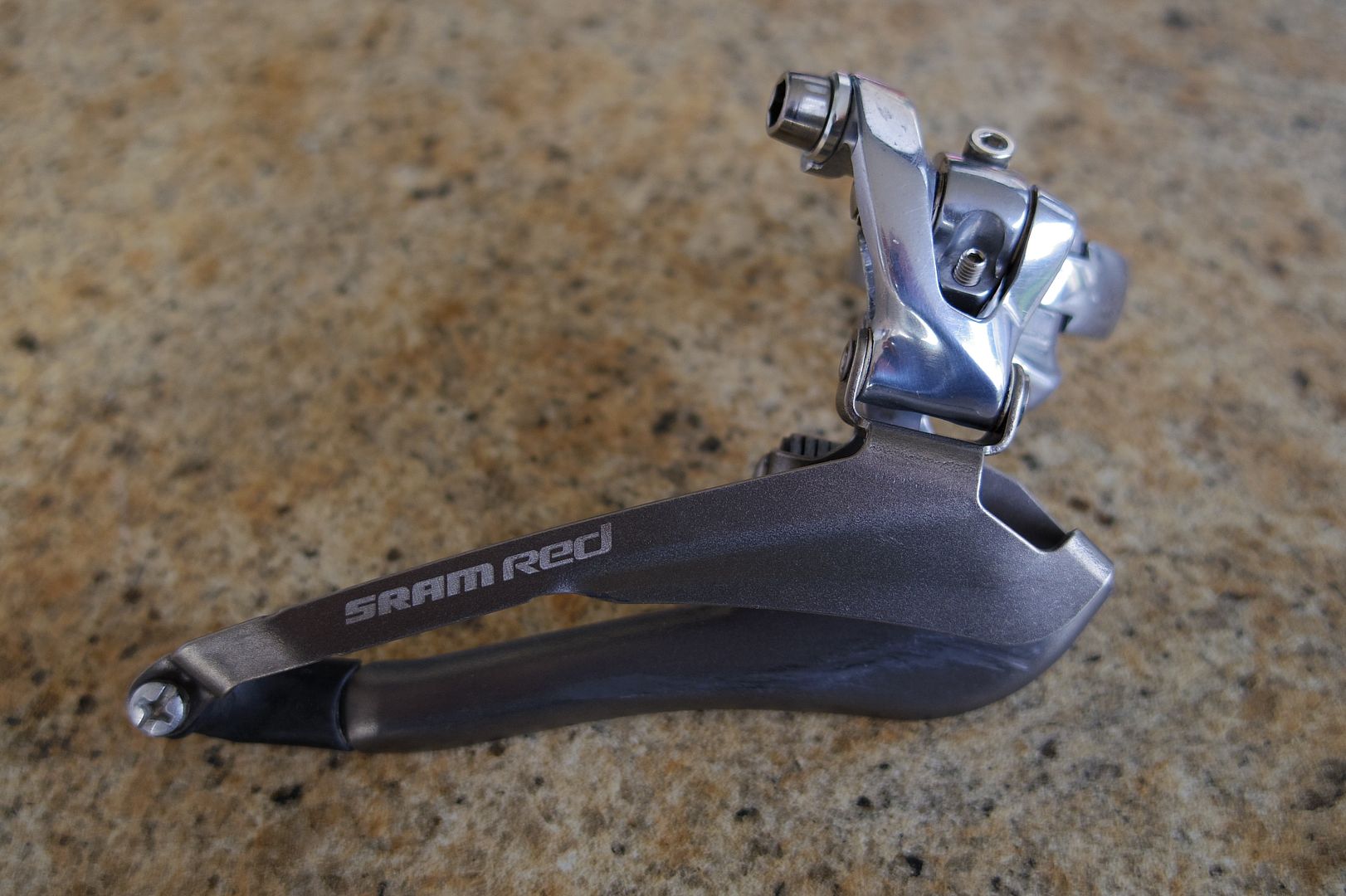 Quite a collection of seatpost clamps?
Salsa Liplock 30mm £12 posted
Kcnc Red 31.8 and Black 35.6 (This one unused) £12 each posted
Turquoise blue DMR 30.2 unused £10
MT Zoom Green 31.8 unused very light at 6 grams!!! These are great, just changed mind on colour £12 posted
Generic Purple 31.8 £5
Tektro TRP CX 32mm with hanger £12
Black and Silver lightweight, 34.9 with bolt pivot unused £10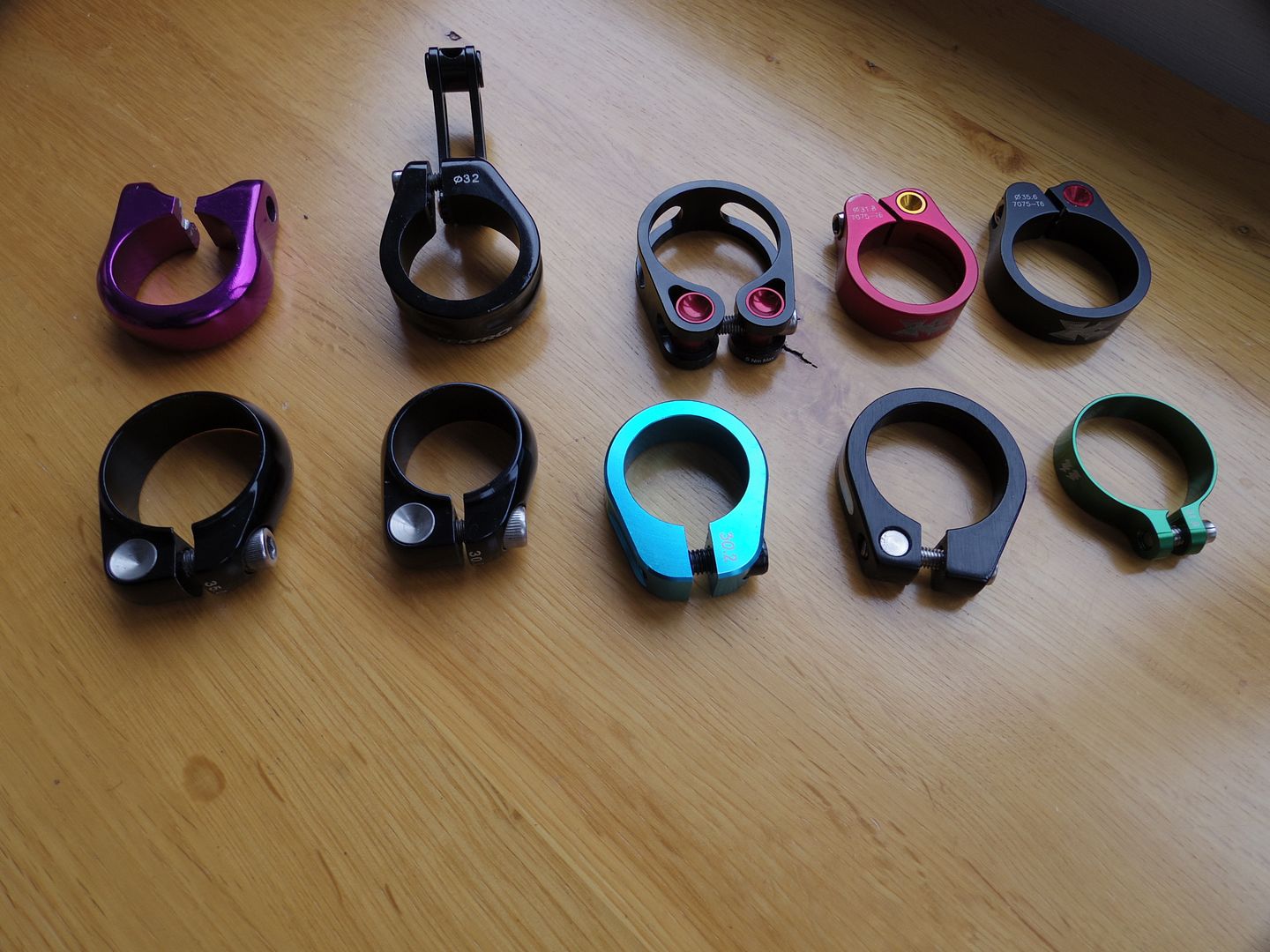 300mmx27.0mm layback seat post, little use, light and novel single bolt clamp £15 posted
Easton EA 70 OS stem, boxed and unused £20 posted
Mini pump, light and great for road use (I have loads of variations of these) £10 posted
Truvativ triple crankset, square taper. with good threads and tight taper 94bcd x175mm arms, so good for a touring triple, tidy condition £22 gets these, may have some rings and bolts to make up a complete set, if you enquire for a bit more dosh.
SOLD
THANKS
Another rather special Fork, Ritchey WCS Super logic Monocoque I understand these are the lightest production fork available, I paid a lot for these very precise steering fork, 1-1/8 190mm steerer £70 posted, not a mark on them, pics up now, boxed with instructions.
Look at the weight including a carbon steerer bung!
SOLD Below this Line thanks

[/size]
Pair of tidy Modolo/Mavic calipers in Anthracite grey £23 posted
Set of Easton Aero/TT bars, ideal for touring actually too! lovely and light 31.8 clamp unused £15 posted
ABR 90mm ultra light cnc'd stem 1/1/8th by 31.8mm x 5 deg (sub 100g) £30 posted
Selle Italia SLR Team edition saddle, Carbon shell and hollow Ti rails 170g on my scales, unused £70 posted to your door insured SOLD thanks
[Set of Quill pedals and toe straps, not high end, think these are VP but smooth and look the part £15 posted
Dura Ace 11 speed cassette, 12-28 ratio version brand new unused, Titanium top 5 sprockets, never had a chain over it, £85 posted, so fair saving on new and this is new. Cheapest I found online was £135 so fifty quid saving.
I still have far too many wheelsets, so although I may regret this, have a somewhat rare set of Easton Carbon EC 90 SL/Slx tubulars. These came from an end of season sale from a disbanded pro team, I don't think you can buy the front wheel, not sure on the rear. They are shod with a near new Conti Pro Competition Ltd on the rear and a new Conti Competition on the front (these would cost you £150 the pair alone) but you can't buy the Ltd versions, reserved for sponsored teams only.
The rear wheel is the Sl and the front Slx. Ceramic bearing free rolling-low maintenance RL 4 hubs
Differential rim depths, to avoid front wheel buffeting in Windy conditions, 28mm front 40mm rear. These are as light as anything out there today, at around a kilo the set. I've just weighed them with Dura Ace 12-28 cassette, the tubulars on and Skewer set and they are still under 2 kilos.
The braking surfaces have seen next to no wear, as they were a spare/TT set.
Comes with both Shimano and Campagnolo 11speed width ceramic freewheels.
These would set you back about £2600 for bare the wheels, without the cassette, skewers or tubulars which would add another £300+ If you want fast, stiff, very smooth rolling over our bad roads and light-these are the wheels to have!
Would sell to include Titanium skewers, new Dura Ace 12-28 cassette and both Shimano/Campagnolo free hub bodies and the new Tubulars reduced to £580 posted
FSA two piece Triple crankset with very lightly used GXP BB 52/42/30 rings. 170 mm crank arms £28 posted
Lovely Action-tec 11t Titanium sprocket to replace Cassette lock ring and last sprocket combined, weight weenie material, you will have to play around with spacers to get it right, depending on number of speeds, but will save a few grams and looks a lot neater. £12 posted

Set of Baradine brake pads, post mount F&R £20 new £6 posted

Garmin GPS 200 bundle (I upgraded to Edge 520) Proper charger, mounts and only 12 months old, these work great, are lightweight and are very compact, get great reviews too, actual speed, average speed, travelling time, calories used, elevation climbed, altitude, navigation, ride history, etc. Included is a K-Edge mount which are £45 alone, so bargain at £55 posted Not used much as I was treated to an Edge 520.


Barely worn set of Shimano retro SPD shoes size 42 which is about an 8, £32 posted

Nice Quill stem Zeus 80mm reach, (This unused) with Alloy bolt and wedge £15 very light stem

Sram Force 22 1170 11-28 cassette, upgraded to Edco after one ride, £22 posted

Lightly used pair of Odyssey Sveltd 2 flat pedals £15 the pair, bearings smooth as silk (SOLD subject)

Titanium Elite bottle cage, perfect for that Italian Classic bike £20 posted

Little used set of Campag' Super Record 2015 brake calipers, hardly a mark on them, new pads Carbon or Alloy your choice £90 posted

Two carbon clip on derailleur mounts, just 5g each, the Parlee versions of these are £45 I am asking £12 each 31.8 and 34.9

Unused boxed pair of 1-1/8th sealed and replaceable cane creek cartridge bearings in fun Rasta colours, add some colour to your bike! These have split crown races, so very easy to mount and are really well made with a split top race wedge. £18 each posted

Pair of Bontrager R3 TLR (tubeless versions) 700x26 tyres, (not 25mm- these are the newer version) mounted, not used (Sold the wheelset) have these on a few bikes and they are bomb proof, with great grip and very fast. My wife did 5000 miles + on a set last year without a single puncture! £40 the pair posted (normally £45 each!-what I paid) reviews below. I can get these on and off rims pretty easily now, without tyre levers, it's just practicing technique

early front mech Ultegra I think 31.8 £10 posted

A pair of Rocket Ron 1.35x700c or 35 width CX tyres, Unused £30 the pair (less than half price Spoken for PP)

Set of lightly used Exus (Look Copies) road pedals with cleats (Look cleats work too) lighter than Look Carbons, barely used, sealed cartridge bearings £18 posted

Tidy front mech, DX x 28.6 £10 double or triple front set up

Bontrager twin pivot seat clamp 34.9 unused £12 (Black with red pivots)

Nice quill stem, Cinelli 100mm reach £15

Bianchi Reparto Corsa Dual pivot brakes, fitted but hardly ridden (sold the frame) so as new, good finish, performance and WAY lighter than Super Record skeleton, these have BBB tech stop pads fitted, with Titanium bolts and washers and Titanium cable pinch bolts, pads and Ti bolts cost more than the £30 posted

Unused boxed Sram Apex front mech 34.9 band on £12 posted

Brand new and boxed set of Crank Bros eggbeater twin Ti pedals with all instructions cleats etc, these are the second and best version, 200g the pair, brilliant for touring, a real cinch and very cheap to service, but are Mega money these days (I use nothing else on all my bikes) these retail at £220 ish new the Triple Ti version £350-£450 new. Will take £75 for this unused set.

Campagnolo Chorus BB, iso taper, rarer English threads 68x102 like new £25 posted

Shimano 105 headset, really tidy and clean races and bearings £12 posted

Thomson Masterpiece Elite seat pin 26.8x330mm with Titanium bolt and toggle upgrade, immaculate £32 posted

Cane Creek one inch Ahead set, 110 classic, better than a CK with replaceable cartridge bearings, fitted no ridden, these are £140 new, after £40 posted, total bargain!

A Conti GP 4000s 11 700x23mm unused and a 25mm in the Grandsport version also unused £22 the pair.

Unused pair of 700x25 folding tyres, have used a few of these for Winter and performed well, £40 a set new after £12 posted

Mavic 801 rear mech, and two 861 fronts, these are totally modular and rebuildable and usually fetch good money, none are perfect, but all useable, £30 all three together. The rear mech is a work of art, each individual part is machined, nothing forged.

Rotor Q ring set. 50/34 in 110bcd, these are mega expensive new, light use a few rides only £65 the set, large ring will cost you way more than this alone. Grab a bargain.

Enve Composites 31.6x400mm x 25mm layback seat post, inserted un-ridden, boxed/instructions, clamps for 7mm round and 7x10 carbon rails £100 posted, half new price, very light sub 200g seat post BOB logo
Enve post SOLD thanks.

Miche Altur, semi deep (35mm) section, Shimano 8/9/10/11 speed freehub, very reliable and fast rolling wheelset that weighs in at a tad over 1700g bladed Sapim spoke 16 front 24 rear.

FSA K force lite 27.2 layback carbon seat post 350mm £40 posted as pictured

Another unused set of Giant PR-2 Wheels with new un-ridden Giant tyres and tubes, about 1800g the wheelset, 11 speed Shimano freehub £50 posted.

also have a 300mm Easton EC 70 layback posted (not pictured £35 posted )

Charge Spoon Orange/Red unused saddle £20 posted

3K weave German made 31.6 x 350mm carbon seat post, well under 200g weight, unmarked with 25mm layback and Titanium hardware £45 posted

Nice Mini part SR groupset Blue line mechs, friction shifters and crankset £30 the lot, very tidy condition, all functions lovely.
One ride old set of American Classic Tubeless road Clinchers, these are set up with Schwalbe Pro one tubeless tyres and Dura-ace 11 speed 12-28 cassette, as new condition and the lightest Aluminium clinchers you can buy, at just 1150 g the set.
Ceramic bearings, Shimano freehub, bladed spokes, grea stiff light climbing wheelset, with no puncture worries!
Would set you back £1000 for the set up, £550 posted

library images below, mine look the same but with the Schwalbe tyres installed.

http://keyassets.timeincuk.net/inspirew ... wheels.jpg

Dura-Ace 11 speed 11-28 Cassette, one ride old, replaced with 12-32 for Alpine use. In original packaging £85 posted, so big saving on new, top 5 sprockets are Titanium, very light with the best shifting out there.

Lovely and light set of Scott flat bars with built in bar ends, only weigh 175g.v (yes it says 195 on them) 25.4 clamp. but can be shimmed to 31.8, pretty rare these and very light for the style, most modern ones like this are over 300g £30 posted

Astute Skylite VT saddle, as new (Have way too many saddles) these are £190 most web sellers, £90 posted, extremely light and comfy, save £100 on new price
NOW SOLD THANKS

TRP low profile brake caliper, designed to tuck behind front forks or rear stays, cable entry either side, highly rated and unused (still a currant model £25 posted)