Hi! Newcomer here, but i have been lurking on this forum for a looooong time. My name is Daniel, born Swede, but now living in Germany. I am a through out Cannondale nerd. No...not nerd...more like Cannondalefista...Cannondalelista...Cannondale Afficionado. I like both old and new Cannondales, and to build them and ride them.
A common theme through my builds are that i like to blend the old and the new....keeping stuff original is not so interesting..bikes should reflect your personality, not what the spec sheets think. For example.....my early Super V build was built up with all the cool parts i dreamt about as a teenager in the mid 90s, and the paintscheme was...hmmm....chaos, a mix of Ef Racing cannondale, Palace Ef Racing colab and retro Cannondale paint jobs. Drive train side of the bike was a nod to the 90s with colors and stickers reflecting that time.....
...And the other side was more inspired by more recent trends...
And another build i did was based on a F29, where i wanted to make the components and look of the frame all up to date, so i removed all external cable mounts, fd mounts and created holes for one internal cable...because the drivetrain was Sram AXS. But the logos and paintwork was all a nod to older Cannondales.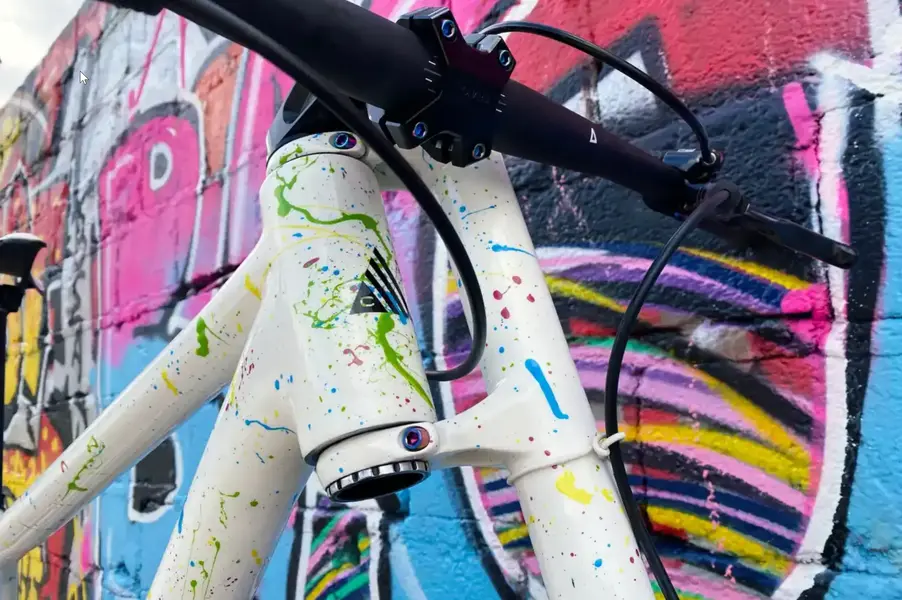 So if i have shocked any Retrobikers here by going bananas and messing with what is retro or not, so sorry. But i hope you continue reading, because now the true Retro Bike nerdiness starts, i can show some cool stuff from the parts bin that might get you hooked again.
Blue NOS CODA prototype brakes.
Volvo Cannondales saddles, Volvo, Stars and Stripes and a 1000 series with titanium rails. And yes, of course they are NOS.
...And a healthy dose of Headshok knobs, yes, the red one is kinda unusual.
BUT, now we get to the really rare stuff. It is hard to find a Super V in good condition these days, it is ever harder to find a unused one, and when i found this very special Super V frameset i now i had totally overused all the luck life could give me. To cut to the chase, this is an old test rig frame that Cannondale used for...hmm...testing stuff. It looks like a ordinary Super V, but the geo is a little bit different, and it has strange mounts for stuff here and there....and a eccentric bottom bracket. It is not a unusual frame, it is a one-of-a-kind unicorn. It has never been ridden on, it has just been sitting in a rig, before it was placed in a box 20 years ago. The condition is.....
....really good. Hmm...wierd crank...
....and there we stop it for the first post. I know i posted this in the --.1997 category, and yes, there will be a lot of stuff fitting that timeline.
If you wanna see more of my bike acid tripping, check out my instagram,
Damn!