I bought this bike on ebay a few weeks ago, and finally went to collect it last week. The 1st full suspension bike I ever had a ride on was a Proflex of some sort and that way waaaay back in 93/94 and since then I've always wanted to own one, so when I saw this 1997 857 on Ebay I put in a bid
The bike itself is in pretty good nick for its 13 years, a few scrathes on the forks and seatstays where it's been lent up against walls etc... but a bit of touch up paint sorted a lot of those out, and the Noleen shocks seem to be working as they should too.
It also appeared to be pretty standard when I picked it up, with the exception of the shifters and brake levers which had been changed for Shimano Alivio items for some reason :shock: but apart from that the rest of the groupset is Shimano XT.
I've now swapped some parts over from my other bike, bars, stem, shifters, brakes, pedals etc.
The plan with the bike is to upgrade it with more modern components, and those I take off the bike will be kept for later use on a full rigid bike build at some point.
Anyways... some pics...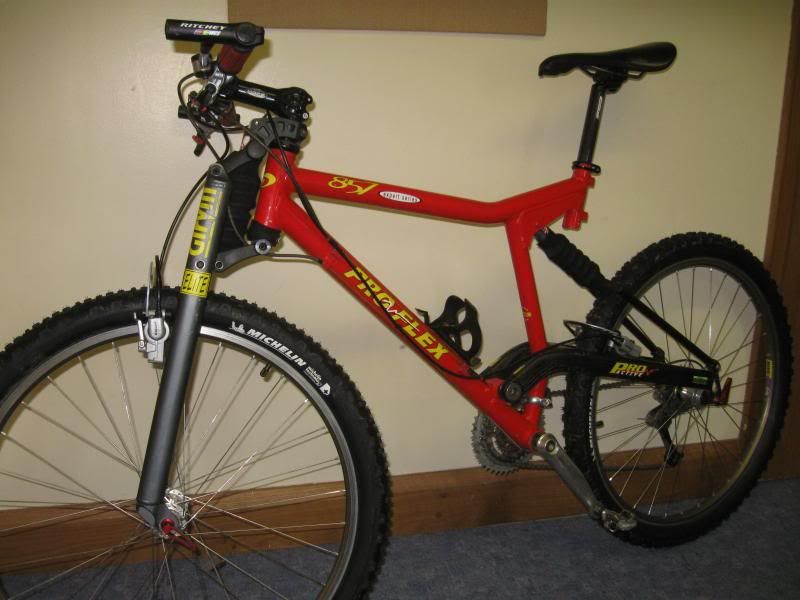 The bike has been "christened" already, my first ride on it was a 3 hour endurance event last week (the day after I had collected the bike!) and my 13 year old £200 Proflex held its own against modern bikes costing 10 times as much and more
So it looks like this one is a keeper for sure
Spec below....
Frame: (Large) Proflex 857, Easton Aluminium & carbon fibre with Noleen NR2 shock.
Fork: Girvin Crosslink Elite, Noleen NR2 shock.
Headset: Dia-compe Ahead
Stem: Hope XC
Handlebar: Easton CT2 carbon
Grips: Odi Cush
Barends: Ritchey WCS
Brakes: Magura HS33
Brake Pads: Magura Black
Shifters: XT Thumbies
Front Derailleur: Shimano XT
Rear Derailleur: Shimano XT
Derailleur Cables: Look like Gore-Tex or similar??
Cassette: Shimano HG 8-speed
Chain: Shimano HG
Cranks: Shimano XT
Bottom Bracket: Shimano
Pedals: Shimano SPD
Hub Skewers: USE Spin-Stix
Rims: Mavic 221
Hubs: F: WTB with Grease Guard. R: Shimano (LX?) "silent-clutch" FH-R080
Spokes: Steel
Tyres: Michelin XC-AT 26x2.00
Saddle: Flite Selle Italia with Ti rails
Seatpost: FSA SL-K carbon
Seatpost Binder: standard item
Weight: 28lbs