Retrobike Rider
Gold Trader
PoTM Winner
I've not lost my marbles... honest - its got two wheels not four
After many years of admiring the 1997 Porsche bike S from a far, first of all in Life style magazines when used as a prop for the latest Porsche 911 etc and then via various but in frequent posts/builds on here I've finally got to own one…. In one sense the wait has made this one all the more special.
I spotted it as a result of Mike (The Seller) posting a link to it on here and in an idle conversation with my wife one Friday afternoon about god knows what, I jokingly mentioned I've just seen my 50th birthday Present ! - To which she responded that's not until the end of next year … and don't say it's
another
bike – she was right on both accounts, after a bit of banter and even more cajoling on what was special about this one, I sent her the ebay link as she just wasn't feeling the love, and so the conversation moved on and ultimately ended (I still saved the listing so I could look at it another day)
Secretly I think having viewed the pic's she too appreciate it more than she let on, and bless her behind my back she contacted the seller struck a deal…. So here it is 14 months ahead of my 50th and one road trip to central London later.
Michael the seller and original owner from new was a really nice guy, sadly my timing was awful and my visit was a brief one however I have his details and hope to get the full back story in due course, or perhaps Mike might humor me and detail it here for posterity…. Anyway not often you get to own a bike purchased from a Porsche dealership in Paris.. certainly beats Halfords in Bognor Regis or mail order from Evans
The bike is in great shape and has obviously been well loved, aside from a good strip and a mega clean/polish and some new elastomers/Tyres it's good to go, at some point I'll return the group set back to full Sachs as the rear cassette and chain are SRAM
For now I'll leave you with a few pics that Micheal took
only a Trimnel fork comes close to these... the engineering is something to behold and Marvel at in equal measures !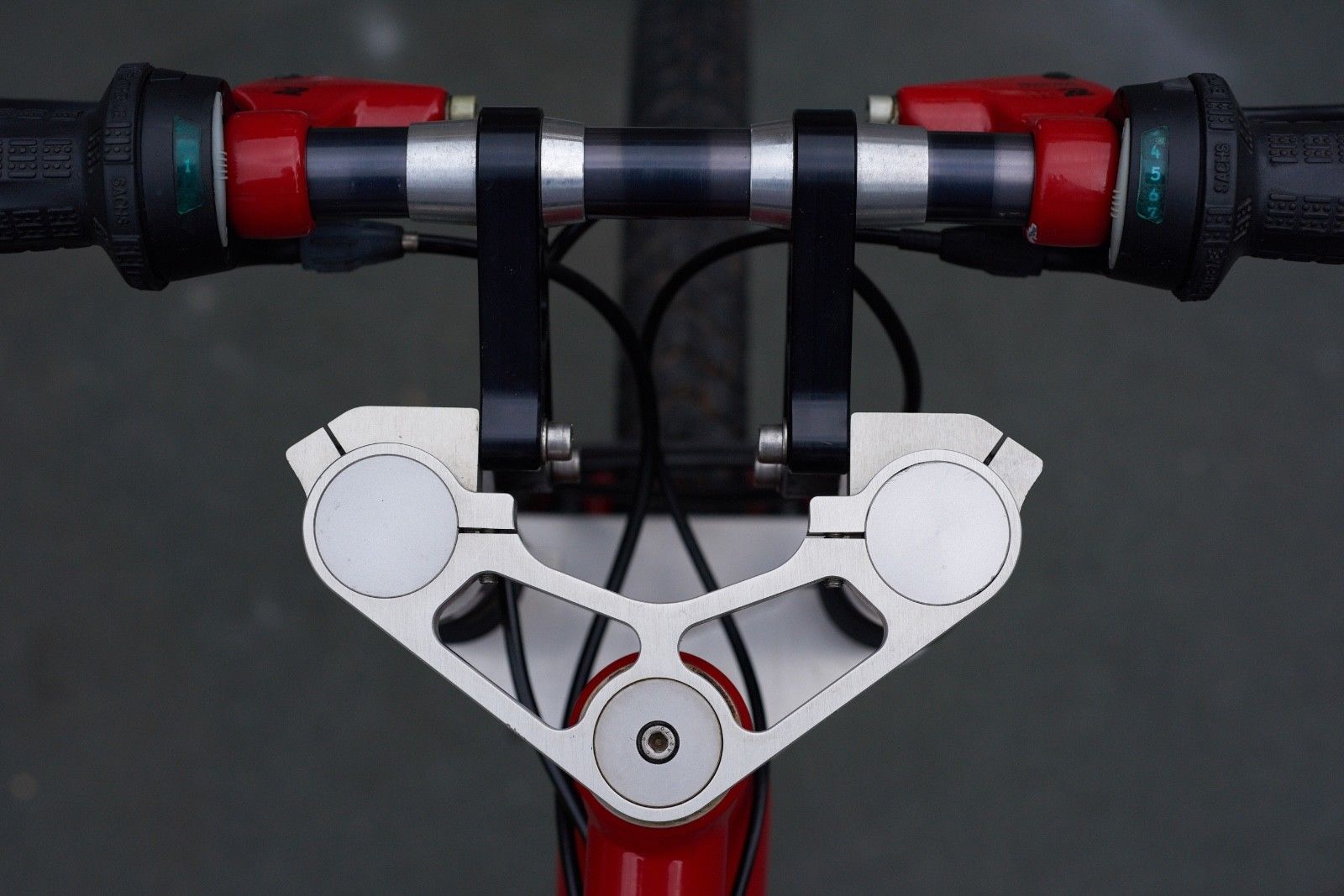 German Stopping power front and rear
Check out the girth on those forks
Sach 8 speed shifters
and Sach Neos Groupset
Not everyday you get a Handbook this nice and this detailed for Bike :shock:
everything you need to know is in it
what a starting point.... for once I have a project that doesn't need a repaint and all new parts