Sadly, as I now suffer from angina and have been diagnosed as pre-diabetic, I have moved to the dark side and have acquired an E-MTB. This means that, for the last couple of years, my Aluminium O has been sitting doing nothing. It was bought new by my older brother (I'm 67 - he's 72) and used in the 1992 London-Brighton ride (there is the remains of the participant's sticker on the stem, which is the original Orange-logo'd stem) and progressively upgraded in its early days. The fade paint is all original and what you see in the photos is what you get. Before it was laid up, it had new cables, shifters, cassette, chain, headset and Schwalbe mixed-use tyres. I rebuilt the Pace carbon forks with new elastomers. There is a spare pair of Mavic Ceramic-rimmed wheels with knobbly Michelin tyres. Frame measures 16in from centre of bottom bracket to centreline of top tube. I am in Lostwithiel, Cornwall – postcode area PL22.
Looking at sales on line, I know that original fade-paint Oranges are rare and soughtafter, although I accept this is not a concours specimen. Not sure where to aim the price, but how about £200 for all.
SOLD!
E-mail:
keithseume@vwporsche.online
if interested.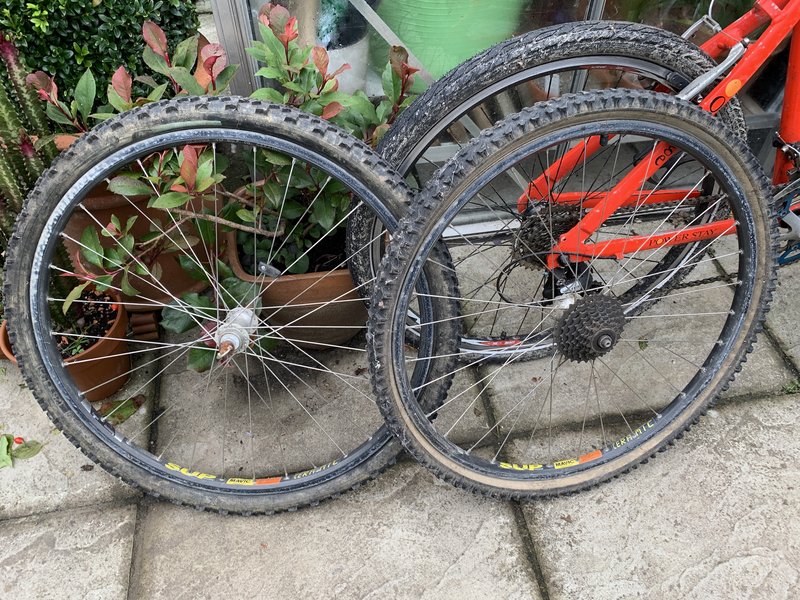 Last edited: