I'm not really one for build threads, I build bikes for my own pleasure and to suit my taste, but I want to add this bike to the themed bike of the month so I'll make an effort to at least put a spec list and try to credit where some of the parts were sourced (that I can remember).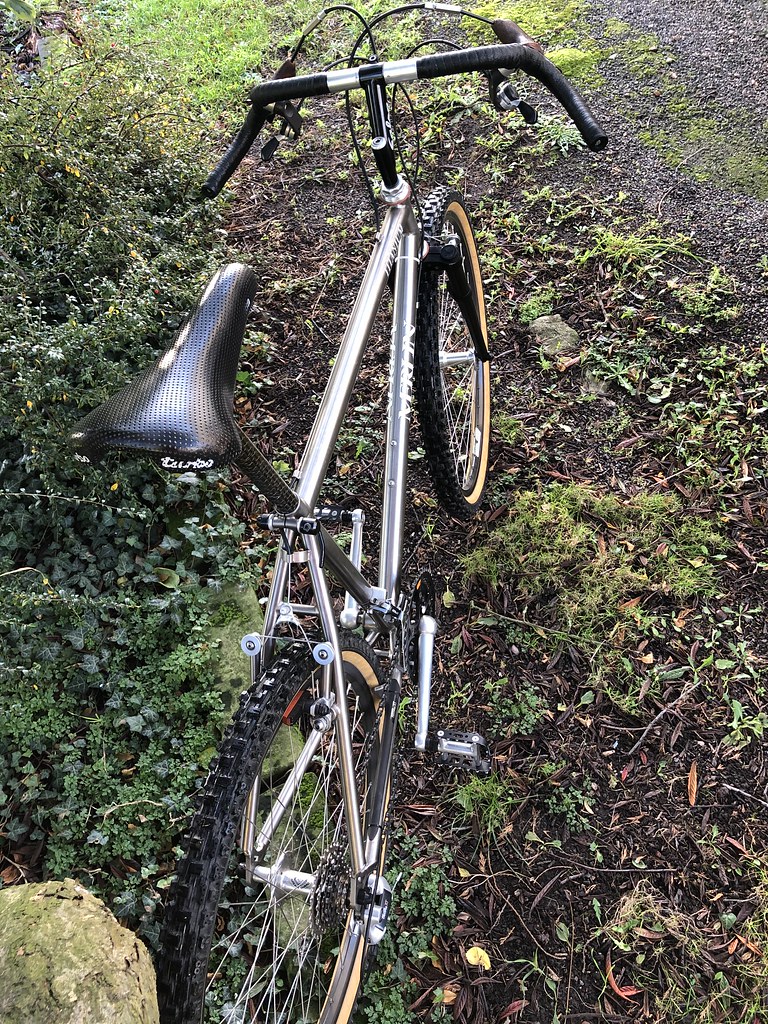 I've had this for almost 4 years now, I bought the frame and forks from Coleman (on here) in early 2017. It's one of the frame numbers that aren't in Merlin's records, and the general consensus was they were built in '89-'90. I assume it's a '90 because it's closer to the known '91 numbers. There are a couple of quirks, such as the threaded BB shell and white decals normally being later, but they look original.
I very quickly decided to build it with dirt drop bars, and bought the bar/stem from sovereign (on here), the shifter mounts were found in America (on Facebook), the wheels from mcada (on here), brakes from ErikFive (on here), headset from Giom6 (on here), seatpost from Croatia (on Facebook), and then cranks, saddle, brake levers and BB from America (on eBay). The Xt parts I already had, and I think the skewers were from Jez but on eBay.
The front wheel had to be relaced with radial lacing as the spokes clipped the forks when laced 3 cross.
Frame: Merlin Titanium 19" 2960
Fork: Bontrager Composite w/ titanium steerer (1,4,2,3)
Headset: WTB / King Grease Guard silver
Stem: Salsa P7 ProMoto
Handlebar: WTB RM-2
Tape: Newbaum cloth tape w/ Cinelli gel pads, clear shellacked
Shifters: Shimano Deore XT m732 w/ WTB Shifter Mounts
Brake Levers: Scott by Modolo w/ gum hoods
Brakes: Marinovative Decelerators
Brake Pads: Scott Mathauser Superbrake
Cantilever cable hangers: Dia-Compe
Front Derailleur: Shimano Deore XT m735
Rear Derailleur: Shimano Deore XT m736
Cassette: Sachs-Maillard LY 91
Chain: Shimano HG70
Cranks: Cook Bros Racing RSR silver
Crank Bolts: TNT titanium / Cooks caps
Chainrings: Shimano SG C46/36/24
Bottom Bracket: PMW Titanium 125mm
Pedals: Shimano Deore XT m735
Hub Skewers: American Classic / Kingsbery black
Rims: Campagnolo Stheno
Hubs: WTB Grease Guard
Tyres: Panaracer Timbuk II 26 x 2.0
Saddle: Selle Italia Turbo perforated
Seatpost: American Classic / Kingsbery carbon
Seatpost Binder: American Classic/ Kingsbery black