After the Formula I fancied late 80s british steel again so I started reading through old bike mags for inspiration. One make kept coming up in the 1989 buyers guide – Swallow, the brand seemed to vanish in later years which interested me. I had an article on from MBUK in 1989 where they were testing the newly released Campag Centaur groupset on Fueteventura, the test bike was a Swallow Griffon and I thought that it looked sorted for the year, straight forks, Kona esq geometry, top tube cable routing – different from the rest.
It was decided - a Swallow was the next project - all I had to do was find one!
I did some Google searches and found out some history on Swallow
here
, the search tool on here turned up some posts from
Augustus
and
Doctor-Bond
.
At that point it dawned on me that this wasn't going to be that easy – relatively obscure brand, short MTB production run– about as likely as me every finding a Tushingham Works Replica or a 1991 Orange Formula
Anyhow the next day I am on eBay looking for a £25 banger that I can use for the next West Mids ride and there was a photograph of a distinctive looking geometry. A Swallow Griffon just sat there, 9 days to go :shock:
Reading the description revealed that this was not only a Swallow Griffon but
THE
Swallow Griffon from the MBUK test :shock: No way that was going to go under the radar of the Market Place Watch (Sylus !) so a PM to the seller and a decent offer later the deal was done – then the agonising wait over Easter for delivery….
This was the bike that featured in MBUK Volume 3 Issues 5 and 6 (thanks to Ant for answering my wanted add for Vol 3 Issue 6
).
Volume 3 Issue 5
Volume 3 Issue 6
Couldn't resist this add…
The history is that it was made specially for the group set test with both U Brake and canti mounts so as the tester (Paul Hinton) could trial both the new Centaur Cantis and U Brakes. The most recent owner bought it off of a friend who was on the racing scene at the time and knew Paul Hinton. He had the forks replaced by Swallow (I am not sure if they were totally replaced or it just the U brake mounts were removed then re-sprayed black), the frame has also had a paint job since the test, other than that it's as per the test shots minus the prestige bars, white turbo, spec hardpacks, campy pedals and white gear outers
I think this bike deserves to be able to go 2 U's cool again so I am going to contact Peter Bird (Swallow ) for the re-attachment of the U brake studs to the forks and as close a copy of the original white/purple splodge paint job as can be done. Then it's getting built up with the Centaur kit again (Centaur is my favourite Campag MTB group set).
We'll chuffed with this – just goes to show that these bikes are still out there – and just as the Guvonor had predicted in Doctor-Bonds post a few years back;
John":2bdtx5x7 said:

Interesting point. You may well be right that some 'high end' stuff is extinct, that is all examples are broken or no more.

However I would expect that some of these bikes will be owned by people outside the retro community (i.e. this site and one or two others). Probably a few Stumpjumpers thrown in the back of garages dusty and unloved....
This one was used as a commuter and had come close to a disc and S/S conversion….
Anyhow another part of the British Steel history has been saved, some pics of the bike for now – to be continued!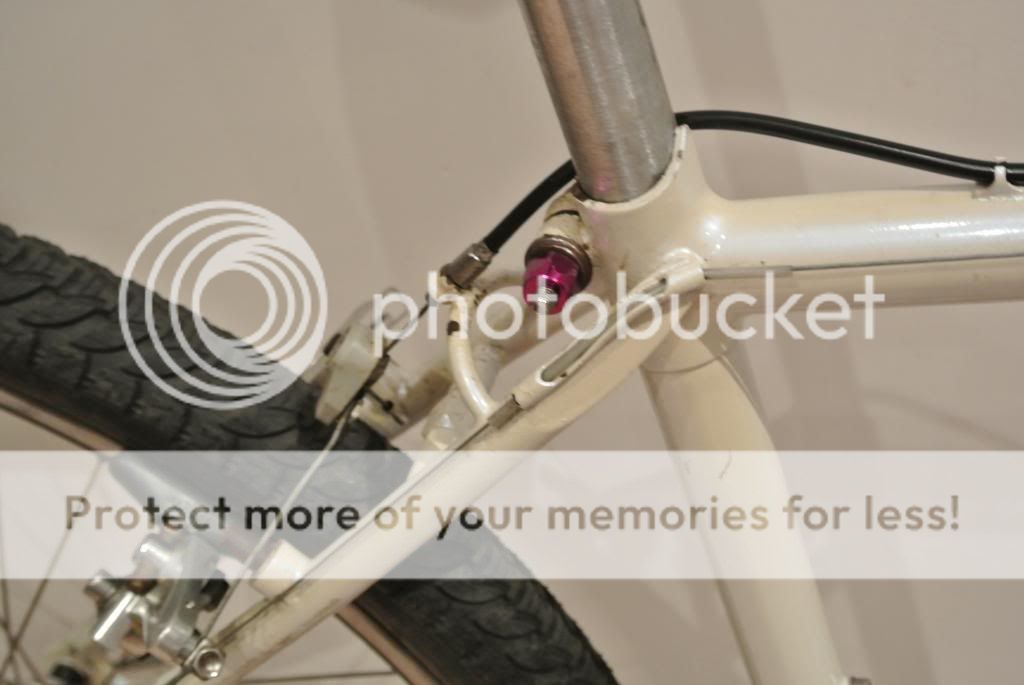 Nice detail;