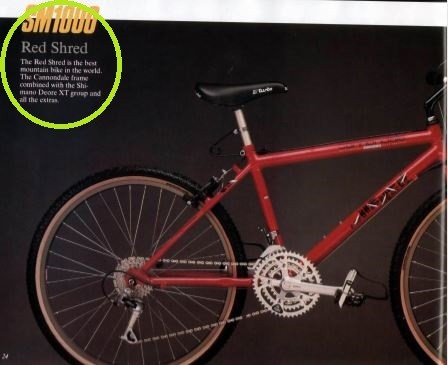 Big claims from Cannondale in their 1988 catalogue. I loved a 'dale back then and I always wanted a Red Shred (as well as the one modded for Trials in the catalogue). As it happened I never owned a single Cannondale until joining Retrobike. I recently took a punt on one that was for sale on the forum. The seller was a new member but shared loads of photo's so I knew what to expect. A friendly forum member (cheers Joe) came to my rescue and collected the bike and shipped it to me. Remarkably it's still very close to full catalogue spec. Only the grips, tyres, brake levers and bar have changed, plus the Hite Rite and clips and straps mentioned in the catalogue aren't present. The bar has been changed from the original white one to a black one - a plus for me as I never liked the white bar much.
There's patina and then there's this thing but I love it. Everything needs adjusting, regreasing etc etc but other than that is should be good to go. I'll have some suitable amberwalls and will find some decent grips. Rather than buy a pair of four finger XT levers I think I'll use the Dia Compe 'Batwings' I have in stock, as used by Cannondale on a couple of other models. I'll probably add clips and straps and may add a Hite Rite if I can find one in the drawer.
Here she is, as purchased....