Retrobike Rider
Gold Trader
I've been meaning to start a thread for this for ages, just like I've been meaning to do about a million other bike things, including getting on with getting this built up.
Here are the frame and forks and original wheels:
I still need to strip and rebuild the headset and the bottom bracket is near seized, so I'll have to sort that out, probably keeping the original but replacing the bearings I imagine.
I also have almost a full bike's worth of parts that I am led to believe came off an '85 GT, though I cannot verify that. I bought them because they included the same Dia-Compe brake levers and cantilevers that would have been originally fitted on the bike, but I may end up using most of it on the Diamond Back:
The Sakae CX cranks have really grown on me, so I think I'll definitely use them, unless I get hold of a Sakae CR crankset.
Given the Suntour XC Beartrap pedals that were original spec on the bike go for almost as much as I paid for the frameset and wheels I decided I needed an alternative and came across these rather abused KKT Lightning pedals: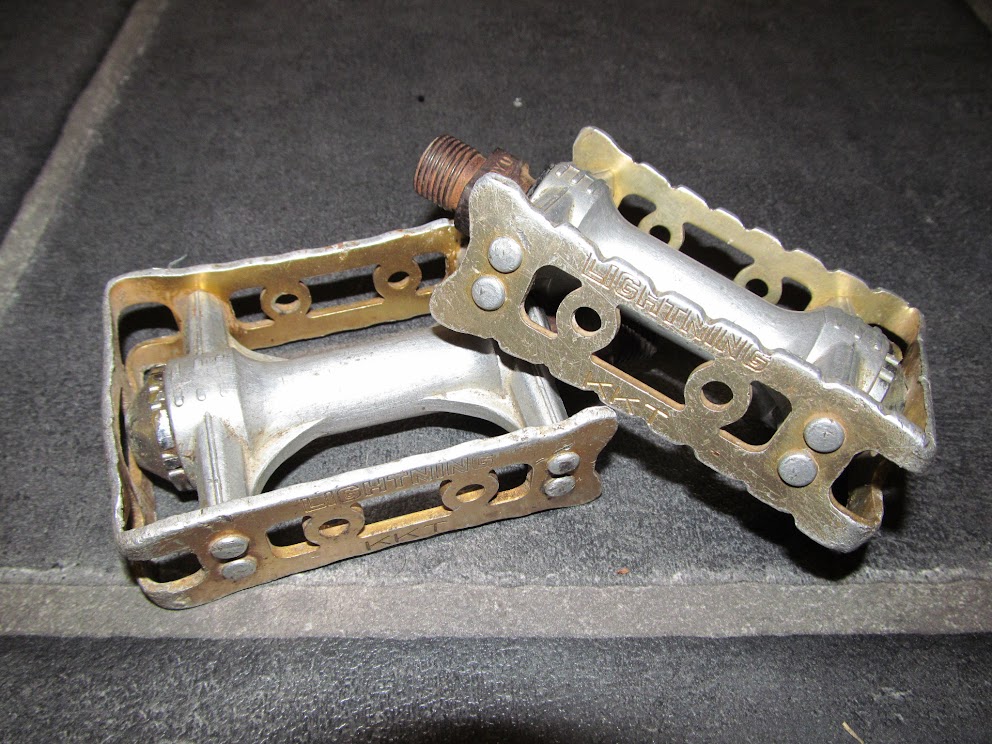 They were in a much worse state, but I've cleaned them up a little. I still need to try to return the cages to their original curved end shape and properly refurbish them. I really like them though and think they'll look good on it.
In terms of the overall build, my initial instinct was to build it up to original spec. I have the original spec in paper form, but not digitally and I can't be bothered to type it all up now, but I
will
add it at some point.
The more I thought about it though, the more tempted I am to deviate slightly. For example, the Sakae CR crankset wasn't released until a few years after the bike, but I love the look of it, so I'd be tempted to go for that as an upgrade on the original Sugino AT cranks. I'm also happy with the pedal choice, despite the initial reason being cost-saving. I was going to buy a Suntour Superbe Rear Mech to go with the original fitment, but having read reviews of them I'm tempted to either go with one of the mechs I have or choose another alternative. I'll definitely stick to early to mid eighties parts, but I think I probably won't be bothered about being more strict than that.
The biggest problem so far is the bars. I would love the original bullmoose bars, which have a diamond-shape and I think were especially made for Diamondback, but since the bike came without them I suspect my chances of finding replacements, in any condition at all, are very, very slim. So I suppose the obvious solution is to get alternative bullmoose bars, though I've been trying to get some for awhile now with no success. An alternative that has crossed my mind would be to either find or get made a lugged stem and have it painted to match the frame. This would obviously deviate from the original look a bit, but I really like the look of lugged stems and I feel if I can't have the unique original stem/bars then maybe it would be a nice touch to have an alternative unique solution. I'm not sure.
Anyway, it'll be a slow project, but I hope to get it build up this year, even if it's built with the intention of replacing parts when I find more suitable replacements. Any comments, opinions and suggestions gratefully received as always.