Sharing my first proper bike project - 1977 Koga-Miyata Road Racer, 61cm Koga-Miyata
measured C-T if anyone wanted to know.
It is actually an E serial number, so built in 1976, which is also supported by the lowercase "Koga" font on down tube sticker. All 77 spec, 76 road racer was white for example, making this a 1st Generation Koga-Miyata.......kinda.....
maybe 1.5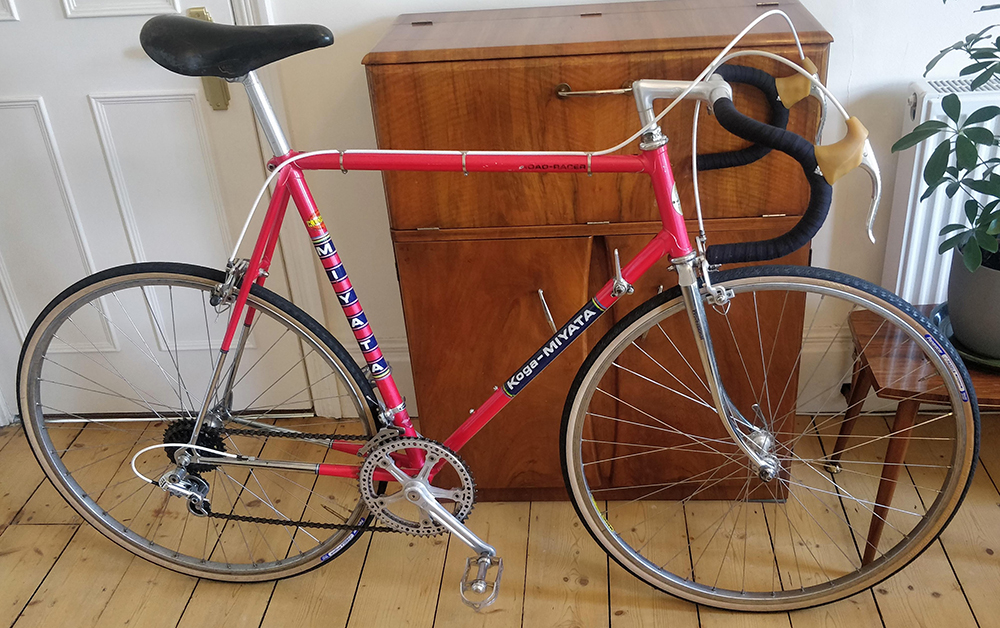 Fortunately pretty much all parts were original bar the wheels, flywheel and levers. Managed to get a pair of levers from a member last week.
Specs as follows,
painfully
google translated from the Dutch brochure:
100% handmade, very light tube set (9 pieces), completely made from tange-champion no. 2 conically reinforced chrome-molybdenum steel.
front fork made of Tange champion no 2, chrome molybdenum steel, conically reinforced and un-drilled, fork head, fork sheaths and fork ends completely chrome-plated
handle bar
SR Custom CTD 410 - L, double reinforced, aluminum
racing stem
SR-Apex, cold forged, aluminum
brakes
Shimano 600 side pull, aluminum with specially drilled 600 Duralmin racing grips
headset
Tange Falcon
saddle
Y.F.C Professional PSEU - 17 S, Smooth elder, extra soft
seat post
SR RY p1, 26.8mm Duralmin
Chain set
SR-Royal, RY- 5 SL 2 Duralmin, 52x42 teeth x 170mm crank-length, blades specially drilled out, 5 arm type cold forged from one piece.
Love the drill outs.
pedals
kkt top-run aluminum
derailleur
Shimano 600-60, type race, aluminum
gear lever
Shimano 600 extra light
Not original
Freewheel
Dura Ace 6 speed MF 7400, which makes for some tight wheel changes. Would anyone suggest to cold set? I am very novice to all of this and would be worried about damaging the seat and chain stay as 120mm to 126mm seems like a lot.
Rims
Mavic MA 50 Cr.D, which I cannot find a single bit of info on.
Hubs
Shimano Dura Ace, assume 1st Generation base on reference on VeloBase, has "00" on the shell with the oil hole - missing a clip on the front hub if anyone has one around.
Tyres
Panaracer Pasela PT 700x25, great bang for buck and just wanting to avoid flats at the moment!
Still after a similar era bottle cage, pump and toe clips
WTB: karasawa bike pump
- the brochure says
"TL, super light, freely hanging"
,
KKT "Type 1" toe clips
Stripped, cleaned, polished, greased and lubed over the week.
Have some chips chips and small rust spots (any help with trying to match the subtle paint sparkle would be appreciated) which I will eventually look to touch up.
Don't mind the patina on parts especially as the 600 first gen stuff was pretty average, as was most 70s components.
Swapped out the black cables for white, to make the Koga-Miyata fonts stand out, and installed some honey Dia Compe hoods and re-wrapped the black bar tape with "Cotton luxury tape"- both from VintageVelo.co.uk. I don't think the bar tape was ever changed and sure was fun scrubbing the gunk off the bars for a good couple of hours, was a wild Friday night for me
Decals are on the way, just now need to get a first generation down tube decal.
Anyone with suggestions on how to deal with chrome flaking without re-chroming please share.
I have an issue on the inside fork, ideally I will just replace but the same model doesn't appear for sale often - without breaking the bank.
Assume a wet sand and polish to the steel and finish with a matte top coat might be my best bet...?
I have since purchased a new seat post as my ideal riding height is just 1cm beyond the max seat post.
Managed to purchase a taller 70s SR P5 Laprade which has the sweet fluting, also looking forward to the easily accessible single screw clamp after dealing with the impossible to reach double clamp currently installed.
Hope you enjoy.
If you want more snaps please ask and if I've done anything wrong let me know.
Thank you for my Ted Talk