Hi All
A few years ago I was casually browsing local online adverts and came across an 'Old Track Frame' listing. Squinting hard through the slightly hazey pixels, I saw something lugged with track ends - my kind of jazz. I contacted the seller and arranged to meet.
On arrival I was pleased to find a nicely lugged frame in good shape, the seller mentioned he was the 2nd owner and when questioned offered the name Pratt as the builder- there were no decals to suggest this and the lug shape would certainly suggest otherwise... Fleur de lys lugs as you would find on a Gillott.
After some time of questioning the association with Pratt, I had confirmation from the Gillott ME it's not a Gillott for reasons of the frame number and the style of the track ends. So it must be a Pratt, I need to see if I can find out some history and confirmation. I managed to find the Frederick Pratt & Son book through a book retailer and it turned out to be the perfect reference as the surviving build lists are included, and my frame is listed. But of course the lugs still add a little mystery of how this came to be.
Onto the pictures... here's how the frame (sans paint) sits on 700c wheels
Lugs, lovely Fleur de lys cut. I'm not sure what the headset is...
BB shell, with grease port on the underside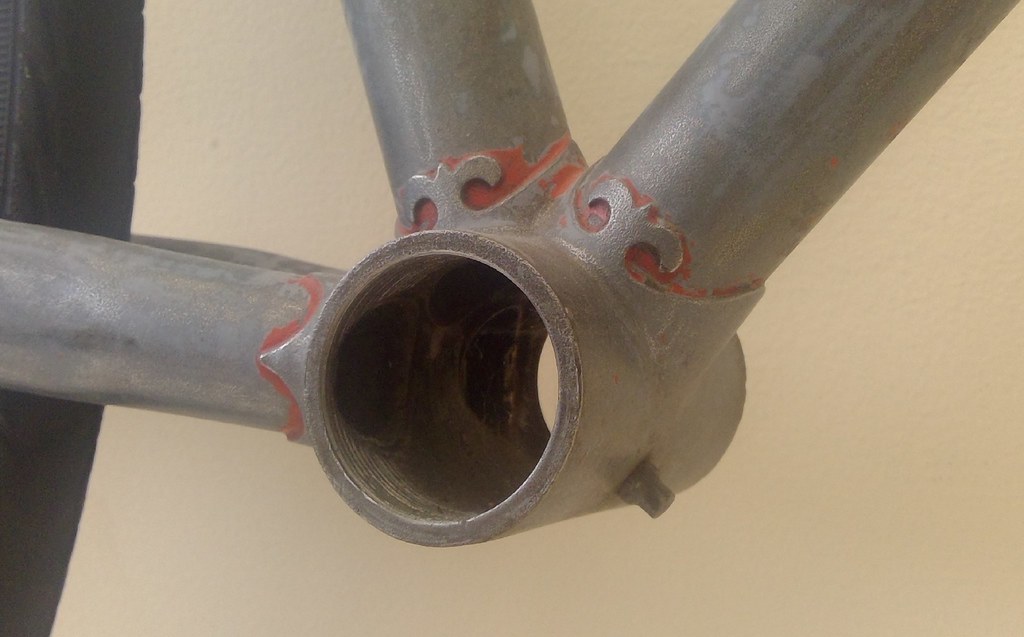 A completely chance find were these original Frederick Pratt decals, dated from around the 50s by the seller I bought multiple sets of everything he had.
I have sourced a few parts already, still more to find!
GB 531 Spearpoint stem
49D cranks, paint will be removed. I have a couple of chainring options in the stores.
Powell of Coventry rear hub and Airlite front hub, I imagine they have painted barrels as the chrome has gone in the centre, will most likely repaint
Kinlin ADHN rims, these are modern double walled rims that come in both 32 and 40 hole, with a nice classic profile these should look in keeping with the period when built.
I have bars on the way to suit the build, deep drop and of the same era. Plans are the give the frame some fresh paint and source the rest of the bits as we go through the rest of this year, I'm currently undecided on colour but have narrowed in down to a few ideas...