Stuck on last minute Christmas gifts for the cyclist and retrobiker in your life? There is still plenty of time to pick something up either from your local bike shop or most of the online retailers. Let us help you avoid a last minute dash to Marks & Spencer's for a pack of socks on Christmas Eve with our top ten last minute gift guide.
1. Cycling Books
What better Christmas gift than a good book? There has been a proliferation of cycling books now the sport has become very much mainstream – you will certainly be spoilt for choice. Solid choices already on the bestseller lists are the current autobiographies from two of British Cycling's stars, 'At Speed' by Mark Cavendish and 'My Time' By Sir Bradley Wiggins.
If you're looking for something with more of a retro flavour 'Slaying the Badger' by Richard Moore comes highly recommended. 'Slaying the Badger' deals with the rivalry between Greg Lemond and Bernard Hinault in 1986 Tour de France, it is an excellent telling of a compelling tale.
For something which will grace any coffee table the story of Team Sky's win in the 2012 Tour de France '21 Days to Glory' gets some excellent reviews. Wiggle currently have the book in stock for £7.50 which is 70% off so it's also a bargain!
2. Socks
Who hasn't been thrilled to open an exciting looking gift only to find some black school socks or even better some black school socks with a hilarious motif. Don't fall into this trap this Christmas and ensure you buy some socks which are going to see some use.
Resident sock aficionado Augustus loves merino wool socks and we're inclined to agree here at Retrobike HQ. The extra warmth and comfort over a regular synthetic sock means they are firm favourites. The Endura Baa Baa Merino socks come highly recommended and are available for £9.45 a pair at Chain Reaction Cycles.
Some of our other favourite socks are made by Sock Guy. As luck would have it we stock retrobike branded sock guys socks in the shop. You can show you support for the best cycling website with some of the best cycling socks out there, click here to buy now.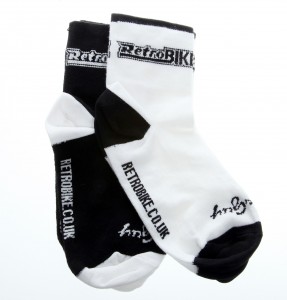 [l]Endura Baa Baa Merino Socks – [r]Retrobike Sock Guy Sock
3. Cycle clothing
Proper cycle clothing makes a big difference out on the bike to both the keen rider and leisure rider alike. Buying certain items such as shorts, tights and trousers can be difficult due to size variations; we'd recommend looking at a jersey or jacket.
A good jacket can give years of service and make riding in all conditions much more pleasant. Wiggle have a great range of jackets in stock, everything from the dhb Turbulence at £42 all the way up to the Assos offerings at £200 plus!
If you'd rather go down the team kit route then there is currently no better deal than the Rapha Team Sky kit sale. Most of the riding kit is down at half price; our pick of the bunch would be the Team Sky Long Sleeve Replica jersey at £47.50 down from £95.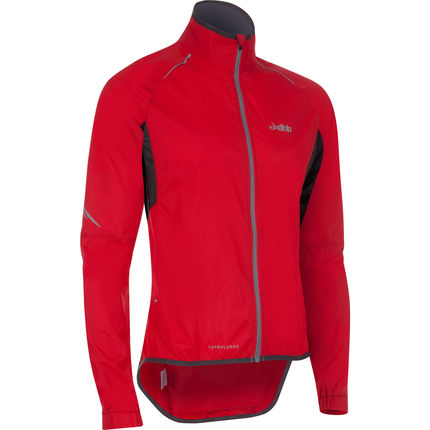 [l]dhb Turbulence – [r]Team Sky Long Sleeve Replica jersey
4. StemCaptain
Christmas wouldn't be Christmas without a novelty gift or two. The StemCaptains replace a regular aheadset top cap with something more useful like a clock, compass or just a little picture frame. Just how useful the small clock actual is will be debatable, however these are certainly a fun little gift which are sure to be a good talking point when out on the club ride.
Aye Aye (Stem) Captain
5. T-Shirts
It is a proven fact that a man can never have too many t-shirts. Luckily we here at retrobike have a great range available in our online shop, check them out here. We also really like the designed in the UK T-Shirts from Morvelo, check out the range on their own site or via wiggle.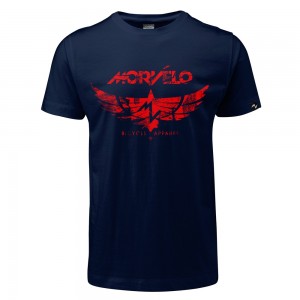 [l] Morvelo T-Shirt – [r] Retrobike T-Shirt
6. Magazine subscription
Another great Christmas gift idea which is always welcome is a magazine subscription. For the mountain biker we like new kid on the block switchback and old favourite mbr. For the roadie retrobike HQ has a subscription to the always excellent Rouleur and at the other end of the spectrum Cycling Weekly.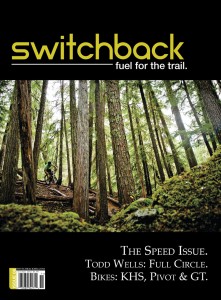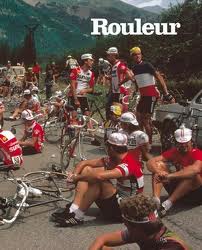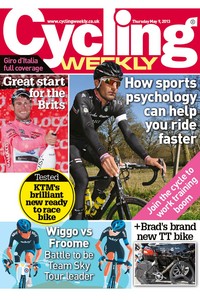 [l]Switchback – [c]Rouleur – [r]The Comic
7. Maintenance and cleaning
In the never ending quest for new (or old) shiny kit and equipment essentials like cleaning and maintenance products are often forgotten. Treat your retrobiker to the proper kit to help clean their pride and joy and thus protect that investment. About the best deal around currently looks to be the Muc Off Pro cleaning kit with free bike mat via Chain Reacion Cycles which currently also has a useful 25% discount.
Muc Off Pro cleaning kit
8. Beanies and gloves
Not two items which obviously go together but thanks to a couple of great deals out there currently I'm sure a lot of cyclists will be finding both in their stockings.
The first deal is from planet-x. Their very much on-message Flanders bundle will allow to live out those dreams of being a Belgian road hero with the lion of Flanders flying proud on your hat. The bundle includes beanie hat, gloves, socks and overshoes for a very reasonable £19.95.
The second deal is from cyclestore. They are offering a pair of castelli stelvio gloves free with every castelli beanie hat for £25.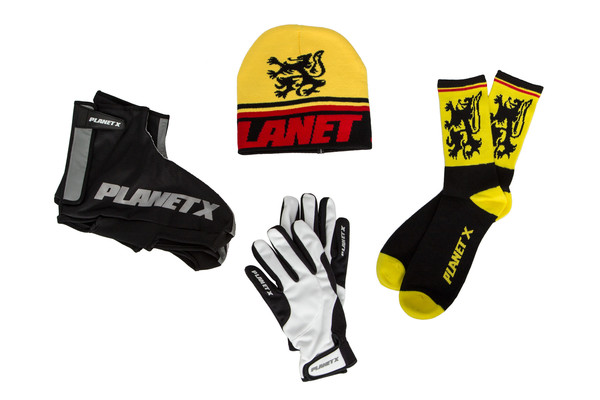 [l]Planet-X Flanders Bundle – [r]Cyclestore Castelli Bundle
9 . Gift vouchers
One way to show you care without sticking a tenner in an envelope is with a gift voucher, this at least ensures the money will get spent on cycling kit rather than 4 pints of mild and a bag of pork scratchings. Most of the major retailers sell vouchers including Wiggle and Chain Reaction Cycles.
10 Retrobike merchandise
As ever it's good to leave the best until last. We here at retrobike once again have put together some of our popular Christmas bundles which represent a massive saving on RRP. Various bundles are available which include courier bags, hats, socks and mugs. Check them out in the retrobike shop here.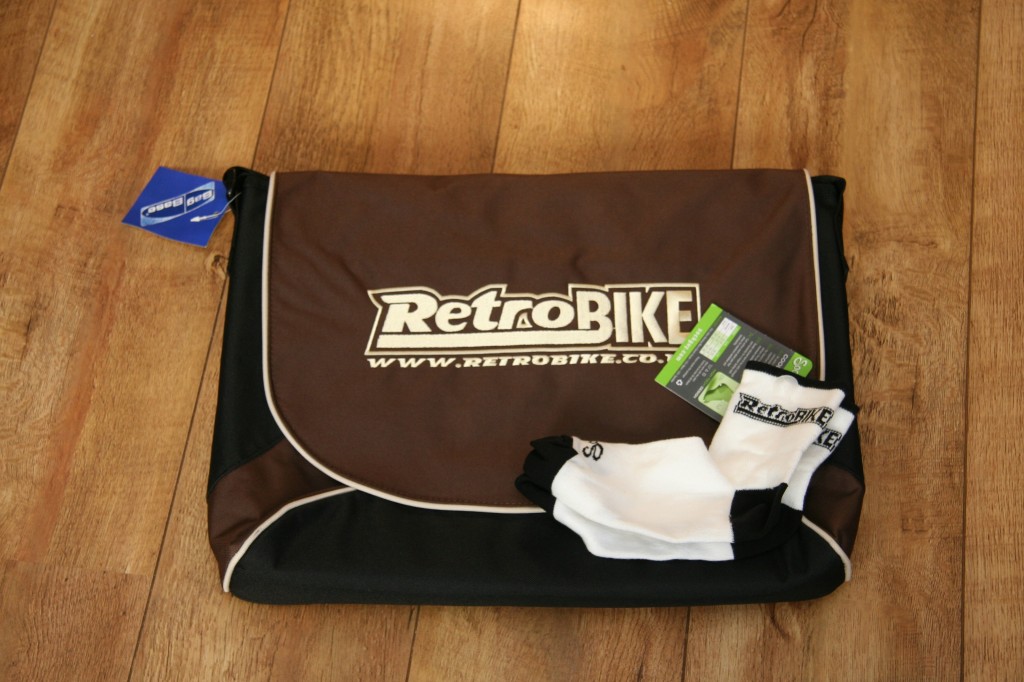 Retrobike Christmas Bundle
Hopefully this will give you some ideas for last minute gifts for the cyclist in your life or ideas for you own gift list. We'd also suggest keeping an eye on the latest cycling deals and bargains on bikedeals.cc – many shops are offering great pre-Christmas discounts already. If you have any more ideas for last minute Christmas Gifts please let us know in the comments section below.
Happy Christmas