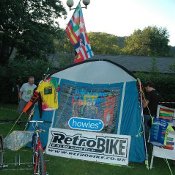 OWMTBC has always been a fairly loosely defined concept – we knew what we wanted to do but we didn't necessarily want to hard sell it down people's throats. 'Build it and they will come' was certainly my approach although I'm not sure who was Costner. It's pretty self-indulgant to write up an event you organised but I've never lacked ego-centricity so here goes.
Barely had the dust settled from OWMTBC09, indeed we were still on the ferry home, and Max had been co-opted onto the Organising Committee. A combination of fatigue and beer had him agreeing enthusiastically. And so it began, ending last Sunday in Betws-y-Coed with an impromptu Fireroad Half Wheel Challenge. But I'm getting ahead of myself. Way ahead.
In darkest, coldest October I got the call from Neil – "I've got the venue for 2010!". Slithering around the Marin Trail in the wet, 18 year old tyres protesting loudly, I wasn't convinced but hey, the views of Snowdon were spectacular, we had a good base and the sponsors were already on board, so why not? On such naïve optimism do you achieve something great or be harangued in public by middle aged men who have paid you money. Only time would tell and I figured that glass half full or empty, as long as we had a glass we'd be ok.
Neil, Max and I got together again in Spring 2010 to re-ride the course and plan logistics. This went well until, in what can only have been a fit of pique, Neil through Max off a 15 foot drop. Max's reaction was stoicism personified. Damn, it was definitely on now.
Fast forward to late August 2010. Plans had not exactly worked out as expected due to personal circumstances on my part and Max disappearing down a mine in China for 5 weeks, a drastic move but one I was increasingly to respect, even covet. Howies, Retrobike and Orange on board and coverage from 'Privateer', the offroad (butch) sister to Rapha's 'Rouleur', all we had to do was deliver. No problem for gentleman of our calibre I thought. But that was before I was confronted with the bear.
Things started out smoothly on Friday, people arrived steadily throughout the day, old friendships were rekindled, new ones were made and tatty bikes were unloaded. The social ride revealed stunning, dry, rocky trails and riders were returning, grinning and with bikes coated with that magical dust that spells 'happiness'. The evening continued with a Concours d'Elegance with Mel judging the bikes with a firm consistency – "and this is acceptable for you?", "do you have a certificate of authenticity?" – while cigars were lit and people lounged around the Orange tent with their tidy display of bikes including a Tushingham (forerunner to the legendary Clockwork with U brakes front and rear) and Tim Davies' 1989 National Championship winning Clockwork, unchanged since the victory. As the midges descending, we headed for the Riders Lounge at the event HQ and a Q and A session, hosted by Mark 'Parky' Sinnett and featuring Tim Davies himself. We learned a lot during the couple of hours in Tim's genial company but the fact that stuck with me on the night, and since, emerged during the Retrobike sponsored Quiz where it was revealed that not only did Gary Coleman ride for Raleigh in the early 90s he also starred as Arnold in 'Different Strokes' – "what you talkin' 'bout Willis" indeed. The bar followed and, being a gentleman, I cannot repeat what ensued. Plus I can't remember and have confiscated photographic evidence.
Promptly on Saturday morning, at least by OWMTBC standards, it was a bleary Shopper Bike Trials featuring middle aged men riding my mate's gran's folding shopper bike around a trails course. I was concerned how the bike would stand up to 17st of prime heft as gran needed the bike back but these retro boys can ride smooooooth. Fortunately the Trials was in a park next to a football pitch where an Under 11s football match was underway so the opportunity for embarrassment was pretty limited. Somehow a substantial lunch seemed wise before the local constabulary were alerted, and obviously in preparation for the hillclimb, the first 'proper riding' part of the event.
Showing admirable body awareness, the lunch stayed down. Next up, the Marin Trail, split into four Special Stages. Setting off the riders in pairs, Neil and I headed for the next section to time the riders – they couldn't be faster offroad than I was on and surely not faster than Ruddock in his swanky mini people carrier. Bugger, they were and several had passed through so I headed for the end of Stage 3, getting there about 5 minutes before Tim Davies came charging through. I waved like an idiot to indicate the approach to a road crossing but Tim came to a halt in a cloud of dust, buzzing about being out on his old bike again after so long (he reckoned it had been about 18 years). Were we on to something?
Then came to call over the walkie talkie that I dreaded "Blue Zeus to Old Fox. Man down". My natural instincts kicked in and, only stopping to grab 'the bear' (did I forget to say that Neil only mentioned this the night before? At 1 a.m.) and two greasy pork pies, I headed to the end of the course. Reactions to the bear were varied, particularly among those not part of the event with one 15 year old declaring "that is sick" and refusing to come near and a trio of women stopping for a photo. Once everyone was accounted for, freewheeling back into Betws I fully appreciated the miraculous anti Goretex properties for the first time – it allowed the wind to pass through and effectively dry the prodigious amount of sweat that the splendidly non breathable synthetic fur provided. I reckon it'll catch on so.
And that was it, bar the results. But what of the man down? I'd been very worried but when Steve and Neil arrived, bang on time for the results giving and smelling suspiciously of kelp and jojoba, I began to have my doubts as Neil may not be Dorian Grey but that complexion don't come for free. No way, no how.
As a stickler for detail, at least in writing, I feel compelled to record the main award winners:
• OWMTBC10 Champion – Gav 'Easy Rider' Manesh (see right)
• Spirit of the Event – Tim
• Concours d'Elegance – Chris J or rather his 1986 Mountain Goat Whiskeytown Racer
• The 'Orange Pure7 frame raffle' (courtesy of Orange) – French Chris
• The 'Privateer subscription raffle = Paul (and fair play to Mike from Privateer who was not only covering the event for the magazine but had also bought an old bike just to compete, like an anti Andy Coulson.)
And was that, bar a splendid "Hair of the Dog' ride when despite two maps and the same number of GPS, a dozen riders failed to find the Penmachno singletrack just 4km from Betws-y-coed and instead enjoyed two and a half hours of sweet, sweet fireroad.
I'm not sure if that really explains what OWMTBC is about but it's my account and hopefully everyone who came will have their own. Actually, I am sure that I don't want to analyse it via a focus group, just remember back to a great weekend that wouldn't have been the same without everyone who came along. The bear wouldn't have such soppy sentiments but what I have figured out is that OWMTBC is about friendships, shared interest, good humour, in short an event when race timing is frankly unimportant and the fastest rider doesn't always win. It's not necessarily an event for everyone, and that's fine, but for me I have memories that will keep me feeling warm for many years (plus deep psychological scars that may last a lifetime) and it seems from the comments made so far that those who were there felt the same.
Where next? Well Fairfax2011 is calling and hopefully we'll have some sort of details out fairly soon but until then……
California Dreamin'
Ed and the OWMTBC Crew
For aftermath thread please click here. For the excellent Orange write up please click here.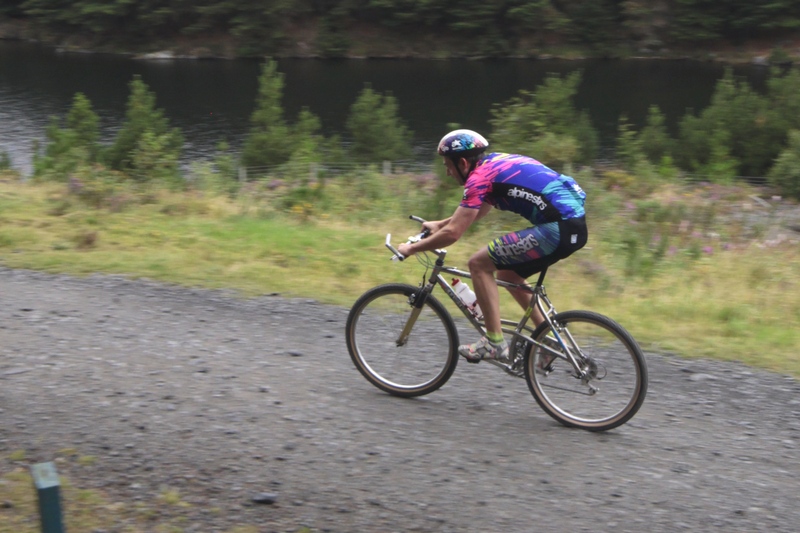 Like 1991 all over again – Tim Davis in full flight aboard the Ti Mega
Thanks to Mike Davis for World Champ and Tim Davis pic