The Bicycle Academy sounds like a great project happening here in Somerset, UK. Check full details in their press release below.
"A place to learn how to make bikes. You keep the skills, your first bike goes to someone who really needs it"
The Bicycle Academy is a new enterprise providing people with the skills and facilities to design and make their own bikes. Frame building will be taught by the legendary Brian Curtis as evening classes or short weekday courses from The Bicycle Academy workshop in Frome, Somerset. As part of the learning process each student will make a frame to be donated to people in Africa, then once graduated students will be able to use The Bicycle Academy workshop to hone their skills and build their own frames.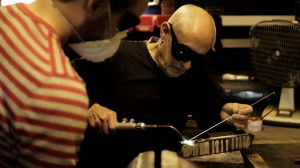 Brian Curtis has been building bikes since 1972 and is the resident frame builder at The Bicycle Academy sharing his legendary fillet brazing technique first made famous whilst building Metisse frames at Rickmans in the 1960's. Courses will be taught as evening classes or short weekday courses to cater for people who don't live close to Frome.
Once created, the frames, specifically designed by The Bicycle Academy for use in Africa will be built up into working bikes before being distributed to people in Africa via partnering charities – making a dramatic difference to an individuals, their families and wider community.
Aside from being used to provide the courses the workshop will be open at least twice a week to anyone who has graduated from The Bicycle Academy to work on their own frame building projects at an affordable rate based upon time spent and materials used. So, rather than having a week to create your own bike you can take as much time as you like to make as many as you like and all without having to invest in your own expensive equipment and space. The Bicycle Academy workshop will be equipped with a full suite of frame building and bike shop tools, a library of frame building books, selection of tube-sets and a kettle, of course. Unlike every other frame building school The Bicycle Academy will be a place to come back to and continue to build frames whether for yourself, or to sell to others – each work bench will be available for bookings throughout the week and on most weekends.
To get the project off the ground and to help pay for the investment in the workshop facility the enterprise will be crown-funded. Crowd-funding is an 'all or nothing' method of raising money for a project from a large number of people who receive an incentive for their level of support. If the target, around £30,000, is reached then the project goes ahead, every supporter will receive their incentive and everyone wins. But if not then the project doesn't go ahead and no-one pays. That's the great thing with crowd-funding – there's no risk for the supporters.
The Bicycle Academy crowd-funding attempt will start late October and last for around 30 days. On offer will be the first 6 to 8 months of frame building courses (around 50-75 places) plus things like custom (iL) Soigneur musettes, custom designed screen printed T's, some extra special hand made miniature brazed frames and a small run of super limited edition frames too.
The Bicycle Academy will also provide fork and jig building courses and one-to-one brazing master classes.
The plan is to offer:
* A 4 week course based on a 2.5 hour week night lesson and a 2.5 hour Saturday morning lesson for £500. Teacher student ratio is 2:1.
* A 4 day course with 6 hour lessons each day for £500 with a student teacher ratio of 2:1.
* Brazing Master-classes will be on offer for £250 and on a 1:1 basis too.
* The courses are still being decided and there may be opportunity for a longer more flexible 10 week course too.
The aim of The Bicycle Academy is to make bicycle frame building as accessible as it can be while at the same time creating bicycles to help those in need.
Take a look at the Bicycle Academy website for the latest details and more information on the project > http://www.thebicycleacademy.org
Photos and Film courtesy of http://www.facademedia.co.uk